Petr Cech's transfer to Arsenal isn't quite done yet, but it would appear that the 33-year-old Chelsea goalkeeper has no interest in playing anywhere else next season.
The reaction from Chelsea fans has been mixed; sadness at the departure of a great, anger at selling him to a club that will become a major title rival next season and the predictable, entirely stupid accusations that he is a traitor for wanting to move to Arsenal.
First things first: Petr Cech is a human being. He has lived in and around London for 11 years, he has a wife and two children who are school age - this isn't a computer game where players can move freely with no thought of their life off the pitch; Cech has been clear all along, he wants to stay in London.
Why shouldn't he? Would you uproot your life and move abroad just because your current boss didn't want you to join a rival firm? Football is different, of course, but it's unrealistic to expect any person to make that kind of life-changing move.
Petr Cech's Chelsea career in pictures
Petr Cech's Chelsea career in pictures
1/15 August 2004

Petr Cech was signed from Rennes for £7m in January 2004 while Claudio Ranieri was still in charge, but he never played under the Italian. He was unveiled along with Jose Mourinho and others ahead of the 2004/05 season

Getty Images

2/15 August 2004

Cech made his Chelsea debut against Manchester United on 15 August, 2004. Eidur Gudjohnsen scored in a 1-0 win for the Blues

Getty Images

3/15 2004-05

Cech celebrated winning the title - Chelsea's first in 50 years - after a stunning first term. He went 1,025 minutes without conceding at one stage, allowed just 15 goals past him and ended up with 21 clean sheets, all Premier League records. Chelsea added the League Cup and he was also named in the PFA Team of the Year

Getty Images

4/15 2005-06

Cech was again outstanding as Chelsea won another title, conceding just 22 goals in the 34 matches he played

Getty Images

5/15 2006-07

On 14 October Cech suffered a depressed skull fracture after colliding with Reading's Stephen Hunt. He would eventually miss three months of the season

Getty Images

6/15 January 2007

Cech made his return at Anfield on 20 January, wearing a rugby style headguard. Chelsea lost 2-0 but Cech ended the season with an 810 minute streak without conceding and being named Player of the Month for March. Chelsea eventually finished behind Manchester United although they won the FA Cup and the League Cup

Getty Images

7/15 2007-08

Jose Mourinho left Chelsea in September and Cech endured an injury-hit season that included calf and ankle injuries and a collision with Tal Ben Haim that left him needing 50 stitches; he missed 22 games in total. He returned for the end of the season and saved Cristiano Ronaldo's penalty in the Champions League final, but John Terry slipped when he could have won the Blues the trophy

Getty Images

8/15 2008-09

Under Luiz Felipe Scolari Chelsea started well but soon began to falter - the Brazilian accused Cech, as well as Didier Drogba and Michael, of causing his sacking. Chelsea finished strongly under Guus Hiddink, narrowly losing a Champions League semi-final to Barcelona and then winning the FA Cup against Everton

Getty Images

9/15 2009-10

Under Carlo Ancelotti Chelsea stormed their way to a Premier League and FA Cup double, with Cech saving a penalty in the final against Portsmouth and keeping 17 clean sheets in the Premier League

Getty Images

10/15 2010-11

Chelsea had the first trophyless season of the Roman Abramovich era as Carlo Ancelotti was eventually removed as manager at the end of the season. Cech, however, was impeccable, playing every Premier League game and being named the Chelsea's Player of the Year

Getty Images

11/15 2011-12

Although Didier Drogba got the headlines for scoring with his final (at the time) shot for Chelsea, Cech was the real hero as the Blues finally won the European Cup. The goalkeeper saved an Arjen Robben penalty in extra-time and then two more penalties in the shoot-out to be named the man of the match

Getty Images

12/15 2012-13

Chelsea enjoyed winning another European Cup as Rafa Benitez led the team to a Europa League win over Benfica

Getty Images

13/15 2013-14

Cech had another brilliant season, keeping 17 Premier League clean sheets and being named in the PFA Team of the Year for the second time. Unfortunately, he suffered a shoulder injury in the first leg of the Champions League semi-final against Atletico Madrid - he missed the rest of the season and it would turn out to be his last game as Chelsea No 1

Getty Images

14/15 2014-15

Chelsea opted to bring 22-year-old Thibaut Courtois back from Atletico Madrid, where he had been on loan for three years. With an eye firmly on the future, Jose Mourinho decided to make Courtois his No 1 for the season over the veteran

Getty Images

15/15 24 May

Cech appears to play his final game for Chelsea, at home to Sunderland at Stamford Bridge in a 3-1 win. The goalkeeper had a vital role last season, playing 15 games in total when Thibaut Courtois suffered a couple of injuries and a mid-season loss of form. He has played 485 games for Chelsea, winning four titles, four FA Cups, three League Cups, the Europa League and the Champions League

Getty Images
*
Since arriving at Chelsea in August 2004, Cech has been nothing short of the best goalkeeper in the Premier League. In his 333 Premier League matches he has kept 168 clean sheets, just two short of David James' record, despite playing 238 fewer matches.
Cases can be made for Edwin van der Sar, Pepe Reina and David Seaman, but few would argue that Cech, and former Manchester United star Peter Schmeichel, are the best goalkeepers to play in the division since it was created in 1992.
A huge part of a goalkeeper's success depends on the defence in front of him, obviously, and Chelsea's often defensive style has meant he has had to face less pressure than other keepers. But Cech has been a much a part of Chelsea's defensive success over his spell as they have been on his.
The commanding 6ft 5in keeper has made only a handful of mistakes in his career in Blue and while he suffered a dip in form following his skull injury and then in the ill-fated, pressing system of Andre Villas-Boas, Cech has always returned to the top of the tree, and was again named in the PFA Team of the Year in 2013-14, the season before last.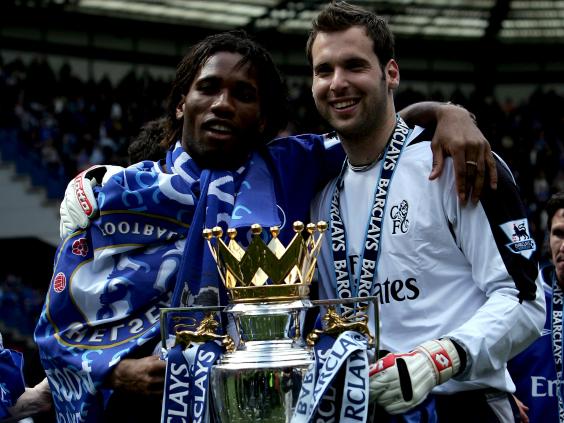 Thibaut Courtois was not chosen by Jose Mourinho as last season's No 1 because he was better than Cech; Mourinho had to replace a man who had been named the best in the division only three months earlier.
Courtois was picked because Mourinho was looking at it in regards to the future of this team five and 10 years down the line. The 22-year-old Courtois made it clear last summer that he would leave Stamford Bridge if he wasn't playing regularly, and there were plenty of suitors - Real Madrid included - who would have been happy to take the Belgian.
Despite his undeserved, in the eyes of many, demotion, the veteran was outstanding whenever he played for the Blues last term, producing memorable, match-winning saves in narrow wins against Newcastle and Everton - points that helped the Blues win their first title since 2010.
Courtois is a rare talent and already one of the best in the world and Chelsea couldn't afford to lose him. It was a savvy decision by Mourinho where the head ruled the heart. But that isn't to say that he is better than the 33-year-old Cech on the first day of last season or, indeed, right now. Courtois endured a mid-season wobble and was replaced between the sticks; it wouldn't be a surprise to see Cech have a better season than Courtois in 2015-16.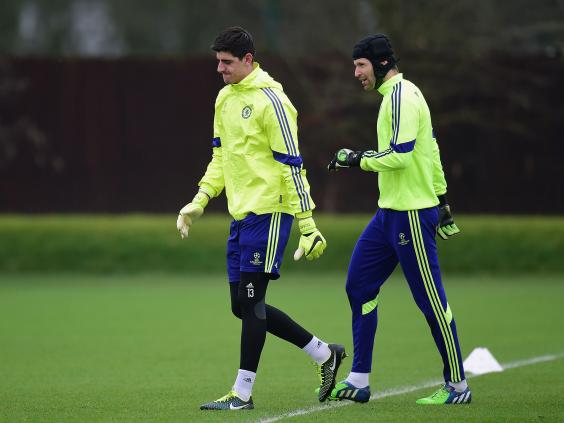 As John Terry said, Arsenal will be making a fantastic signing if they manage to get Cech, a move which could add 12 to 15 points to the Gunners next season, a total that would've been enough to win Arsenal the league.
Not since the days of David Seaman and Jens Lehmann has Arsene Wenger had a truly world class goalkeeper at his disposal. Not only is Cech a brilliant shot-stopper his best asset is his ability to dominate the penalty box and command his defence. No offence to David Ospina, Wojciech Szczesny, Manuel Almunia, Lukasz Fabiansky and Vito Mannone, but they all have serious shortcomings that Cech does not possess.
It would be a massive coup for Arsenal. In five years we may be pointing to this signing, rather than Alexis Sanchez or Mesut Ozil, as the one that turned the Gunners from fringe contenders into champions.
*
Chelsea fans should be disappointed and worried that Cech is moving to a rival, but there should be no ill feeling to the man. There is no question that he is Chelsea's greatest ever goalkeeper - that alone should have guaranteed that fans of the Blues respect his wishes to move to a club of his choosing. Sadly, it doesn't seem to be the case to some.
He has been an integral, irreplaceable part of the most successful period of Chelsea's 110-year history. Didier Drogba got the headlines for scoring with his last ever kick of a ball in Chelsea colours (until he returned), but Cech was the hero in Munich  as Chelsea won the European Cup for the first time in 2012.
Named man of the match against Bayern, Cech saved an Arjen Robben penalty in extra-time and then two more, from Ivica Olic and then Bastian Schweinsteiger, in the nail-biting shoot-out.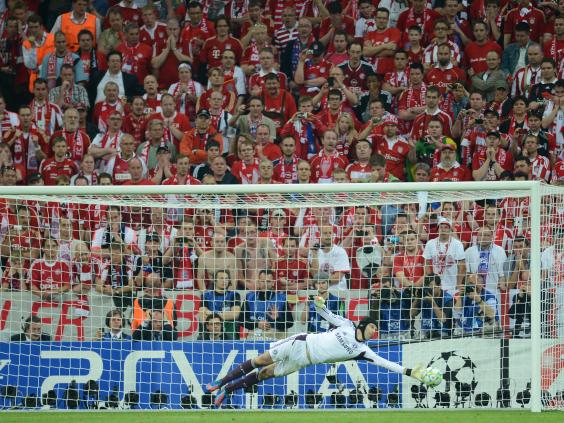 Roberto Di Matteo's tired, defensive Chelsea - who registered just nine shots on goal to Bayern's 35 during 120 minutes of football - would not have recovered, surely, had Robben scored that penalty in extra-time. Juan Mata also missed Chelsea's first spot-kick in the shoot-out meaning the Blues were playing catch up until Cech's brilliant intervention.
With all due respect to local lad Peter Bonetti, rightly regarded as a Chelsea club legend after playing 729 matches in two spells for the Blues from 1959 to 1979, Cech is the best Chelsea have had. Despite The Cat's longevity and service to the club, which included League Cup, FA Cup and Cup Winners' Cup medals, Bonetti never reached the same heights as Cech - something my Dad will attest to having watched both in their prime.
In his 485 matches for the Blues, sixth all-time for Chelsea, Cech has won four league titles, three Fa Cups, three League Cups, the Europa League and that Champions League.
Even last season, made No 2, Cech made a few comments in public about his unhappiness but never let it affect his mood in the dressing room, according to his team-mates, or his performances on the pitch when he was called on.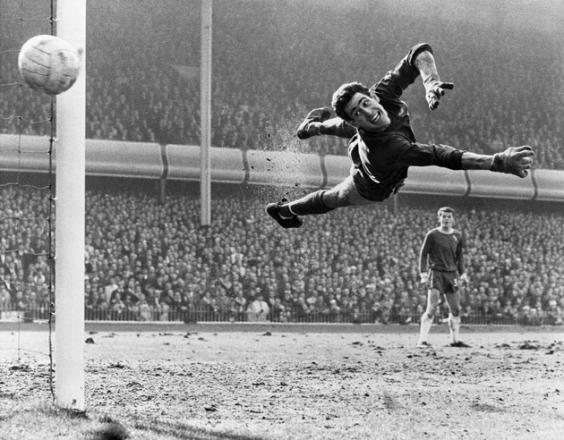 *
In an ideal world Cech would not be sold to Arsenal. The Gunners will suddenly look like Chelsea's main title rivals, depending on what business Manchester City do this summer, if the Czech arrives at the Emirates.
But the big man has earned the right to decide his own fate. Some of it may well be motivated by wanting to prove Jose Mourinho wrong for picking Courtois ahead of him.
So what? That doesn't make him a traitor.
Cech is Chelsea's best ever has been nothing but an exemplary servant for the Blues since 2004. Courtois needs to be continuously excellent for the next 10 years to catch him up.
Good luck, Petr, wherever you end up.
Reuse content