After a 3-0 win over the Premier League champions, two trophies in three months, and a second consecutive summer chiefly of buying not selling, the question to ask the Arsenal players who stopped to talk in the bowels of Wembley Stadium on Sunday after beating Manchester City to win the Community Shield was obvious enough. Is this Gunners squad the best they have known?
It is an issue on which manager Arsène Wenger has been predictably equivocal, saying merely that it's "very difficult to compare", but goalkeeper Wojciech Szczesny was refreshingly straightforward.
"I think so," he said. "And, hopefully, it will be the most successful one. Looking at it on paper I think it is the strongest side we have had. Except for, obviously, Thomas [Vermaelen] we have not lost any key players. Even if someone did leave on a free contract we managed to replace them with good players. So we are looking stronger and stronger."
Arsenal were top of the league at one point or another for 128 days last season – almost half – but in the end could not cope with an unlucky series of injuries that would have damaged any club, no matter their strength in depth.
But if this year they are to mount a serious challenge for anything more important than the FA Cup, it is unquestionable that they will need to be stronger than they have been for the last decade.
Having joined Arsenal in 2009, 24-year-old Szczesny can afford to be forthright in his views on such a matter. But it was a shame that the player best placed to answer – Mathieu Flamini – rushed past without stopping.
Arsenal in the FA Cup final: 2005-winning XI v 2014
Arsenal in the FA Cup final: 2005-winning XI v 2014
1/20 Jens Lehmann - 2005 GK

Lehmann had established himself as the No 1 at Arsenal following the departure of David Seaman, and managed to keep Ruud van Nistlerooy, Wayne Rooney and Cristiano Ronaldo at bay on the day. His penalty save from Paul Scholes' spot-kick proved to be the pivotal point in the match.

2/20 Lauren - 2005 RB

Decided the best way to stop Cristiano Ronaldo was to kick him out of the game, but despite picking up a booking in the 62nd minute, managed to last the game without picking up a second yellow.

GETTY IMAGES

3/20 Bacary Sagna - 2014 RB

Is likely to be playing in his final game for the Gunners as his contract expires at the end of the season and a move to Manchester City looks on the cards. His exit is all the more surprising given that Sagna has enjoyed one of his strongest seasons in the red and white of Arsenal.

Getty

4/20 Kolo Toure - 2005 CB

Ivorian defender was nearly the victim of a handball penalty shout when Paul Scholes struck a long ball into his body and up on his hand.

GETTY IMAGES

5/20 Per Mertesacker - 2014 CB

The German has made up for his lack of pace with his clear leadership skills and excellent positioning. Can still be caught out occasionally, although the absence of the cup-tied Shane Long will benefit the centre-back.

6/20 Philippe Senderos - 2005 CB

Picked ahead of England international and first-team regular Sol Campbell due to his impressive form while the latter was injured. Gave away a goal-scoring opportunity when he brought down Wayne Rooney on the stroke of half-time, but his free-kick went over the bar.

REUTERS

7/20 Laurent Koscielny - 2014 CB

Has established himself alongside Mertesacker, meaning that captain Thomas Vermaelen will probably be left on the bench once again. His pace compliments the wit of Mertesacker, but while he has an eye for a goal, he also tends to experience a lapse in concentration every now and then.

Getty

8/20 Ashley Cole - 2005 LB

Playing in his fourth FA Cup final and was the only Arsenal defender to take a penalty in the shoot-out, which he converted.

GETTY IMAGES

9/20 Kieran Gibbs - 2014 LB

Arsenal's defence is considerably stronger when Gibbs is available (and not being incorrectly being sent-off) and he looks to be over the worst of his injury troubles. Has not got anywhere near the levels that Ashley Cole was showing in 2005 though, but at 24 still has plenty of time to recover.

GETTY IMAGES

10/20 Jose Antonio Reyes - 2005 Midfielder

Made a strong start having been selected ahead of Freddie Ljungberg, but faded as the game went on and picked up his first yellow card for a needless foul on Mikael Silvestre in the 76th minute. Received his final warning when he fouled the same man, and was given his marching orders in the final minute of extra-time for taking down Cristiano Ronaldo, becoming just the second man to be sent-off in an FA Cup final.

Getty Images

11/20 Mikel Arteta - 2014 Midfielder

Has taken on the armband in Vermaelen's absence, and while he doesn't get on the score-sheet often bar the odd penalty, he does a lot of the unheralded work in a similar fashion to Gilberto Silva.

Getty Images

12/20 Cesc Fabregas - 2005 Midfielder

Had a quiet game after he was selected to start having turned 18 just a fortnight before. Replaced by Robin van Persie late on in normal time, and few thought at the time that the pair would go on to both captain the Gunners.

GETTY IMAGES

13/20 Santi Cazorla - 2014 Midfielder

His ability to perform the sublime is blighted by large chunks of play when he is anonymous, and his defensive abilities rank among the lowest in the side. That said, he is in the starting XI for his creative talent which he has in abundance, with a touch that most professional players would die for.

14/20 Gilberto Silva - 2005 Midfielder

Did exactly what defined his Arsenal career in doing a lot of the under-praised, defensive duties in midfield, although that day at Wembley he was besieged with a United onslaught. Fully deserved his winners' medal on the day.

GETTY IMAGES

15/20 Aaron Ramsey - 2014 Midfielder

His form this season has been nothing short of sublime, which says a lot about Arsenal's cup-run that they reached the semi-finals without him due to injury. His return couldn't be a bigger boost for Arsenal though, and expect his to drive forward form the heart of midfield in search of more goals this season.

Getty Images

16/20 Patrick Vieira - 2005 Midfielder

Captained the side for the final time, and picked up a booking as had become expected for scything down Cristiano Ronaldo. Would go on to hit the winning penalty in the shootout and lift the FA Cup to mark a fairy tale ending to his Arsenal career, and remains the last Arsenal player to lift a trophy for the Gunners.

GETTY IMAGES

17/20 Robert Pires - 2005 Attacking Midfielder

The Frenchman had a quiet game mainly due to Arsenal's long spells on the back foot, although he did fashion one chance for himself only to strike the ball over the bar. Was replaced at half-time in extra-time by Edu.

18/20 Lukas Podolski - 2014 Attacking Midfielder

Lukas Podolski celebrates one of his taHas been inconsistent during his time with Arsenal but has enjoyed a string of games in which he has demonstrated just how good he is at finishing in front of goal. Give him a chance and nine times out of 10 he will bury it in the back of the net.wo goals in Arsenal's win over Hull

GETTY IMAGES

19/20 Dennis Bergkamp - 2005 Striker

Spearheaded a 4-5-1 formation due to the injury-enforced absence of Thierry Henry. His age was starting to show though, and he was replaced midway through the second half by Freddie Ljungberg as Arsene Wenger attempted to stem the flow of United attacks.

AFP

20/20 Olivier Giroud - 2014 Striker

Should he have delivered more goals this season? The Frenchman regularly pops up with a goal in the low-key games, but fails to push on to score a brace or hat-trick. 16 times Giroud has scored a goal, going on to double his tally just three times, while he has not scored a hat-trick this season. Could that change at Wembley?

Getty
Flamini first came to Highbury in the summer of 2004, weeks after Sol Campbell, Patrick Vieira, Thierry Henry, Dennis Bergkamp, Robert Pires, Freddie Ljungberg and the rest of the Invincibles had won the Premier League without losing a match.
When he made his debut in the first match of the next season, he came on as a substitute in a 4-1 win at Goodison Park and played in the centre of midfield with a 17-year-old listed in the Everton programme as Fabregas Soler, who was making his first Premier League appearance while still being billeted with an Arsenal family and earning less than £200 a week. Their other recent acquisition, 21-year-old Dutch winger Robin van Persie, was not even on the bench.
Video: Can Arsenal win the League?
Arsenal, and everyone else, were demolished that season by Chelsea in their first year under Jose Mourinho.
A decade on, both Chelsea and now Manchester City loom like megaliths, with resources that make them seemingly impossible to beat. The temptation is again idly to write off Arsenal as still not having the strength in depth to compete, but for the first time in years the numbers do not necessarily bear this out.
At present only Theo Walcott is injured and he is on the road to recovery. Even without the England winger, attempting to work out who might be Arsenal's strongest front six is a near impossible job.

Last season it was an extreme rarity for any of Aaron Ramsey, Mesut Özil, Mikel Arteta, Santi Cazorla and Oliver Giroud not to start in the Premier League if they were fit. If Alexis Sanchez is to be added to that number, that leaves no space for Walcott, Jack Wilshere, Alex Oxlade-Chamberlain, Lukas Podolski, Joel Campbell – who impressed at the World Cup with Costa Rica – the popular Tomas Rosicky, or Yaya Sanogo, who has certainly turned a few heads in pre-season, if not on Sunday.
The more obvious grey area is in defence, and the now crucial defensive midfield position, with Arsenal fans not enjoying reading Samir Nasri, of all people, describe that as "a weakness" before Sunday's match. Wenger admits he would like to buy one more centre-half, having lost club captain Vermaelen to Barcelona. "If I can find another centre-back I will do it," he said. "You make your position with your performances."
Currently, there are just six defenders in Arsenal's first-team squad. Liverpool's Daniel Agger has been suggested, while Chris Smalling was rumoured to be coming the other way if Vermaelen had gone to Manchester United.
Yet 19-year-old Calum Chambers, bought as a full-back amid talk of a future as a defensive midfielder, played his first ever competitive match at centre-half at Wembley on Sunday, and made what his manager called "an outstanding debut". If a new central defender does not arrive, that should give considerably less cause for panic.
While strength in depth is reassuring, it is not always called upon. Rare is the successful title challenge not backed up by several defenders starting 30 games or more.
The injured Vermaelen made only seven Premier League starts last season, and was one of only seven Arsenal defenders to start a game at all. Bacary Sagna, (who has been sold to City but replaced like for like by Mathieu Debuchy), Laurent Koscielny and Per Mertesacker all started well over 30 league games.
Manchester City may have 11 defenders in their first-team squad this year, but last season only eight made a Premier League start – which was clearly enough. Chelsea, who have let Ashley Cole, David Luiz and Ryan Bertrand all leave and replaced them solely with Filipe Luis from Atletico Madrid, have less defensive resources to rely on than Arsenal. Manchester United, suddenly without Patrice Evra, Rio Ferdinand or Nemanja Vidic, look inexperienced.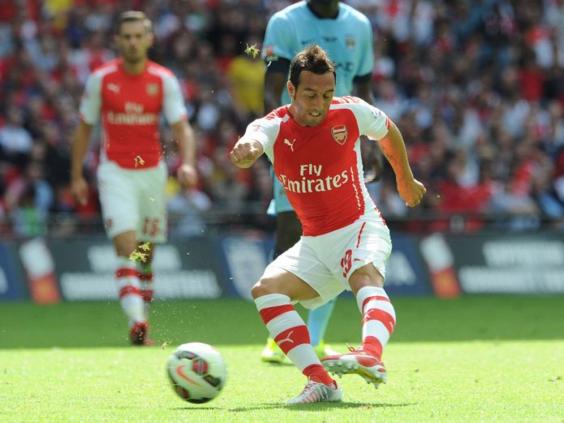 Now Arteta is Arsenal captain, it is reasonable to imagine he will regularly start in the deep-lying midfield role in which Flamini will provide cover. City may have signed the defensive-minded Fernando to liberate the more attacking Fernandinho and Yaya Touré in midfield, but to play him will almost certainly require dropping one of the other two.
The attacking options that Arteta and Flamini free up are more flexible than ever, too. Giroud started 36 Premier League matches last year), which may not happen again, but in Walcott, Oxlade-Chamberlain, Cazorla and Wilshere the abundance of attacking choices in midfield and on the flanks will allow Sanchez to play through the middle at some point, where many argue he is at his most dangerous. It is a mouthwatering prospect.
Of course, it may again be the familiar story that at the business end of the season, when the pressure is on and only the big boys are left in the Champions League, Arsenal vanish again. But if the tide will ever turn, there is every reason to imagine that time is now.
Reuse content