Jose Mourinho has made the surprising admission that his squad is not strong enough to dominate the Premier League like his side did back in 2004-05 when he first took over at Stamford Bridge, despite letting Romelu Lukaku leave on for Everton.
Mourinho landed the first Premier League title for the Blues in 50 years when he introduced a brand of power football to the club, which saw them set the record haul of 95 points in the process. Yet Lukaku, who has been compared to the powerful Didier Drogba, was allowed to join Everton for the season.
Asked whether he regretted letting Lukaku leave, Mourinho answered: "One thing is to play for Everton, another thing is to play for Chelsea." The fact that Lukaku has already scored three goals, compared to the two goals from Fernando Torres in cup competitions and both Samuel Eto'o and Demba Ba are yet to get off the mark, wasn't mentioned.
However, Mourinho's return to Chelsea has seen him arrive to one of the most open Premier League campaigns since its inception, with London sides Arsenal, Tottenham and Liverpool setting the early pace, while Manchester City and Chelsea remain in the mix.
The one surprise is Manchester United's worst league start in 24 years, although they have plenty of time to move into contention and make it a six-way fight for the top.
The Portuguese's side have already dropped seven points from six matches, leaving them fifth in the table on 11 points. However, their second-half performance against Spurs last week saw them dominate until Torres was dismissed for a second booking, and the 4-0 Champions League win over Steaua Bucharest suggests that they are finally getting to grips with the new season.
"In relation to my team at this moment we are not strong enough to be dominant in every match and win consecutively. That is my point of view," Mourinho said in a pre-match press conference ahead of Sunday's trip to Norwich.
"I think the league will be open until the end. At this moment some teams are being helped by the fixtures, some are more difficult than others.
"Manchester United have the most difficult one, immediately followed by us. I think by the end of November, that is the moment we will find out somebody is in a little bit better situation than others.
"I think this season can go all the way and I think that is good."
Mourinho will be without Torres after he picked up a knee injury in the win in Romania that has ruled him out for around three weeks, although he would have been suspended anyway for his red card at White Hart Lane.
Spurs boss Andre Villas-Boas criticised Torres, and labelled the Football Association's disciplinary system a "disgrace" after they chose not to extend the Spaniard's one-match ban.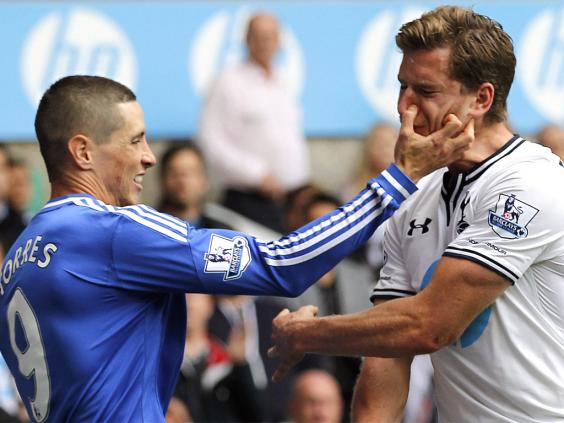 But Mourinho refused to taunt his former assistant in response, although he couldn't resist having another pop at defender Jan Vertonghen for what he saw as a clear dive to get Torres booked.
"I don't comment on others' opinions," Mourinho said.
"My opinion is simple. For some reason English football is English football. For some reason the Premier League is the most important championship and the most loved worldwide.
"One of the reasons is because people enjoy aggression, people enjoy emotion, people enjoy sometimes a loss of a little bit of control.
"People don't enjoy simulation. The (one) game (ban) for Fernando was more than enough, because the second yellow card came from simulation.
"I think the FA defend what is the principles and the values of English football.
"Against Tottenham, we did a fantastic second half. We didn't win because Vertonghen did fantastic."
There was a boost though with Eden Hazard returning to training on Friday, with the Belgian fit to play some part in the match whether it be in the starting line-up or from the bench. Marco van Ginkel remains a long-term absentee as he begins his recovery from knee surgery after damaging his cruciate knee ligament.