For years Chelsea fans have been mocked for supporting a 'small club' who got lucky because a billionaire took an interest.
Supporters of traditionally 'big clubs' (Liverpool, Arsenal, Manchester United and so on) have looked down at the west London club who, according to them, would not be perennial contenders at home and in Europe were it not for Roman Abramovich.
Without the rouble the likes of Jose Mourinho, Didier Drogba and the new crop of Diego Costa and Cesc Fabregas may never have come to Stamford Bridge.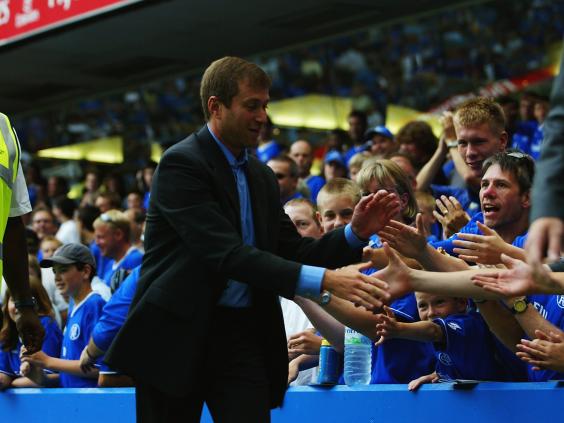 This is probably true, Chelsea were never going to be title contenders before Abramovich, but they were never a 'small club', whatever way you define such things, either.
In the immediate years before the arrival of Abramovich the Blues had just qualified for the Champions League for the second time, had a good history of success in the FA Cup and the League Cup and had won the Cup Winners' Cup in 1998.
Their history wasn't as marked as others but it was there, it's not as if he took a semi-pro side and made them champions of England.
Of course, branding Chelsea a small club with no history are both perfectly reasonable digs. Friendly banter between rival fans is part and parcel of the game that should be encouraged - as long as it's not offensive - the reason a lot of us love football is because of the atmosphere and rivalry between clubs and fans.
But the massive sponsorship deal that Chelsea announced with Yokohoma Rubber on Thursday night means calling Chelsea a small club with no history now holds a lot less water.
The five-year, £40million-a-year deal is only beaten in the Premier League by Manchester United's mega-deal with Chevrolet, worth £53m-a-year.
The biggest kit deals in sport
The biggest kit deals in sport
1/9 Manchester United - adidas

Manchester United announced a mammoth 10-year £750m deal with German sportswear giant adidas in July. They had been with Nike for the previous 13 years on a deal worth about £25.4m per year.

Getty Images

2/9 Manchester City - Nike

City switched from local firm Umbro to Nike in in a six-year deal announced in May 2012.

GETTY IMAGES

3/9 Arsenal - Puma

This is the first season of Arsenal's deal with Puma, which was announced in January 2014 as the biggest contract in both parties' history.

GETTY IMAGES

4/9 Liverpool - New Balance

In January 2012, Liverpool announced a six-year agreement with American firm Warrior. The deal was reportedly worth £25million a year to the Reds, but New Balance took over the contract in early 2015 with the value of the deal believed to now be worth around £300m.

Getty Images

5/9 Chelsea - adidas

Chelsea and adidas signed a 10-year deal in June 2014 worth almost £300m.

GETTY IMAGES

6/9 England - Nike

The Football Association ended a 60-year association with Umbro by switching to Nike. A five-year deal to run from 2013 to 2018 was announced in September 2012. The figure was not made public but the FA described it as "a substantial investment".

Getty Images

7/9 Real Madrid - adidas

Real's agreement with adidas, which runs until 2020, was widely reported to be the most lucrative in world football before United announced their deal with the same firm.

GETTY IMAGES

8/9 Barcelona - Nike

Barcelona announced in 2007 that their deal with Nike, initially signed in 2006, was being extended until the end of the 2017-18 season. The original contract was worth a minimum of 30million euros a year.

Getty Images

9/9 NFL - Nike

Nike replaced Reebok as the official supplier of kit to the National Football League in 2012 in a five-year deal that is the most lucrative in US sport.

Getty Images
Arsenal's current deal with Chevrolet, until the end of the 2018-19 season, is worth £30m-a-year, while the Liverpool deal with Standard Chartered is reported to be worth about £20m-a-year, as is Manchester City's with Etihad.
It's more lucrative than kit deals currently held by Real Madrid, Barcelona and Bayern Munich.
Chelsea are now a global sports brand with fans supporters in every continent - the club claims they have more than 500 million fans worldwide (though it is hard to define such a figure).
They command huge crowds wherever they travel and replica shirts can be seen in various countries around the world. Visit Stamford Bridge and you will hear a variety of languages among the home fans.Yokohama are a massive corporation that are willing to sink a fortune into the continued success of the club - the Japanese firm employ more than 20,000 people in 120 countries. They would not have been willing to pay such an amount to put their name on Chelsea shirts if they did not believe the club were truly global players.
If Chelsea win a fifth English title this season only six clubs would have won more and among those are Sunderland and Aston Villa - would those two clubs swap their 'bigger' history for Chelsea's current and likely future success?
Four of those would have come after the Abramovich revolution, but with foreign ownership now rife in English football (11 out of 20 clubs in the Premier League, 14 out of 24 clubs in the Championship are foreign-owned) with some clubs in a much worse state than they were before, perhaps Chelsea are just lucky they got an owner wealthy enough and interested enough to truly change the club.
This sponsorship, as well as the club's continued success on the pitch and savvy when selling players means Chelsea posted a record profit of £20m in November and a record turnover of £325m to the year ending June 2014.
Chelsea passed Financial Fair Play and are planning to expand Stamford Bridge to a 60,000 capacity - they are at the point where they can cope without Abramovich's money.
Despite all this, the digs at the Blues will remain, and so they should.
It's all just a bit of fun anyway.
Reuse content