Jack Wilshere has admitted that he made a mistake when pictured smoking a cigarette and that he now hopes to draw a line under the incident.
The Arsenal midfielder was snapped outside a London nightclub smoking while out with his club team-mates celebrating the 2-0 Champions League victory over Napoli last week.
After initially claiming that it was part of a prank with his colleagues, Wilshere admitted that he was in fact smoking, but insisted that he is not a smoker and that he will not do it again.
Having come off the bench against the Italian side, Wilshere was restored to the starting line-up for Sunday's trip to West Brom, and he ensured that people soon forgot about the incident by firing in the Gunners' equaliser that returned them to the top of the Premier League.
Ahead of England's campaign defining matches against Montenegro and Poland, Wilshere has said that he discussed the matter with club boss Arsene Wenger and that people do make mistakes.
"I've learnt that you've just got to concentrate on your football," Wilshere said in a pre-match press conference.
"You're a footballer at the end of the day and when it comes to the weekend you've got to be ready.
"Players and young people make mistakes and I made a mistake.
"I spoke to the boss (Wenger) and we sorted it out and he put me in the team on Sunday and hopefully I repaid him with a goal so hopefully it's all done now."
Despite Wilshere accepting he was in the wrong, fans took little time to let him off as they sag "Jack Wilshere, he smokes when he wants" in the stands at the Hawthorns.
Having learned from his mistakes off the pitch, Wilshere accepts that he still has a lot to learn on it, and intends to use these England matches to learn from experienced midfield duo Steven Gerrard and Frank Lampard, who have both surpassed the 100 cap mark.
"As a young footballer I have grown up watching those two and you can learn things from both of them," Wilshere said.
"The way Steven Gerrard passes the ball, his range of passing and how he puts his foot in and the way Lampard gets forward and his goalscoring record speaks for itself so I can learn from both of them."
A win against Montenegro on Friday would put the Three Lions on the cusp of World Cup qualification, meaning they would need just a point against Poland next Tuesday to secure their place in Brazil next summer, and could also go through even if they lose with their superior goal difference.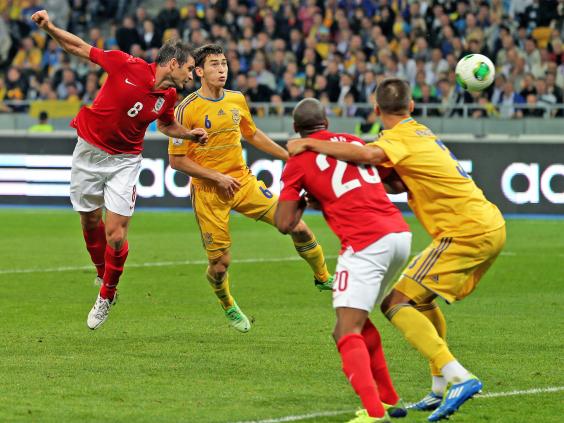 But losing is not something that Wilshere is considering as he claims England's rejuvenated strike force will pose a major threat to the opposition.
"We have got Sturridge and Rooney back which is going to be massive for us as you want your best players available," he said.
"Rickie Lambert has done a great job. He scored a couple and did well in Ukraine which was a difficult place to go and be up there on your own and do the job he did, he did really well.
"We have got Defoe as well who can score from any position and Danny Welbeck as well who is looking sharp. We have got a good mix there and it can only be helpful for us."
Despite going into the match with an unbeaten record throughout their group games, England have failed to beat any of the sides that they are competing against for qualification, with their wins so far having come against San Marino and Moldova.
Wilshere acknowledges that the unbeaten run gives them some momentum, but accepts that they could keep that record intact and still fail to qualify even for the play-offs.
"It's nice to be unbeaten but we can still be unbeaten and not go to the World Cup," he added.
"We don't want that. We have got two big games ahead of us and that's the way we've got to look at it. We need to focus. We will look at Montenegro and look at their strengths."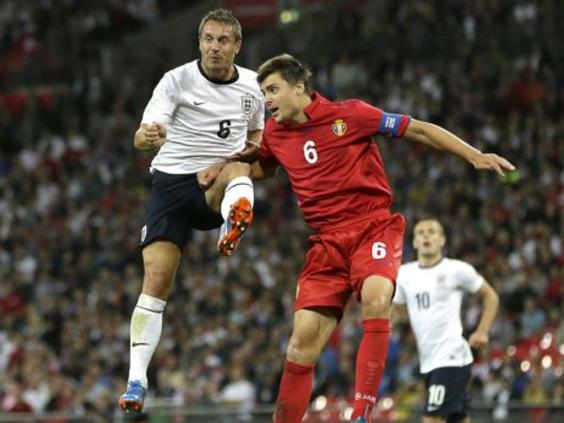 England and Everton defender Phil Jagielka also appeared in a confident mood that Roy Hodgson's team can deal with the expectancy that they will book their place for next year's showcase tournament.
"I was there when we drew the game away at Montenegro, as a team they've got a fantastic unit together," said Jagielka, who has become a mainstay at the back for England alongside Gary Cahill.
"They put us under a lot of pressure, they are progressing and they're confident as well.
"They're going into this game as confident as us due to the fact they've picked up draws against us before, and they're still in with a chance of trying to qualify themselves.
"We all know the task that lies ahead. I think there are quite a few people who've got the experience of being in similar situations before, so they've got big roles to play.
"We've also got some young lads with fantastic ability, so we're massively confident we can go out there and put on a good performance which can hopefully produce goals."
Reuse content