James Milner gives boring interviews.
So much so that a parody Twitter account of the Manchester City midfielder, @BoringMilner, has become an internet sensation, with more than 363,000 followers that show the England man going about his mundane daily business.
But now the midfielder, who again proved his versatility by playing up front in the win against Crystal Palace, has got in on the joke with the help of his club.
The video, produced by City as they countdown to Christmas, begins with the 28-year-old reading a self-help book titled 'Avoid Boring People'.
Hearing a knock at the door, Milner sets about opening presents sent to him by members of his family with popular City kitman Chappy.
His uncle James has sent him a box of PG Tips tea bags, wrapped in brown paper as he "doesn't like colour", to which Milner responds: "Bit foreign isn't it? Thought it was only Yorkshire Tea that did tea bags. I've never heard of them. Uncle James will get a phone call about that."
Everton midfielder Gareth Barry has sent a plain white Christmas card with the words 'Merry Christmas' on the front in black.
"He's a good mate," Milner says of his former City team-mate. "He's a hoot - we have some great text conversations. It's brilliant."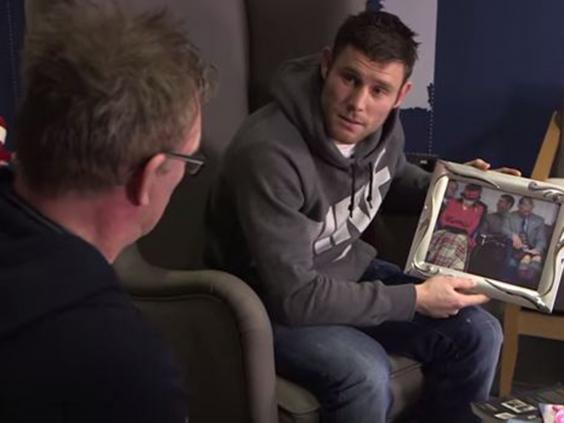 His favourite present comes from his Auntie James who has set a pencil, sharpener and eraser set.
"That's going to come in handy," he says, delighted. "They get a bit giddy with pink ones these days but you can't beat a white rubber. Pencil sharpener - marvellous. You always need a pencil sharpener."
As he tries the sharpener he says: "Oh yeah, it's going through nice and smooth, you get those jittery ones at times.
"It's coming out beautiful."
Hats off, Manchester City and James Milner
Reuse content