Jermain Defoe could return to the Premier League in January after FC Toronto president Tim Leiweke told any players who don't wish to play for the MLS club to "get the hell out of our way."
The former Portsmouth and Tottenham Hotspur star almost returned to English football during the summer transfer window - with Queens Park Rangers appearing most likely to secure his signature.
Leicester City were also believed to have shown an interest in the 31-year-old after Ryan Nelsen was sacked as Toronto's head coach this summer.
A return to England, however, failed to materialise but Defoe is reportedly still keen on rejoining Harry Redknapp at Loftus Road.
"We will have some new DP's (Designated Players) next year," said Leiweke, speaking at Ryerson University.
"I personally don't think Defoe will come back. I think if he doesn't want to be here, you get rid of him.
"My attitude is, if you want to be here and buy into what we've been doing, let's go roll up our sleeves and we'll fight together. And I will be with you every day.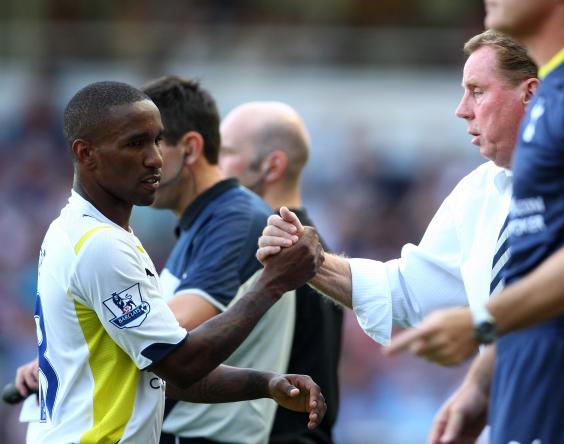 "If you don't want to be here, get the hell out of our way."
Also comparing Defoe's influence to David Beckham's presence at LA Galaxy, Leiweke appeared disappointed with the striker's determination to success in the MLS.
"Has Jermain Defoe ultimately adapted as well as David Beckham did?
"David Beckham had more character, more grit, more determination than any player I've ever been around.
"Never once did David Beckham run, hide or fade away."
Speaking after deadline day, Redknapp revealed that QPR were desperate to land Defoe.
"We tried all day with Jermain Defoe. He was keen to come," Redknapp told talkSPORT. "We agreed a deal with Toronto but they wouldn't release him now. We could do a deal and then take him in January but we wanted to get someone in today.
"There is every chance he will come in January. I'm a big fan of Jermain's. Almost certainly, I think we will [go back in for him]. I've signed him so many times. I've taken him everywhere."
Reuse content