The Newcastle United Under-21s dressing room gave Jonas Gutierrez a standing ovation after the Argentine midfielder captained the side to a 4-1 win over West Ham - his first game since beating testicular cancer.
Gutierrez, 31, skippered the side to the win at Whitley Park, playing 87 minutes of the win as an over-age player.
"He was doing [an interview] afterwards and he came into the dressing room and just spontaneously they all clapped him in," Football Development manager Peter Beardsley told the club website.
"It was a really nice thing - we never said 'when he comes in, you clap him' or whatever - they just did it as he walked through the door.
"He was probably ten minutes after everybody else and it was an incredible thing. It was really special. And it's just a measure of the man.
Thanks to all the fans for the support that you give through my illness, i am proud to be back. Good game and really happy. Thanks

— jonas gutierrez (@elgalgojonas) December 22, 2014
"He trained with us for a few days when the first team have been away so we know what he's like. When you look at him physically, he looks as well as he's ever looked and that, ultimately, is the most important thing.
"But to see him back on a football field is a massive bonus.
"You can't comprehend what he's been through but he's been brilliant around the group so it was great for us to have him involved in a game like that - and hopefully a big boost to his Christmas."
Gutierrez (above, picture via Newcastle United), who underwent chemotherapy in his homeland, said he was looking to push his way back into Alan Pardew's first-team plans.
"I really enjoyed being back in my first game after all of my treatment," he said.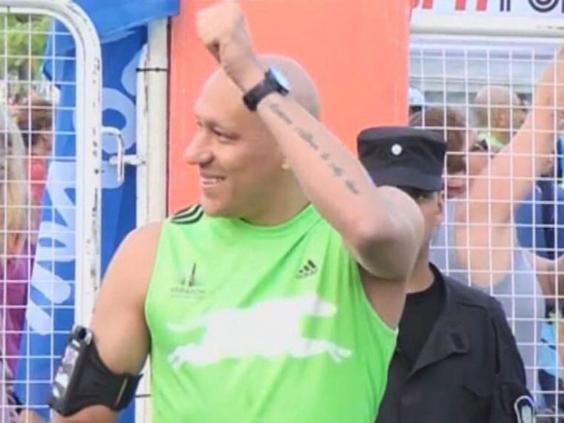 "It was a hard time but now I'm happy to be back to train with the lads and play for the Under-21s to get fit and play for the first-team if I can. When you have a problem like cancer, other problems are really, really small.
"The most important thing is that I won that game, that battle, which was really, really hard. I don't know what is going to happen in the future. I can only think about the present and to try to my best.It has made me stronger. I am proud to be back. I thank all the fans who have helped me through my illness.
"Since my problem they have been with me all of the time, sending me messages. I have to say thank you for all of that support."
Reuse content