Jose Mourinho resumed his hostilities with the Football Association today, saying once again that he feared punishment for speaking out of turn and claiming that he was only attending his Friday press conference because of Premier League regulations.
In an occasionally awkward briefing for the broadcasters and radio reporters, Mourinho was notably brief with the correspondent for Sky Sports News, whose coverage he has blamed for the three-match ban for Diego Costa. Asked in his first question by Sky's reporter Nick Collins for his reaction to signing Juan Cuadrado for £26.8m, Mourinho replied, "Normal".
Asked whether the Colombian World Cup star would feature against Aston Villa tomorrow, Mourinho replied: "I think he can, unless the Premier League or FA say some rule stops him."
Mourinho boycotted his press conference last Friday and refused to make himself available for radio, television and newspapers before and after Sunday's game against Manchester City. Asked why he had done so, the Chelsea manager seemed to suggest that it had been a calculated move to draw attention to his grievances over the Costa ban for his stamp on Martin Skrtel.
Chelsea injury list and suspensions
Chelsea injury list and suspensions
1/3 Loic Remy

Mourinho suggested Remy had a chance of playing last weekend against Manchester United, however he was not even on the bench, leading to uncertainty over his availability.

Getty Images

2/3

The summer signing from Atletico Madrid has not played since the start of the month when he featured for 12 minutes against Stoke. Whilst there were fears he may not feature again this season, the Spaniard is understood to have returned to training and could even make a surprise outing at the Emirates.

AFP

3/3 Didier Drogba

Played last weekend in the win over Manchester United, however he pulled out of a charity match this week with an ankle injury, putting his participation against Arsenal in doubt.

Getty Images
Mourinho said: "If you want, you can make a silence very noisy. It depends what you want to do. You could. You could. You could make noise with my silence, because you know the reason for my silence. It depends on you. If I was a journalist, from silence I could make lots of words."
Then asked why he had changed his mind about attending press conferences, Mourinho said: "You know why I'm here, so you cannot expect that I'm super happy to be here." On whether he expected to be fined by the Premier League, Mourinho continued a long-running theme of his that he feels the FA has victimised him based on the fact it failed to punish Arsene Wenger for a push on his opposite number at Stamford Bridge this season.
With tongue in cheek, Mourinho said: "You know, the only surprise I had in relation for that was not to be punished when I was pushed by another manager. Apart from that, I can expect everything."
As for the Diego Costa situation, Mourinho once again poked fun at the FA, joking that the governing body might start to punish him for his thoughts as well as his words and deeds. Mourinho said: "I don't reflect, because maybe I'll be punished if I reflect. Maybe they can read my reflections, and I don't want that."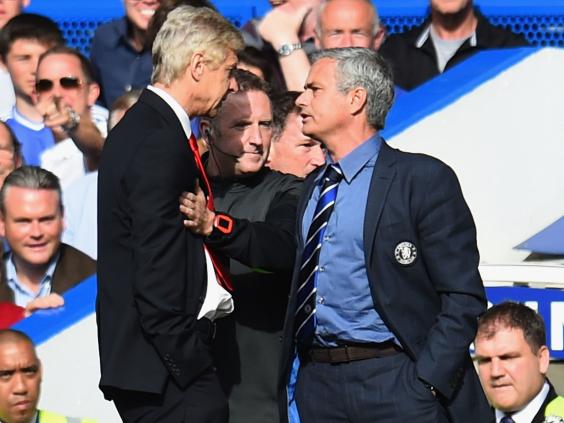 Cesc Fabregas is back in the first team squad for the game against Villa. Filipe Luis is injured and Diego Costa is suspended. Mourinho said he had not decided whether or not Cuadrado would feature. "He trained just two days. I cannot say much. The business situation went almost to the last minute on Monday, he had to go to Paris for visas and the legal situation on the Tuesday. He only trained here a couple of days. I cannot say much."
Mourinho has not won at Villa Park against Villa in five attempts. Asked why that was the case, Mourinho said: "Because the opponents score more goals than us, or sometimes the same number of goals."
Reuse content