Jose Mourinho was not quite the full Marshawn Lynch at his press conference at the Cobham training ground yesterday, but like that famously uncooperative Seattle Seahawks running back, he did want to make one thing clear: he was only there so he wouldn't get fined.
Asked why he had decided to break a silence that encompassed the pre-Manchester City briefing eight days ago, as well as before and after that game last Saturday, the Chelsea manager acknowledged that it was the Premier League regulations that were on his mind. "You know why I'm here," he said, "so you cannot expect that I'm super-happy."
The return of the Chelsea manager to his media duties was always likely to be a painful affair, with Mourinho hamming up his status as the helpless victim of an unforgiving system. And so it was that for much of the televised section of his Friday briefing he essayed the look of a man who had just returned to his parked car to find a large dent in the door.
When Mourinho is unhappy, he does like you to know. There were short, abrupt answers to Nick Collins, the correspondent from Sky Sports, which is the broadcaster Mourinho blames for whipping up the storm around his suspended striker Diego Costa. There were baleful glances at his hands and the general mood you might expect of a recalcitrant teenager who just wanted to go to his room and play The Smiths really, really loud.
Mercifully, he gradually seemed to snap out of it and by the time his newspaper briefing came around he was warming to familiar themes, like what he sees as the lenience shown to Manchester City over Financial Fair Play rules and his latest complaint about Manuel Pellegrini.
For all the posturing – and more wounded looks than a Thomas Hardy dramatisation – Mourinho does have a point on certain topics. Chief of which is his repeated claim that if it had been him who had pushed Arsène Wenger at Stamford Bridge in October, instead of it being the other way round, the likelihood is that the Football Association would have punished him.
Chelsea injury list and suspensions
Chelsea injury list and suspensions
1/3 Loic Remy

Mourinho suggested Remy had a chance of playing last weekend against Manchester United, however he was not even on the bench, leading to uncertainty over his availability.

Getty Images

2/3

The summer signing from Atletico Madrid has not played since the start of the month when he featured for 12 minutes against Stoke. Whilst there were fears he may not feature again this season, the Spaniard is understood to have returned to training and could even make a surprise outing at the Emirates.

AFP

3/3 Didier Drogba

Played last weekend in the win over Manchester United, however he pulled out of a charity match this week with an ankle injury, putting his participation against Arsenal in doubt.

Getty Images
Unquestionably, Mourinho and Chelsea will be taking a very close look at the kind of remarks by managers the FA chooses to seize upon and which it allows to pass unpunished. The governing body's decision to charge Louis van Gaal for his relatively innocuous post-match comments at Cambridge United two weeks ago might just be a sign it recognises that the bar has been lowered in that respect.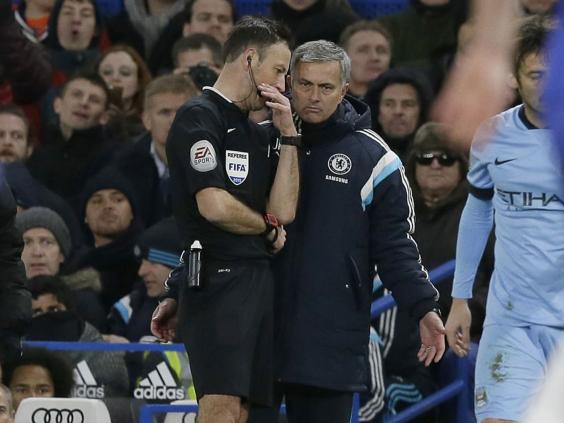 Of course, there were times when you suspected that even Mourinho might be growing tired of sighing his way through a press conference and wanted a joke. Like his claim he would not even think about the Costa episode lest he be punished for his "reflections" – an Orwellian dystopia, the like of which not even the FA's disciplinary department could conceive. You wouldn't put it past the Premier League, though. It has, after all, got to stay one step ahead of the NFL.
"If you want, you can make a silence very noisy," Mourinho said in response to a question as to why he had not spoken last week. "It depends what you want to do... you could make noise with my silence, because you know the reason for my silence. It depends on you. If I was a journalist, from silence I could make lots of words."
That suggested that he knew his press conference boycott would have exactly the desired effect and stir up the usual diversion from whatever it was he did not want scrutinised. Beat Aston Villa and doubtless the cloud will lift. As any parent can see, it's just a phase he's going through.
Reuse content