Chelsea manager Jose Mourinho has aimed a cryptic dig at the press after a report earlier this week claimed that John Terry and Diego Costa had a 'bust-up' after the Everton defeat.
TalkSPORT host Stan Collymore was the man to break the news, but later took back the claim, admitting that he was misinformed after Chelsea offered a strong denial.
Speaking at a press conference ahead of the huge match with Arsenal, Jose Mourinho had his say on journalists trying to find a "dramatic story".
The Portuguese mocked the incident, stating that Terry and Costa would have to arrange their fight like a Wild West duel, because Costa is not a very good English speaker.
The XI Chelsea should play against Arsenal
The XI Chelsea should play against Arsenal
1/11 GK: Asmir Begovic

Irony alert. Petr Cech finally quit Chelsea after 10 years because he wanted first-team football - his replacement, Thibaut Courtois, promptly goes and gets injured for around three months. Begovic is as good as a back-up as you'll find in the Premier League and would be a regular starter for at least 10 other teams in the division.

Getty Images

2/11 RB: Cesar Azpilicueta

If Branislav Ivanovic was even playing at a Championship level then he would be in the team, but the Serbian would not get into a League One side at the moment. He's been an absolute liability both defensively and had no impact as an attacker, where he has been so reliable. Cesar Azpilicueta is a stout defender and has the pace and energy to cover the entire right-hand side - that will be key with Chelsea short on wingers for this match.

3/11 CB: Kurt Zouma

Zouma has the pace to deal with Theo Walcott and the strength to deal with Olivier Giroud. As Everton found out last week he is far from the finished article and can be found out with clever movement. But he played better than Gary Cahill in midweek and should retain his place.

Getty Images

4/11 CB: John Terry

Despite his half-time benching against Manchester City, the Chelsea captain has not done much wrong at all this season, but has been badly let down by those playing in front and around him. Father time eventually catches up with everyone, but his organisation and desire mean he should play - besides, Gary Cahill is still not at his level.

Reuters

5/11 LB: Baba Rahman

Azpilicueta moving over to the right gives Baba Rahman a chance to make the left-back position his own. His added pace and natural left-foot give him an obvious advantage over the Spaniard - who often cuts inside and slows attacks - where he can overlap Eden Hazard to give Chelsea an extra dimension. But, and it's a big but, the young Ghanaian struggled defensively against Maccabi, and was way too often caught high up the pitch and out of position. Chelsea will be ruthlessly punished if he does that against Arsenal. A more disciplined performance is needed.

Getty Images

6/11 CM: Nemanja Matic

His dramatic collapse this season has been just as quick as his meteoric rise to the very top last season, where he overtook Yaya Toure as the best midfielder in the league. Has looked tired, mentally and physically, this season. Got a rest in midweek and knows he must be at his best to combat whatever midfield Arsene Wenger elects to pick. Huge game for Matic, he will be key.

GETTY IMAGES

7/11 CM: Cesc Fabregas

It was a surprise to see him play against Maccabi but it was just the tonic the Spaniard needed. His fingerprints were all over the game in a dominant individual performance that brought a goal and an assist and some impressive probing play. Still Chelsea's main creator, Fabregas and Blues fans need to hope his performance translates against a much better class of opponent.

PA

8/11 RW: Pedro

If he's anywhere close to being fit then he has to play - Chelsea just don't have the options in their paper-thin squad. The extremely limited Ramires or the raw Ruben Loftus-Cheek will be the next choices if Pedro misses out, as Willian is out and numerous others out on loan. The Barcelona man started quickly but wasn't at his best against Everton. Still a quality option, however.

GETTY IMAGES

9/11 AM: Oscar

Two goals in two starts this season, Oscar's work rate and willingness to defend have made him a Mourinho favourite over the last two years, although that slipped in the second half of last season when the Brazilian badly lost form. The jury is still out on Oscar, who needs to add more flair and creativity to his pretty decent goal record. Has to have a big performance on Saturday.

AFP/Getty Images

10/11 LW: Eden Hazard

Not in the team by merit. Last season's Player of the Year looks unfit and (whisper it) a bit uninterested. The Maccabi game should have been a chance for him to find some form, like it was for Fabregas, but Hazard wasn't close to his best, with the early penalty miss knocking his confidence. The weight of burden appears to be hanging heavy on his shoulders, as is the constant double teaming and aggressive treatment he faces from opponents. But it would be far too big a risk to leave him out - plus Chelsea just don't have the options with Willian and maybe Pedro missing. If he doesn't perform then he should expect a spell out of the team.

Reuters

11/11 ST: Diego Costa

If Mourinho can tell him to stop trying to fight every defender in the land and actually concentrate on his football, he'll have a hell of a striker on his hands. Provided two moments of inspiration against Maccabi, showing quick feet and a turn of pace to win the second penalty, and a telepathic connection - and sublime technique - to volley in a Cesc Fabregas pass. Needs to find his goal scoring form quick for Chelsea to claw their way back into contention. Loic Remy did ok in midweek, but unfortunately was forced to play wide after just 20 minutes because of injury to Willian.

Getty Images
"Normally when bad results happen the first thing that comes into your laptops, iPads and pens is to find a dramatic story," said Mourinho.
"Somebody punches somebody in the dressing room, the manager doesn't want to speak with this guy. Diego Costa fought with John Terry and before they started the fight they brought a translator.
"They organise like far west duels - at this time we are going to fight, bring a translator. The other direction you don't go is the direction which is real. You lose matches, you lose confidence."
Mourinho also refused to comment on the news that the FA are to investigate him for a sexist comment towards demoted club doctor Eva Carneiro, meeting the question with a blank stare and turning his answer back to the Arsenal match.
"I don't think they will be affected because half of the team didn't play, 25 per cent of the team didn't travel," he said.
"We both played on Wednesday, why we don't play on Sunday? This is an old story and I don't want to spend time on it."
Mourinho, who is definitely without Willian for the match but could see Pedro, Radamel Falcao and Oscar be fit enough to play, added that his camp was happier after the win over Maccabi Tel Aviv.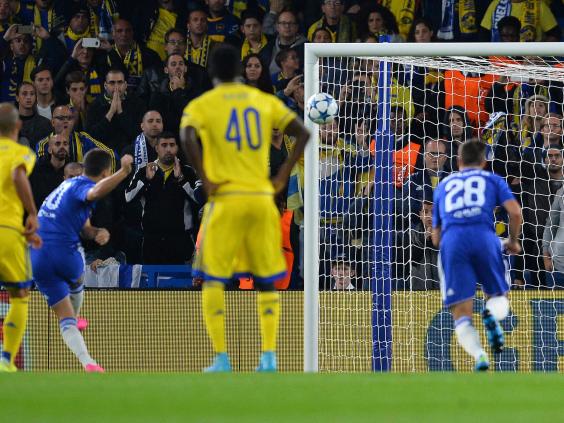 "It's easy to see some better faces, easy to feel a different atmosphere because it's normal," said Mourinho.
He also, despite 'banning banter' among his players, was quick to make a joke about Eden Hazard's awful penalty miss in the 4-0 win.
"Maybe it was an agreement he did with some sponsor to promote the Rugby World Cup," he added.
"He's the best penalty taker in this country too. If he's the best, the ball is on the spot. He is my first option.
"We shouldn't worry too much about it because we know he doesn't have many chances to take penalties."
Reuse content