Jose Mourinho wants to stay at Manchester United for "many years".
The Portuguese boss is in his first season at Old Trafford and has his side battling for Champions League qualification - either through finishing in the top four or more likely winning the Europa League - while already securing the League Cup and Community Shield.
He is charged with bringing back the level of success that has been missing since Sir Alex Ferguson left in 2014 and if he can manage that then he predicts a lengthy stay at club.
Chelsea vs Manchester United player ratings
Chelsea vs Manchester United player ratings
1/22 Thibaut Courtois – 7 out of 10

Didn't see much action but when called upon to stop from Rashford he was equal to it.

Getty Images

2/22 Cesar Azpilicueta – 6 out of 10

A fairly quiet evening, especially after the sending off, but did his job perfectly as always.

AFP/Getty Images

3/22 David Luiz – 6 out of 10

Had his hands full with Rashford until the red card but an easier task after that, although did sell himself to the teenager to easily in the second half.

REUTERS

4/22 Gary Cahill – 6 out of 10

Rashford gave him a few problems but nothing he was unable to deal with as Chelsea's defence remained in control.

AFP/Getty Images

5/22 Victor Moses – 6 out of 10

Had a good battle with Young and a few efforts on goal that missed the target.

AFP/Getty Images

6/22 N'Golo Kante – 8 out of 10

Was put under a lot of pressure from the start by United but coped well to keep his metronomic style of play ticking over. Scored a cracking goal from outside the area to give Chelsea the lead.

AFP/Getty Images

7/22 Nemanja Matic – 6 out of 10

Sat back and helped break up any attacks and also on help cover any counter attacks that United looked to launch.

AFP/Getty Images

8/22 Marcos Alonso – 5 out of 10

A quiet game, with most of the action coming down the right-hand side, but backed up Hazard well.

Getty Images

9/22 Willian – 7 out of 10

Made a habit of dragging defenders out of position as he drifted inside and drew a number of fouls in the hotly contested match.

Man Utd via Getty Images

10/22 Eden Hazard – 7 out of 10

Was rarely allowed to get up to speed as United chopped him down at every opportunity. Came close on a number of occasions and brought out a lovely turn to get passed Jones.

Getty Images

11/22 Diego Costa – 5 out of 10

Strangely calm in a game which threatened to boil over during the first half and missed a glorious chance to double Chelsea's lead.

AFP/Getty Images

12/22 David De Gea – 7 out of 10

Made two amazing point-blank saves from Cahill and Hazard in the first half to keep United in it when Chelsea threatened to take a first-half lead.

AFP/Getty Images

13/22 Antonio Valencia – 6 out of 10

Started very brightly offensively but the red card changed his role to aid the defence.

Man Utd via Getty Images

14/22 Phil Jones – 5 out of 10

Made a number of stupid fouls on Hazard and should have been booked in the lead up to Herrera's red.

AFP/Getty Images

15/22 Chris Smalling – 6 out of 10

Marshalled the back four well during a tough time when they came under siege in the first half.

AFP/Getty Images

16/22 Marcos Rojo – 6 out of 10

Went close with an early header and had a good contest with Costa – even if it may have overstepped the line on occasions.

AFP/Getty Images

17/22 Matteo Darmian – 6 out of 10

Was dragged out of position on a number of occasions by Willian.

Getty Images

18/22 Ander Herrera – 3 out of 10

Sent off after 36 minutes for two fouls on Hazard. The first was justified, but the second looked slightly harsh, although very stupid.

Getty Images

19/22 Paul Pogba – 5 out of 10

His usual quiet self in the big games. Yet to establish himself against one of the top teams, which he will ultimately be judged upon.

AFP/Getty Images

20/22 Ashley Young – 5 out of 10

Played almost as a wing-back, despite having Darmian behind him. Had a good battle with Moses until he hacked him down in frustration.

Getty Images

21/22 Henrikh Mkhitaryan – 5 out of 10

Sacrificed by Mourinho after Herrera's red card but didn't really get into the game prior to that.

Getty Images

22/22 Marcus Rashford – 7 out of 10

Ran relentlessly and looked sharp despite his illness. Gave Chelsea's defenders a tough time and nearly scoring after a mazy solo run.

AFP/Getty Images
"(A minimum of) Three years, I think I will be here, I think the club understood the necessity to give stability to all levels," Mourinho said in an interview with Portuguese TV channel SIC.
"I believe if we do that, even without a massive success, which is harder in football, even more so in England, but with some type of success, I see myself staying here if they want me to stay.
"If they want me to stay I will stay, but like I say, we both need to be happy. I'm not a type of person to be at a club 10, 15 years, without real success.
"I need to have true success, my life is like that, I need that pride and happiness. In all honesty, I would like things to go well and be here many years."
United have been the dominant force of the Premier League era, winning 13 titles and two Champions League, but in recent times they have falling down the pecking order and Mourinho reckons they were blind sided by other clubs.
"I think the club got so used to winning and having success, maybe they didn't realise other clubs were growing, even when Sir Alex was in his last years at the club," he added.
"The Premier League were creating conditions for the other clubs to become financially powerful and that has definitely transformed the league.
"Nowadays all clubs have grown and with TV rights being shared, it's almost unique in European football.
"It has allowed that difference in power to be slowly diluted, in a way that Manchester United stopped being the all-powerful Manchester United, and became part of a group of five, six, seven very powerful clubs. They are followed by other clubs, less powerful, but not poor clubs.
"United had a bit of everything happening at the same time. The exit of Sir Alex, unique and more than just a manager, the change of powers in the Premier League and a period of instability at Old Trafford; three managers in three years if you count Ryan Giggs. It was a period of some instability, disbelief and even distance with the fans."
Mourinho famously called himself the 'Special One' when he first joined Chelsea in 2004 and now he complains of receiving special treatment, again taking a swipe at apparent inconsistencies between punishments for him and other managers - notably Arsene Wenger.
"I'm still a very happy man, capable of being emotional with a special victory. In that aspect I continue to be the same but I also understand with experience that I continue to be looked at with different eyes," he said.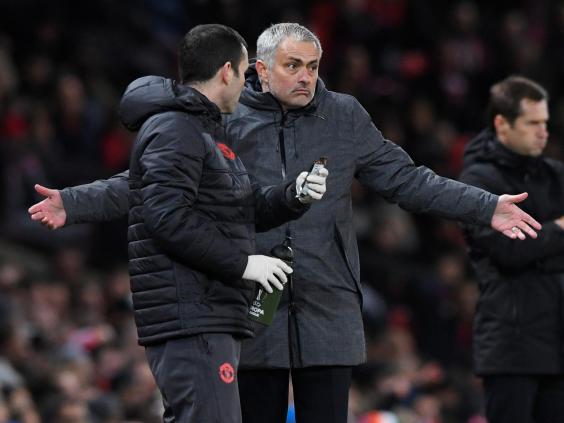 "I was banned from entering a stadium, where my team was playing, not even with a purchased ticket. This year I was sent off for kicking a plastic bottle, another coach for pushing a ref, nothing happens.
"I started to understand that there are powers that you cannot fight against. This is also a life lesson, an unfair lesson, but nevertheless a life lesson."
The interview gave an insight into life behind the scenes at the club's Carrington training ground and revealed that Mourinho keeps an exercise bike by his desk in his office.
However, the equipment only ever gets used when United have won.
"I have a bike just to fool people, it's just there for decoration. I only pedal when I'm happy, when we win. When we don't win, I don't pedal," Mourinho said.
PA
Reuse content