Jose Mourinho, the Chelsea manager, on Sunday went out of his way to risk more disciplinary action by going on television to escalate his attack on what he called Ashley Barnes' "criminal challenge", for which the Burnley player went unpunished while the recipient, Chelsea's Nemanja Matic, was sent off in Saturday's 1-1 draw.
Sky Sports' morning programme Goals On Sunday's live guest was scheduled to be James Beattie, but Mourinho replaced the former striker at the last minute, with Sky announcing his appearance only 20 minutes before the programme began.
The Portuguese had already been outspoken about the Barnes incident immediately after the game, returning to his recent theme of how officiating decisions constantly go against his side, denying them a larger lead at the top of the Premier League table.
On the show, Mourinho was back on the attack, despite being fined £25,000 and warned as to his future conduct less than a month ago after his claims in December that there was an orchestrated campaign aimed at destabilising Chelsea. He accused the referee Martin Atkinson of making "four mistakes" and also hit out at Sky. Then on the Barnes challenge he said: "I can't find the word to describe what that player did. I can clearly understand that football is about emotions and sometimes you lose emotions. Clearly, Matic had a reason to lose his emotions. What could be the consequence of his push for the other player? Nothing. The consequence for Matic could be end of career.
"This [tackle] could be end of career. Because I can't find another adjective stronger. I just say this is end of career. Matic is a lucky guy."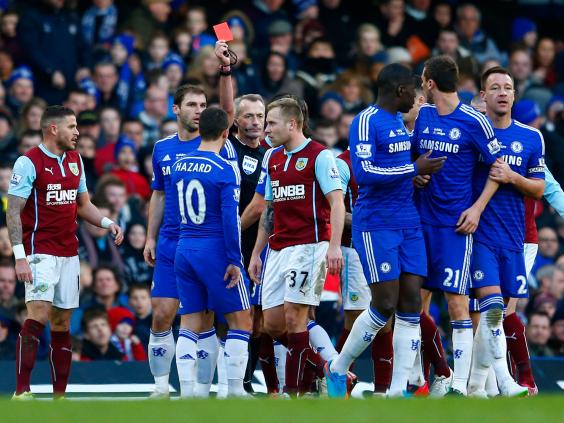 He then compared Sky's immediate reaction to Diego Costa's alleged stamping in last month's game against Liverpool (the Chelsea striker was later given a three-match ban). "When I finished at the game against Liverpool, I went to the dressing room and the first thing I saw on the big screen, reading non-stop – 'Diego Costa crimes'. I would like to know how to you, Sky Sports, describe the actions of the Burnley player yesterday? My English is not good enough to find a word.
"When you think 'Diego crimes' after he puts his boot on a hand, when this is 'Diego crimes', the minimum you have to say is 'criminal tackle'." Diego Costa has a three-match ban. Matic will probably get three. You tell me how many games you think they deserve."
Chelsea 1 Burnley 1 player ratings
Chelsea 1 Burnley 1 player ratings
1/21 CHELSEA: Thibaut Courtois

Produced an absolutely fantastic save with about 10 minutes left to keep the score at 1-0, but Burnley scored from the resulting corner. 7

2/21 Branislav Ivanovic

The right-back now has four goals in his last six games – a superb finish and excellent again. 8.

3/21 Kurt Zouma

Another composed performance from the skipper; Chelsea should offer him a new deal soon. 7

4/21 John Terry

Another composed performance from the skipper; Chelsea should offer him a new deal soon. 7

5/21 Filipe Luis

Back in the side but really struggled with the pace and pressing of the visitors. 5

6/21 Nemanja Matic

Was controlling the midfield until he saw red following a terrible challenge from Ashley Barnes - an understandable reaction, but he will miss the Capital One Cup final. 5

Getty Images

7/21 Cesc Fabregas

Still doesn't look 100 per cent fit, whether it's his hamstring or illness. 6

8/21 Juan Cuadrado

Showed flashes of his pace and quality before being replaced after an hour but needs more time to gel with his new team-mates. 5

Getty Images

9/21 Diego Costa

Has lost a bit of sharpness since returning to the first XI. Needs a goal very soon. 5

Getty Images

10/21 BURNLEY: Tom Heaton

Didn't produce one stand out save but was generally solid throughout. 7

Getty Images

11/21 Kieran Trippier

Always a great attacking threat down the right, though he did struggle to handle Hazard. 7

12/21 Jason Shackell

Should have conceded a penalty in the first half, shoving Diego Costa to the ground after being beaten. 5

Getty Images

13/21 Michael Keane

Dealt with the Chelsea attack better than his partner, but still struggled at times. 6

GETTY IMAGES

14/21 Ben Mee

Fantastic header for the goal and dealt really well with Juan Cuadrado throughout the game. 8

GETTY IMAGES

15/21 George Boyd

Worked really hard in midfield and possesses decent quality with his left-foot. 7

Twitter/@BurnleyOfficial

16/21 David Jones

Never gave Fabregas and Matic a moment's rest, and was a crucial part of Burnley's comeback. 8

Getty Images

17/21 Scott Arfield

Like Jones, Arfield was an energetic presence in the centre of midfield. Could not fault his work rate throughout the 90 minutes. 8

Getty Images

18/21 Michael Kightly

Mostly anonymous before coming off for Sam Vokes, though he did work hard. 5

Getty

19/21 Ashley Barnes

His tackle on Matic changed the match. Horrible tackle that could have broke the Serbian's leg, Barnes was lucky to escape punishment. 4

20/21 Danny Ings

Always a nuisance to Terry and Zouma, buzzing around the pitch making intelligent runs. Didn't get a chance to show off his finishing skills. 7

Getty Images

21/21 From the bench: Sam Vokes

Can on for the last 10 minutes but didn't really affect the game. 5

PA
Mourinho highlighted four incidents which he believed shaped the outcome of the match against Burnley. He is convinced Barnes should have been dismissed for a knee on Branislav Ivanovic in the 31st minute and said Chelsea should have been awarded penalties in the 34th and 44th minutes.
The last incident was the Barnes challenge on Matic and Mourinho questioned the performance of Atkinson. "The best players in the world make mistakes. This gentleman [Atkinson] is one of the top referees in European football, he can also make mistakes," Mourinho said. "He clearly made four important mistakes yesterday. He is like the lawyer who is consistent because he lost 15 of 15 cases. You don't want that lawyer."
However, the manager added: "I'm not attacking the honest or dignity of anyone, I'm not trying to bring the game into disrepute – which is always [the phrase] they use when they want to punish me. I'm just trying to be honest. I can only remember one decision all season which went in  our favour. Now I am risking my dugout in the final because I am having this conversation.
"I speak about these incidents week after week, because they happen week after week. My players are not getting the respect they deserve and it is too much."
Mourinho then called for referees to be aided with video technology. "If I was a referee I would welcome it, the same as goal-line technology. I am so comfortable with goal-line technology now, whereas before it came in I was not comfortable. But now I am.
"They [referees] are trying but they are not doing well. If the referee cannot see, some official in front of a screen cannot miss it. We want  to protect the integrity of  the game.
"If the referee cannot see a penalty three metres in front of him, some official in front of a screen cannot miss it," Mourinho added.
"If we want to protect the integrity of referees and believe the mistake is a  consequence of misinterpretation or a bad position or the unpredictability of  the game, I think technology can help."
Reuse content