Jose Mourinho launched an impassioned defence of the changes that he is trying to impose on his Chelsea team today, insisting that the club had to move from the style of previous seasons and warning that there could be more difficult times ahead until the players adapt.
In a lengthy briefing at Chelsea's Cobham training ground, Mourinho said that he accepted much of the criticism following Tuesday's shock 2-1 defeat to Basel at home in the Champions League, but said that he "didn't like" the style of the side last season and, with the backing if Roman Abramovich, would force change.
He said: "The situation is pure. I don't like the way Chelsea were playing in the last couple of years. The club doesn't like it. We want to change. We have the players with the profile to change. We want to play a different style."
Mourinho's side face Fulham tomorrow in the 5.30pm kick-off at Stamford Bridge having not won since they beat Aston Villa at home on 21 August. Since then they have drawn two games, including the Super Cup final which they lost on penalties to Bayern Munich, and been beaten by Everton and Basel.
Mourinho said: "When you want to build something different from that the players are adapted to and comfortable with, it's more difficult. The easiest thing is for a manager to arrive in a club and not to change, to go in the same direction. Or keep something and buy a couple of players better than what he had previously. Everything is going in the same direction.
"But if you want to do something different, there is a period where, I understand, if the results are not good, people will question the direction you go. But it's up to me to determine the direction we're going. We need a victory against Fulham but if people expect us to play with a low block, nine behind the ball, waiting for Fulham to make a mistake, score a goal on the counter-attack ... I'm not going in that direction."
Mourinho said that he has a full complement of players available to him for tomorrow's game and asked that he be judged at the end of the season. "The first thing I have to say is that we lost nothing. You like scrutiny and to compare things? We didn't finish third in the Champions League group. We didn't get relegated to the Europa League. And we didn't finish third in the Premier League [all of which happened to Chelsea last season].
"We lost one match in the Premier League. The other five contenders for the title, all of them lost a match except Liverpool who are top of the league. And, in the Champions League, we lost a match that we cannot [ie, should not] lose. I agree completely that we cannot lose that match – but we were not relegated to the Europa League.
"If you like to make comparisons, you have to wait. You have to wait because it is not the way you start, it's the way you finish. You want to start well and finish well – that's the perfect picture. But between starting well and finishing well, or starting well and finishing bad, I'd prefer to start badly and finish well."
Mourinho used the example of Real Madrid this season, claiming that having tried to change to a 4-4-2 system early in his reign Carlo Ancelotti had now reverted to the 4-3-3 formation from last season. He said that was "clever by Carlo" but that he, Mourinho, had no alternative to force change on Chelsea.
"It's part of a process. There's instability. If a team is [ready] made and is an 'end product', you keep a certain stability. Likewise if you have very experienced players comfortable with everything, there's stability. But we have work to do. The work I have to do doesn't sell papers. What sells papers is big victories or big defeats. A normal process doesn't sell papers. But I have to believe in my work, the players' work, and wait for the results to arrive."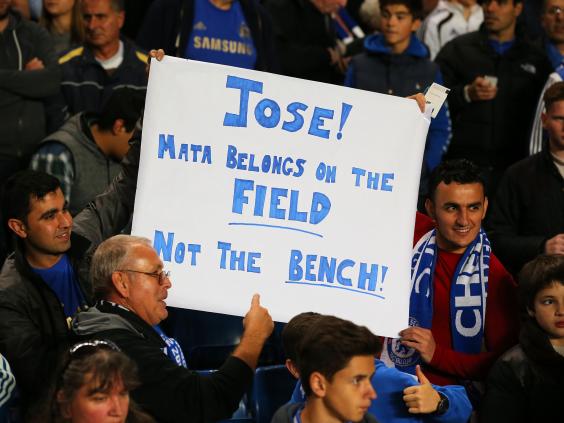 "We are now going to change. I don't want to defend as a low block. I don't want central defenders playing in midfield. I don't want long balls to a lonely striker. I don't want to do that. I agree, we must have better results. I agree, at this level, some clubs won't wait three, four, five years to have a team, so we have to accelerate the process. But I'm not going to change. We want this team to play a certain way, and that's what we're going to do."
In order to take the pressure off his side, Mourinho said that he had changed his usual training plan today and instead focused on what he called "a funny session". He said: "I didn't train. I didn't train in a normal way. We played handball, basketball, the goalkeepers with us, a funny session where everyone was laughing, smiling.
"That was important at the time. The way, sometimes, is not to massacre the players with tactical questions and pure working situations where, probably mentally, you are not open for that or happy enough for that."
Chelsea confirmed that they would not take part in Stonewall's anti-homophobia technicolour laces campaign, that has attracted opposition for its commercial partnership with an online bookmaker.
A Chelsea spokesman said: "It's important to say everyone at Chelsea is fully committed to tackling all forms of discrimination. We have fully endorsed the principles behind the campaign. We have a number is issues with it ... the tone of it, the lack of communication and the commercial part."