Jose Mourinho has revealed why he looked so nonplussed after Manchester United's EFL Cup win, saying that he did not want to place himself at the centre of attention and detract from the achievements of his players.
United beat Southampton 3-2 in a thrilling cup final to seal Jose Mourinho's first major trophy win at the club.
But – in stark contrast to his jubilant celebrations after trophy wins at previous clubs – Mourinho was unusually reticent as his players lifted the trophy at Wembley, collecting his medal with a frown and quickly disappearing down the tunnel.
EFL Cup final ratings
EFL Cup final ratings
1/22 David de Gea - 7 out of 10

Had no answer to Gabbiadini's strikes, but made good first half saves to deny Tadic and Ward-Prowse.

2/22 Antonio Valencia - 6 out of 10

Was given a difficult afternoon by Redmond, but utilised his experience as the game grew old.

3/22 Eric Bailly - 6 out of 10

A shaky start in which he was troubled by Bertrand's pace. Another who improved in the second half.

4/22 Chris Smalling - 7 out of 10

Had his hands full with Gabbiadini, but demonstrated fine positioning and awareness.

5/22 Marcos Rojo - 5 out of 10

Uncomfortable at left-back although he was pivotal in laying on Lingard's goal.

6/22 Ander Herrera - 8 out of 10

Oozes class at times, emphasised by his pinpoint cross for the winner. Occasionally guilty of chasing the game.

7/22 Paul Pogba - 6 out of 10

Fielded in a deeper midfield role, his bursting runs were impressive but few and far between.

8/22 Juan Mata - 5 out of 10

Saw little action and was replaced at the break for the more positioned-minded Carrick.

9/22 Jesse Lingard - 6 out of 10

Kept a cool head to score another Wembley goal, but almost lost it when fouling Redmond when on a yellow card.

10/22 Anthony Martial - 5 out of 10

Kept under wraps by Cedric for long periods, his deliveries were questionable.

11/22 Zlatan Ibrahimovic - 9 out of 10

The biggest man for the big occasion. Started and ended the scoring to win his first major trophy for Manchester United.

12/22 Fraser Forster - 5 out of 10

Questioned for his positioning for Ibrahimovic's free-kick, there was little he could do with the other two United goals.

13/22 Cedric - 7 out of 10

Lacked discipline at times, but impressed when on the attack and delivering from the right.

14/22 Jack Stephens - 6 out of 10

Yellow carded for a tough challenge on Martial, the youngster competed fiercely.

15/22 Maya Yoshida - 6 out of 10

Executed a great tackle to deny Lingard. Occasionally allowed his opponents too much space in the area.

16/22 Ryan Bertrand - 8 out of 10

Like Cedric on the other flank, the full-back was excellent in getting forward and crossing at pace.

17/22 Oriol Romeu - 7 out of 10

Competed well against Herrera, and almost won the tie himself with a header that crashed against the post.

18/22 Steven Davis - 8 out of 10

The captain was a delight in midfield. He held his position well and was at the heart of Southampton's best play.

19/22 Nathan Redmond - 7 out of 10

An exciting talent but too often tried to be hero, shooting when teammates were better placed.

20/22 Dusan Tadic - 7 out of 10

Had a habit of finding pockets of space between United's defence and midfield in which he could show off his close control.

21/22 James Ward-Prowse - 8 out of 10

Wonderful distribution, particularly from dead ball situations. Able to weight passes beautifully.

22/22 Manolo Gabbiadini - 9 out of 10

Southampton's new hero scored twice and had another incorrectly ruled out. Deserved to end the match as a cup winner.
Mourinho has since reassured supporters that he did savour the victory, but that he concealed his emotions in public before "sharing in the joy" back in the dressing room.
"Of course I enjoyed winning the EFL Cup, I really enjoyed it," he said in an interview with France Football.
"I can conceal [my emotions] and concealing is a way of controlling. After the final of the EFL Cup I was very happy, but did I show it? I am not sure at all. In public, I did not want to put myself at the centre of an exploit that belonged to the players and the fans, that was all.
"But in the dressing room it was something else. There, I added a human aspect to my feelings and I shared in the joy.
"In the final, there were moments where I was not happy with the play that we were producing but I tried to understand the context, the circumstances and be unmoved. And then I tried to transmit this mindset to the players. So in that area, I am better than before."
Mourinho is confident that he is now a far more "peaceful" man than when he first arrived in English fooball in 2004, believing that he has matured and is now far more capable of disconnecting from football.
And in the light of his well-publicised touchline spats with Middlesbrough and Chelsea, he also claims that Mourinho the man is far better at controlling his temper than Mourinho the manager.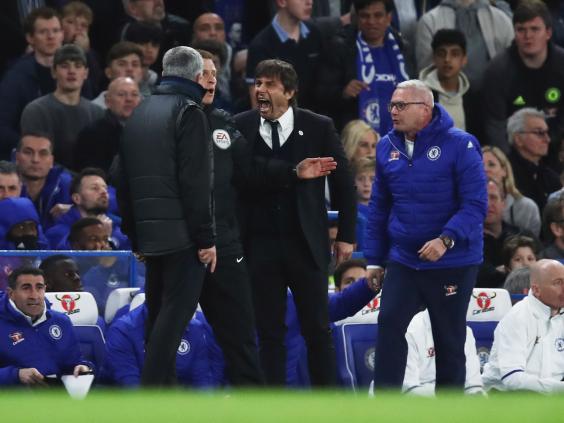 "Mourinho the man tries to be the opposite of the manager. He tries to be discreet, calm. To find a way to disconnect," he said.
"I can come home and not watch a game of football, not think about football. I can do it. At the beginning of my career, I couldn't. I was permanently connected, 24 out of 24 hours. I had to find a form of maturity. Today, I am happy within my personality as a man.
"I have matured, I am more peaceful. A win no longer means the moon, a loss no longer means hell. And I think that I am in the process of transferring this calmness to those who are working with me, my players.
"I still have the same ambitions as before. The same involvement, the same professionalism. But I am more in control of my emotions."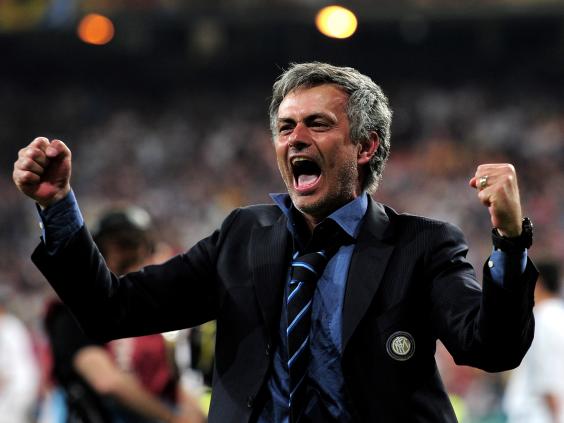 Mourinho's newfound sense of calm will certainly be tested in the month of April, with a hastily rescheduled fixture list meaning the club are set to play seven Premier League fixtures and a two-legged Europa League tie over just 30 days.
They will play three matches on a Thursday evening in the month – including the rearranged Manchester derby – as they continue to fight in the Europa League as well as for a spot in the Premier League's top four. 
Reuse content