Former Manchester United boss Ron Atkinson has warned Jose Mourinho that his 'us against the world' tactics will not wash at Old Trafford.
United suffered their third defeat in a week on Sunday when they succumbed to a 3-1 defeat at Watford, leaving Mourinho furious with referee Michael Oliver.
 The former Chelsea boss was adamant play should have been stopped for a foul on Anthony Martial in the build-up to Watford's opening goal – a challenge that caused the Frenchman to be substituted with a head injury.
It is the second time this season Mourinho has blamed a referee decision for a defeat, with the United manager furious that his side were not awarded a penalty and Claudio Bravo a red card after the Manchester City goalkeeper's dangerous challenge on Wayne Rooney.
But Atkinson says Mourinho cannot play the blame game at United and if he tries it then the club could become very claustrophobic very quickly.
Speaking ahead of the launch of his autobiography, Atkinson said: "I have never been a huge fan of this siege mentality he brings to his clubs.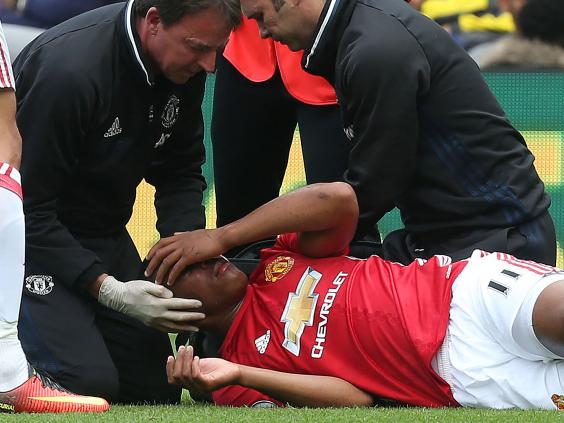 "There's nothing wrong with being fiercely protective of your players, but that doesn't mean you have to antagonise everybody else.
"I don't think that approach would work at Manchester United because it can lead to the club becoming claustrophobic.
"It is a global brand and you cannot run it as your personal fiefdom. United is an ­expansive club, it's a club of the people. Telling everyone that 'It's us against the world' doesn't really wash, because United have lots of friends – they probably have more fans on the planet than anyone else.
"Jose has an engaging personality and it would be a shame if he got sidetracked by siege mentality and taking on the world."
Watford vs Manchester United player ratings
Watford vs Manchester United player ratings
1/22 Heurelho Gomes - 7 out of 10

Made a number of good saves, looked good in the air from set pieces and could do very little about the close range goal – all round it was a good performance from the Brazilian.

Getty Images

2/22 Craig Cathcart - 6 out of 10

Done the simple things well and supplied a key element to a very strong Watford defence.

AFP/Getty Images

3/22 Sebastian Prodl - 8 out 10

Was an influence defensively and going forward. He won a large amount of aerial balls and looked strong in his tackles throughout. Fantastic performance.

AFP/Getty Images

4/22 Miguel Britos 6 out 10

He done well with the ball at his feet, but he was getting caught out from time to time by the United forwards.

AFP/Getty Images

5/22 Daryl Janmaat - 6 out of 10

His effort rate was faultless throughout, and he got a good assist. He done well today and held his own.

Getty Images

6/22 Valon Behrami 6 out of 10

Dealt with Pogba well and patrolled the pitch well. He looked strong and comfortable in possession.

Getty Images

7/22 Etienne Capoue 7 out of 10

He continued this seasons fine form today, as he terrorised the United defence all dya and got a goal as a reward for his efforts.

Getty Images

8/22 Jose Holebas 6 out of 10

He dealt with Rashford well and looked strong defensively throughout. There was a joyous simplicity about his defending that closed down a number of United attacks.

Getty Images

9/22 Roberto Pereyra - 6 out of 10

He done well whilst in possession and proved a problem for the United defence, but from time to time he was making the wrong passing decisions.

Getty Images

10/22 Troy Deeney - 8 out of 10

He won numerous headers throughout, looked energetic throughout and scored the final penalty to seal the deal.

Getty Images

11/22 Odion Ighalo - 7 out of 10

Despite an early open-goal miss, he put a fantastic shift in for his side and his work rate is faultless.

Getty Images

12/22 David de Gea - 6 out of 10

After repeating his mid week mistake, there is certainly room for improvement when it comes to his decision making.

Getty Images

13/22 Antonio Valencia - 6 out of 10

Looked quick and strong – he done the simple things right but passes at times were sloppy.

Getty Images

14/22 Erc Bailly - 6 out of 10

He didn't see too much of the ball, but when was in possession, he looked comfortable and confident. His positioning was sometimes questionable.

Getty Images

15/22 Chris Smalling - 4 out of 10

After being brought into the side for his aerial ability, he failed to beat the Watford strikers and lost a number of balls in the air.

Getty Images

16/22 Luke Shaw - 7 out of 10

His speed was crucial today and he made a number of important challenges – looked good.

Man Utd via Getty Images

17/22 Marouane Fellaini - 5 out of 10

Was brought into the side to patrol the middle of the park and win the aerial balls – but he was repeatedly beat in the air and made a number of questionably/risky challenges.

Getty Images

18/22 Paul Pogba - 4 out of 10

Despite an early strike hitting the woodwork, he struggled to find his feet and prove why he is the worlds most expensive signing. Passes were sloppy and his challenges were clumbsy.

AFP/Getty Images

19/22 Anthony Martial - 6 out 10

Looked confident and was causing a threat until he was subbed for a head injury.

Getty Images

20/22 Wayne Rooney - 5 out of 10

Looked uncomfortable in his new position, but started to find his feet as the game progressed. Looked uncomfortable in possession and lacked attacking prowess.

Getty Images

21/22 Marcus Rashford - 6 out of 10

Looked lost on the wing and struggled to prove his potential, but his goal brang his side a glimpse of hope.

Getty Images

22/22 Zlatan Ibrahimovic - 5 out of 10

He had a few chances, but was unable to convert. He wasn't as involved as a player like Zlatan shoud be – he needs to do better.

Getty Images
After a positive start to the season, United came crashing back down to earth with the home loss to City and Atkinson was critical of the naivety of Mourinho's tactics when facing Pep Guardiola's side.
"I was surprised by the way United played in the derby," Atkinson told the Mirror.
"All credit to City, who look phenomenal, but I thought Jose would have set up his team to play higher up the pitch.
"It would have been an eye-opener for him to see the way City went about it, with David Silva and Kevin De Bruyne finding pockets of space.
"United were never outnumbered in midfield, but they were ­outmanoeuvred. You can't imagine that scenario if Roy Keane and Paul Scholes had been playing."