Goals, assists and influence - is incoming Manchester United transfer Juan Mata the most effective midfielder in the Premier League?
The Spaniard is applying the finishing touches to his £37m move to United, and since arriving at Chelsea as a World Cup winner in a £24m deal from Valencia back in August 2011, he has made a total of 27 assists in the division - that is more than any United player in that time, and second only to a fellow Spanish playmaker, David Silva, who has created 29 goals for Manchester City.
But Mata has not just excelled in creating goals in the division, he has also scored them too. The 25-year-old has scored 18 goals, the same amount in that period as Chelsea and Spain team-mate Fernando Torres.
In total, Mata has scored 18 goals with 27 assists, making him directly involved in 45 Premier League goals - only five players have been involved in more during his time in the top flight.
In the previous two seasons combined, before Gareth Bale joined Real Madrid from Tottenham Hotspur, Mata was directly involved in 43 Premier League goals, one fewer than the £86m Welshman (44).
Players directly involved in most Premier League goals since August 2011
Robin van Persie (Man Utd/ Arsenal) 84 (63 goals, 21 assists)
Wayne Rooney (Man Utd)  72 (48 goals, 24 assists)
Luis Suarez (Liverpool) 70 (56 goals, 14 assists)
Sergio Aguero (Man City)  64 (49 goals, 15 assists)
Theo Walcott  (Arsenal) 49 (27 goals, 22 assists)
Juan Mata (Chelsea) 45 (18 goals, 27 assists)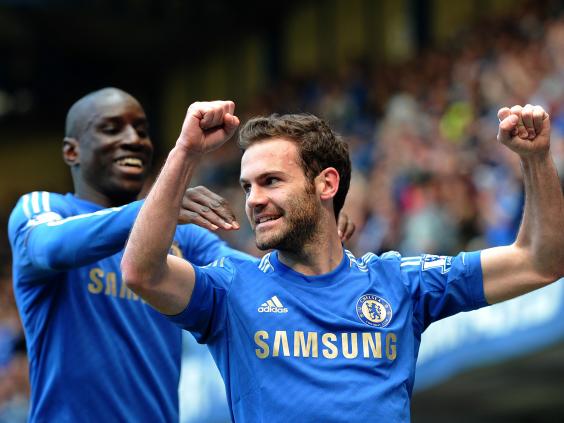 Most assists in the Premier League since August 2011
David Silva (Man City)  29
Juan Mata (Chelsea)  27
Wayne Rooney (Man Utd)  24
Theo Walcott (Arsenal)  22
Robin van Persie (Arsenal/ Man Utd)  21
Antonio Valencia (Man Utd)  20
Including Mata, here are the biggest deals yet to happen in this transfer window...
What are the biggest January transfers yet to happen?
What are the biggest January transfers yet to happen?
1/8 Tom Ince to Monaco, £10m

Monaco are leading the race to sign Blackpool winger Tom Ince according to reports. The England U21 international was reportedly driven by his father, Blackpool boss Paul Ince, to a meeting with representatives of the French club in London. The Blackpool boss cancelled a press conference ahead of his side's match with Barnsley earlier in the month after refusing to answer questions about his son's future. Instead he reportedly went to meet Monaco representatives, who can speak to the player whose contract expires in six months.

Getty Images

2/8 Edinson Cavani to Manchester United, £40m

Should United take the plunge and sell Wayne Rooney (either to Chelsea or otherwise) they'll need a replacement to fill his impervious shoes. The England striker will be out of contract next summer and is believed to want to make a decision on his future once the season has developed. Edinson Cavani is the international strike partner of fellow Uruguayan Luis Suarez and is reportedly disillusioned by football in Ligue 1. Reports surfaced this month that Sir Alex Ferguson had rung his former player Laurent Blanc, the current PSG manager, to sound out a possible move.

GETTY IMAGES

3/8 Yohan Cabaye to PSG, £21m

Newcastle United are preparing themselves for a considerable offer for Yohan Cabaye from the French giants after it emerged that they are willing to part with £21m for the midfielder. PSG have held a firm interest in the 28-year-old Frenchman for over a year and were expected to rival Arsenal for his signature in the summer. The Gunners' £10m bid was rejected and the Parisian club opted to bide their time despite Cabaye missing three games in an attempt to force a move away from St. James' Park.

GETTY IMAGES

4/8 Dimitar Berbatov (back) to Tottenham, £1.5m

His agent has already claimed that the Bulgarian would like to leave Fulham this month despite his contract expiring at the end of the season. With £2m believed to be enough to secure skillful striker, it would be a low cost, low risk option, but questions remain over his work rate and energy levels. Whether Berbatov would quench the thirst of fans who feel another striker is integral to their top four hopes remains uncertain, but he does come with a natural talent that few in the Premier League can match – if only he produced it regularly.

Getty Images

5/8 Miralem Pjanic to Manchester United, £27m

Roma star Miralem Pjanic has left the door open on a possible move to reigning Premier League champions Manchester United after admitting that he is 'flattered' by their interest. The 23-year-old Bosnia and Herzegovina international is also attracting attention from French giants Paris Saint Germain. Despite a move seeming unlikely during January, Pjanic appears open to a potential switch. It's a shame he isn't moving to a club in the capital, just because we could bring out our best 'Pjanic on the streets of London' gags.

GETTY IMAGES

6/8 Andriy Yarmolenko to Liverpool, £10m

Should they miss out on Salah, Liverpool may switch their attention to Dynamo Kiev's Andriy Yarmolenko. The Reds have held a tentative interest in the 24-year-old after he figured prominently for the Ukraine against England in last year's World Cup qualifiers. Yarmolenko has scored eight league goals in sixteen appearances for Kiev this season, and has fourteen goals for Ukraine. Kop manager Brendan Rodgers is rumoured to prefer Salah, but the Swiss club continue to stall on any potential deal.

7/8 Ravel Morrison to Fulham, £8m

West Ham want a minimum of £10m for their sought-after midfielder Ravel Morrison, according to reports. Sam Allardyce's side have already rejected a £5m bid from Fulham and reported the club to the FA for alleged tapping up of the player. Fulham boss Rene Meulensteen has now reportedly been banned from talking about any transfers as the club try to avoid any more trouble. However West Ham No. 2 Neil McDonald said: "I would imagine everybody has a price. Asked if the Hammers want to keep the England under-21 star, he added: "Why not? He's a talented player and we need talented players."

Getty Images

8/8 Ilkay Gundogan to Manchester United, £25m

United's search for midfield reinforcements has led them to Borussia Dortmund's Ilkay Gundogan, although they could face a fight with Real Madrid to sign the Germany international. With Anderson at Fiorentina on loan, it is believed David Moyes has stepped up his interest in 23-year-old Gundogan whose contract expires in 18 months and is valued at £25m. Part of the attraction is that the midfielder is not cup-tied for the Champions League as he has been out for most of the season with a back injury, although German newspaper Bild reports that Real are also admirers. "I will soon make a decision that will be well considered. It's still really open," Gundogan said yesterday.

Getty Images
Related stories...