Has Football Manager proved Arsene Wenger correct?
The long-running computer game series has used their match engine to simulate that Juan Mata will strengthen David Moyes' Manchester United in such dramatic fashion that the reigning Premier League champions go on to finish this season in fourth place on 76 points, losing only one of their remaining fixtures - to Manchester City - and qualify for the Champions League.
And most importantly in the Arsenal manager's argument about the Blues' title rivals having to face an improved United team, which Chelsea do not as they have already played them twice - United defeat the Gunners 2-1 at the Emirates Stadium. Other notable results for United with Mata include a 2-2 draw with Liverpool at Old Trafford, a 1-0 win over Newcastle at St James' Park and a 1-0 win over Everton at Goodison Park.
Unsurprisingly, Mata becomes an instant success at Old Trafford, scoring seven goals and making five assists in his 15 appearances for the club.
The Spaniard begins his career at United with some fine performances too, and scores in his first two matches for the club, against Stoke and Fulham.
This all may be fictional, but by signing a player who has been directly involved in 45 Premier League goals since he arrived in the English top flight in August 2011, his impact seems not to be sniffed at.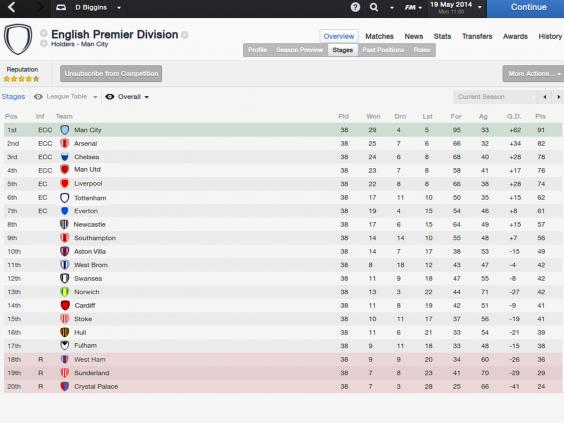 How Manchester United's record signings have fared in the real world...
Manchester United's most expensive signings... were they worth it?
Manchester United's most expensive signings... were they worth it?
1/12 Juan Mata - £37m - January 2013

Spain midfielder Juan Mata arrives from Chelsea as a proven dynamo in midfield. During his two full seasons at Chelsea, he was voted their player of the season.
But will he be a success? As the following slides show, spending lots of money isn't always the answer

GETTY IMAGES

2/12 Dimitar Berbatov - £30.75m - September 2008

Manchester United spent the summer of 2008 pursuing Tottenham striker Dimitar Berbatov, but it was just a dramatic few minutes before the close of the transfer window that they got their man. And the Bulgarian didn't come cheap at £30.75m - United's most expensive ever signing (until Mata).
Compared with Eric Cantona upon his arrival, Berbatov fell well short of expectations. 48 league goals in 108 appearances is not a bad return, but that he didn't even make the bench for the 2011 Champions League final against Barcelona spoke volumes.
Best remembered for his saved penalty against Everton in the semi-final of the 2009 FA Cup in which his casual spot-kick made him look like a plonker, and on the flip-side, his hat-trick against Liverpool in 2010.
Sold to Fulham for around £5m in 2012.

GETTY IMAGES

3/12 Rio Ferdinand - £29.3m - July 2002

When United paid Leeds United £29.3m back in 2002, it appeared a crazy amount of money to spend on a defender. Yet Rio Ferdinand has been a linchpin of the squad in the intervening decade (excluding the eight months he was banned for missing a drugs test) and was worth every penny.
United won the league in his first season and another five after that. He also helped United win the Champions League in 2008.

GETTY IMAGES

4/12 Juan Sebastián Verón - £28.1m - July 2001

The arrival of Juan Sebastián Verón from Lazio was one of the most glamourous signings in the history of the Premier League - yet sadly for United it was only that, with little substance to the £28.1m man.
The Argentine never settled at Old Trafford and made just 51 league appearances in which he scored seven goals. Two years after arriving, he was sold to Chelsea (who incredibly paid £15m for a player who would make just 14 appearances for the west Londoners).

GETTY IMAGES

5/12 Wayne Rooney - £27m - August 2004

After bursting onto the scene at Goodison Park, and then appearing as though he could carry England to the Euro 2004 title before injury struck, it was obvious Everton would not be able to hold on to their boy wonder.
And it was Manchester United who came calling, splashing out £27m on the then 18-year-old. It was a huge fee for such a young player - but in retrospect a bargain. On his debut he scored a Champions League hat-trick against Fenerbahce and he never looked back. Rooney is currently the fourth highest scorer in Manchester United's history.

GETTY IMAGES

6/12 Robin van Persie - £24m - August 2012

Robin van Persie, Ferguson's final big-name signing, scored 30 goals in his first season at the club as United reclaimed the title from Manchester City with ease.
There is no doubt that the Dutchman is among the best in the Premier League, but injury problems under David Moyes have raised concerns that he fitness record at Old Trafford could be as frustrating as when he was at Arsenal.

Getty

7/12 Anderson - £20.4m - July 2007

Still only 25-years-old, there remains perhaps a little more time for Anderson to justify why United paid Porto in excess of £20m for the midfielder's services.
Yet it must be said that the box-to-box midfielder has been disappointing in the six-years he's spent at Old Trafford, showing only marginal progress during that period. Although, if Anderson does nothing else, he will be able to say he scored United's sixth attempt from the penalty spot in the 2008 Champions League final against Chelsea. John Terry missed with the next spot-kick as United claimed their third European Cup triumph.

GETTY IMAGES

8/12 Ruud van Nistelrooy - £19m - June 2001

Alex Ferguson pursued Ruud van Nistelrooy for years, and it was only injuries that stopped the Dutch striker transferring from PSV Eindhoven to United earlier. He would be worth the wait.
In 150 league appearances he would score 95 goals, while his record in the Champions League was incredible. During his time at United he scored 38 Champions League goals - more than any other United player in the club's history. After five-years at the club he was sold to Real Madrid.

GETTY IMAGES

9/12 David de Gea - £18.9m - June 2011

United needed to replace the retiring Edwin van der Sar with a top-class stopper, yet while David de Gea clearly had ability, Ferguson's decision to put his faith in a 20-year-old with relatively little experience surprised many.
Signed from Atlético Madrid in the summer of 2011, the Spaniard started shakily but has since silenced the doubters (barring his horrendous error against Sunderland in the Capital One Cup semi-final)

GETTY IMAGES

10/12 Michael Carrick - £18.6m - July 2006

Another player Tottenham reluctantly sold to United, Michael Carrick has been a consistent force in Ferguson's midfield since joining in 2006.
Among other honours, the England international has five league titles to his name and a Champions League medal. There are few better passers in the Premier League, but his inability to find the back of the net remains a frustration.

GETTY IMAGES

11/12 Nani - £17.3m - July 2007

Unfairly compared to his countryman Cristiano Ronaldo after arriving from Sporting Lisbon in 2007, Nani had a slow start to his Old Trafford career.
Yet he has showed signs of breaking free of those shackles, netting 10 goals from midfield in both the 2010/11 and 2011/12 season. Despite signing a new contract after the arrival of David Moyes, he continues to be linked with a move away.

GETTY IMAGES

12/12 Owen Hargreaves - £17m - July 2007

Consistent displays at the heart of Bayern Munich's midfield, and then impressive performances in an England shirt under Sven Goran-Eriksson brought Owen Hargreaves to the attention of the British public, and Alex Ferguson, and in the summer of 2007 he joined Manchester United in a £17m deal.
Some described him as one of the most naturally talented midfielders England had ever seen - yet Manchester United fans didn't get much of a chance to see for themselves. Injuries would limit Hargreaves to just 39 appearances for the club before he was released.

GETTY IMAGES
Related stories...