He was unmarked and his team were already 5-0 ahead, but that didn't stop Kolo Toure from going wild after scoring for Liverpool against Aston Villa.
The defender netted Liverpool's sixth goal at Villa Park as the visitors ran riot against the bottom of the table side. The Ivory Coast international was left unmarked for Jordan Henderson's corner and headed home from a central position.
Despite the plight of his opponents, Toure was in no mood to show any sympathy after finding the back of the net.
The former Arsenal player ran half the length of the pitch before sliding on his back to then be mobbed by his team-mates.
His delight may stem from the fact he hadn't score for club or country since January 2011, when he netted in a 4-3 win for Manchester City against Wolves. It meant it was his first goal for Liverpool.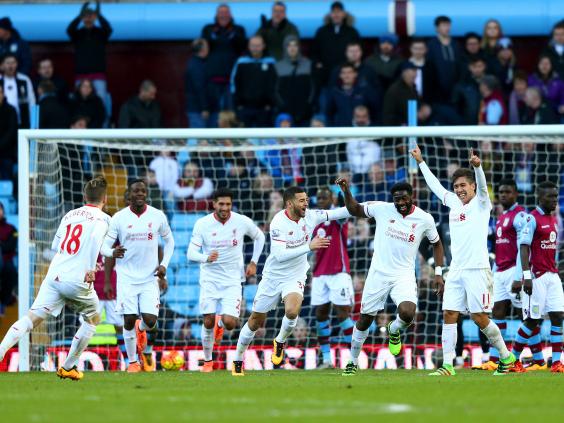 The Aston Villa fans who left Villa Park in their droves after the goal may not have been impressed, but the celebration was certainly appreciated on Twitter...
Best thing I've ever seen is Kolo Toure's celebration, love that guy.

— Josef Vlček (@pepevlcek) February 14, 2016
That was the most Kolo Toure goal and celebration that Kolo Toure will ever do

— Matt Fletcher (@matt_fletcher16) February 14, 2016
Kolo toure celebration so cute la haha

— Zuhilmi. (@Zuhilmi_Z) February 14, 2016
That Kolo Toure goal celebration tho.

— 7th OCT MUMM¥'S BDA¥ (@WeezySA) February 14, 2016
That header, smile and celebration was the most beautiful sight ever. Well done Kolo Toure!

— Mickey - Миша (@LFCmickey) February 14, 2016
Seeing Kolo Toure slide along the floor in celebration is the peak of my happiness

— Mike McCarten (@MMcCarten) February 14, 2016
Quite possibly my favourite ever Liverpool goal from Kolo Toure what a celebration #Scenes #kolo #lfc

— Buzzer (@LewisBury10) February 14, 2016
Now I've seen it all. Brilliant and that celebration is just hilarious. Cult hero Toure #LFC #YNWA @LFCANZ

— ~Marcel (@Marcel_Lal) February 14, 2016
That was the most Toure-esque celebration

— Tarik (@MiRomanRiquelme) February 14, 2016
Toure's goal and then his celebration face was just priceless

— Gemma May (@_GemmaMay) February 14, 2016
Kolo Toure is celebration

— Llyr Sims (@LlyrSims) February 14, 2016
You can see from that celebration that Toure isn't used to scoring.

— JAZZ is Life (@itumelengeric) February 14, 2016
Even Kolo Touré has scored. Hilarious celebration. No response from Klopp #AVLLIV #LFC

— Overmars (@BBearJ) February 14, 2016
THERE ISNT A PLAYER MORE DESERVING OF A GOAL THAN KOLO TOURE HAHAHA HES MILKING EVERY SECOND OF THAT CELEBRATION

— RushTheKop (@RushTheKop) February 14, 2016
The win for Liverpool moved them up to eighth in the Premier League.
Reuse content