The League Managers Association has "urged" The Telegraph to release the full transcripts of their undercover investigation into alleged corruption in British football after revealing that the newspaper are yet to hand over their evidence to the Football Association.
The Telegraph has already confirmed that it will give full transcripts of undercover recordings to the FA, with Sam Allardyce resigning from his role as England manager as a result of the investigation.
On Tuesday night, it was claimed that eight current and former Premier League managers had been accused of taking illegal payments, known as 'bungs', during their careers, while yesterday's revelations accused Queens Park Rangers manager Jimmy-Floyd Hasselbaink and Leeds United owner Massimo Cellino of alleged corruption.
Furthermore, the newspaper appeared to capture the moment that Barnsley assistant manager Tommy Wright accepted an alleged £5,000 payment in return of signing players part-owned by a fake Far East firm, with representatives of the investment business actually undercover reporters.
However, the LMA has accused The Telegraph of delaying the process of a full investigation into the allegations by not handing over their evidence, and they have called for material to be given to the FA "unedited and unconditionally" to prevent any further hold ups.
Sam Allardyce career in pictures
Sam Allardyce career in pictures
1/21 February 1989

Allardyce joins West Ham as a player-coach under Brian Talbot before leaving for Limerick as player-manager.

Getty

2/21 January 1997

After stints at Preston North End and Blackpool, Allardyce took over at Notts County where he won the old Division Three title.

Getty

3/21 October 1999

Allardyce remained with Notts County until mid-October 1999, when he left to take charge of Bolton Wanderers.

Getty

4/21 October 1999

Allardyce returns to Botlon, whom he turned out for during his playing career, after Colin Todd's departure.

Getty

5/21 May 2001

After suffering defeat in the 1999/2000 play-off final, Allardyce leads Bolton to the Premier League by winning the 2000/01 play-off final against Preston.

Getty

6/21 May 2002

Allardyce keeps Bolton up on the final day of the season.

Getty

7/21 February 2004

Bolton suffer a heartbreaking 2-1 defeat in the League Cup final by Middlesbrough.

Getty

8/21 May 2005

Allardyce leads Bolton to a club-record sixth-place finish in the Premier League to qualify for the 2005/06 Uefa Cup.

Getty

9/21 April 2007

After eight years with Botlon, Allardyce resigns with the club in fifth position, with a move to another Premier League club on the horizon.

Getty

10/21 May 2007

After seeing a move to Manchester City collapse, Allardyce was named Newcastle manager as Mike Ashley completed his takeover of the club.

Getty

11/21 January 2008

Allardyce lasts less than eight months as he is sacked after failing to beat Wigan and Derby.

Getty

12/21 December 2008

Big Sam isn't out of the game long as he returns to management later that year to take charge of Blackburn Rovers.

Getty

13/21 December 2010

Two years into his reign at Ewood Park, Allardyce is sacked following the takeover by Venky's

Getty

14/21 June 2011

Following West Ham's relegation in 2011, Allardyce is identified as the man who can get them back into the Premier League at the first attempt.

Getty

15/21 May 2012

Allardyce wins the Championship play-off final for a second time to gain promotion to the top flight.

Getty

16/21 May 2015

After West Ham fail to extend his contract, Allardyce says goodbye to the fans on the final day of the season. He's later replaced by Slaven Bilic.

Getty

17/21 October 2015

Allardyce replaces Dick Advocaat at Sunderland with the Black Cats 19th in the table and his task to keep them in the Premier League.

Getty

18/21 May 2016

Allardyce keeps Sunderland up with a game to spare, ultimately relegating their closest rivals and his former club Newcastle in the process.

Getty

19/21 July 2016

Allardyce is named England manager on a two-year deal, claiming he has reached "the pinnacle" of English football.

Getty

20/21 September 2016

Sam Allardyce resigns as England manager following an undercover investigation by The Telegraph that captured him advising fake Far East investors how to get around FA regulations.

Getty

21/21 December 2016

Allardyce returns to football two months after his departure from England, replacing Alan Pardew as manager of Crystal Palace.

Twitter/@CPFC
An LMA statement read on Thursday: "Following further revelations by The Telegraph and a follow up LMA meeting with The FA this morning, the LMA remains extremely concerned about allegations made against a number of managers and individuals in the game.
"Alongside The FA, and the other principal stakeholders in the game, we want to fully investigate any and all substantive allegations of corruption, quickly and comprehensively. Very disappointingly, this process is being delayed as The Telegraph is yet to provide to The FA, as requested, full and complete unconditional disclosure of all the information it has.
"We urge The Telegraph to provide full disclosure of all its information relating to the allegations, including all recordings, transcripts and full details of how the information was obtained, to The FA, immediately. This information should not be provided selectively, but unedited and unconditionally, in order that a fully comprehensive investigation can be expedited."
Hasselbaink and Wright have released statements to deny any wrongdoing and reject the allegations, while Leeds United said on Wednesday night that the accusations were a "non-story" and claimed that Cellino remained with the rules and regulations determined by the FA.
Allardyce meanwhile resigned as England manager on Tuesday night, having been captured negotiating lucrative deals for key note speeches in the Far East and also advising fake investors how to get around FA regulations on third-party player ownership.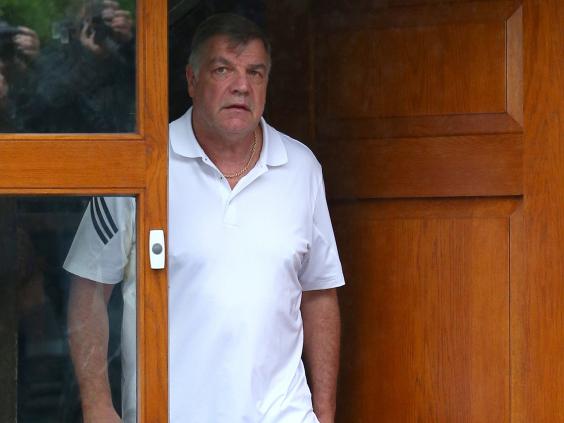 Speaking to reporters outside of his Bolton home on Wednesday after his resignation, Allardyce said: "On reflection it was a silly thing to do but I helped out someone I have known for 30 years.
"It was an error in judgement and I paid the consequences. Entrapment has won on this occasion and I have to accept that. The agreement was done very amicably with the FA and I apologise to those and all concerned in the unfortunate position I've put myself in.
"I have a confidentiality agreement and I can't answer any more questions. I am going to go and reflect on it. I would like to wish Gareth [Southgate, England caretaker manager] and all of the England lads the best."
Reuse content