Norwich City
Blew it! 1992-93
They were a small provincial team, tipped for relegation at the start of the season. Their replacement for a popular manager did not impress many. But they stormed to the top of the table and nearly stayed there, finishing closer to the title than anyone could ever have expected.
If Leicester City win the league this year it will be an achievement unprecedented in the modern English game. But their run so far resembles another great ride, with more than cosmetic similarities. The story of Mike Walker's Norwich City, who nearly won the first Premiership title, 1992-93, is not just one of the more remarkable seasons in recent English history. It may also be a guide to how this magical season will end.
Norwich, in fact, were better placed than Leicester even are now. They led the league almost from the start and in early December, after 18 games of a 42-game season, were eight points clear of Blackburn in second.
In the first week of April, Norwich were still top, and faced a crucial home game against Manchester United. They were blown away, and United went on to their first title of the Sir Alex Ferguson era. Norwich finished third, qualifying for Europe, a great achievement itself.
At the start of the season, after the resignation of the popular Dave Stringer in the summer, no-one gave Norwich a chance. All the doubters looked to be right at Highbury on the opening day when Norwich quickly went 2-0 down. "We were useless, all over the place," remembers Ian Butterworth. "We looked like a team who were going down." Walker threw on new signing Mark Robins, he scored twice, Norwich beat Arsenal 4-2. Then they beat Chelsea 2-1, started to win games, and raced to the top of the table.
"It was a snowball effect, gaining confidence with every game," recalls defender John Polston. "There was never any pressure on us and we felt we could beat any team in the league. As our confidence grew, the fans' confidence grew as well. They were on the rollercoaster with us. More people came to the games and the whole city was buzzing with anticipation."
"It was little old un-fancied Norwich," says Chris Sutton "We didn't have that fear, but neither did we, at any stage, believe that we could win the Premiership. We just kept going, as Leicester  have done."
There was a solid core of players in place already, improved by the additions of Robins, Gary Megson and Efan Ekoku, with quality in Ian Crook in midfield and Ruel Fox on the wing, and they happened upon a balance that suited everyone.  "We were not the best players," Butterworth says, "but we had the right players in the right holes."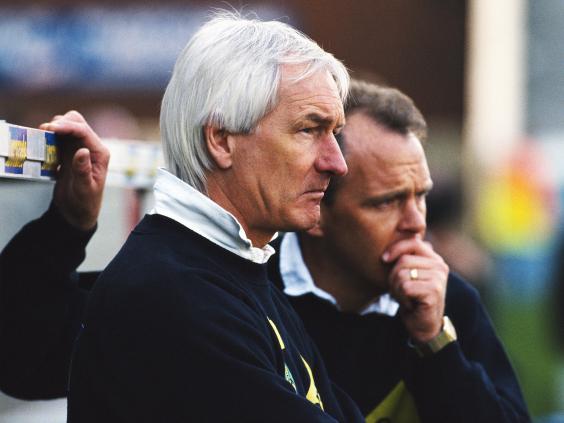 The players bonded drinking together on long coach journeys from away games back to Norwich, and the most obvious differences between that team and this Leicester one are simply of their different eras. Norwich worked so hard that their hard-running mid-week training sessions were known as "Terror Tuesdays". But they enjoyed themselves, too.
They had a Christmas blip, three points from six games, but recovered their stride in the new year. Only in the first week of April, still in first place, did they realise the stakes.
"Pressure does come in, in the latter part of the season," Polston remembers. "The need to win this game and that game rather than just doing things off the cuff. You start to think about it a little bit more."
When Ferguson's United came to Carrow Road on 5 April it all became too much. Lee Sharpe, Ryan Giggs and Andrei Kanchelskis ripped them to pieces, United going 3-0 up in the opening minutes before winning 3-1. Five days later Steve Bruce's late header beat Sheffield Wednesday and Brian Kidd was on the pitch.
"We got to Easter, and the importance of these games dawned on us, and the fact that we had to keep winning," says Sutton. "It did cause us a problem. After that United game, we thought it was done and dusted, and we got thumped 5-1 by Tottenham. Maybe we lacked that bit of character that United had." 
Two years later Sutton won the league with Blackburn, and knows what that Norwich team lacked. "You need players with the character and the ability to see games through," he says. "Character is a big thing. There may be times when Leicester go behind, and that is when the players must not freeze. They have to have the courage to take the ball in tight situations, and stand up. That was certainly our problem at Norwich. There was too much doubt. I don't think we believed it enough."
Manchester City vs Leicester City ratings
Manchester City vs Leicester City ratings
1/22 Joe Hart, Manchester City

Couldn't do much about any of the goals, and made some fine saves to prevent an even greater rout. 6/10

Getty

2/22 Pablo Zabaleta, Manchester City

Could have won a penalty in the first half, but was exposed by Mahrez for his goal. 5

Getty

3/22 Nicolas Otamendi, Manchester City

Never worked out how to deal with Vardy, but produced some timely last-ditch challenges. 5

Getty

4/22 Martin Demichelis, Manchester City

At fault for all three goals - beaten easily twice by Huth, and embarrassed by Mahrez's trickery. 3

Getty

5/22 Aleksandar Kolarov, Manchester City

Poor defensively, giving away the free kick for the first goal, and uncharacteristically wasteful in attack. 4

Getty

6/22 Fernandinho, Manchester City

Had a penalty shout turned down in the first half, but struggled to cope with Leicester's counter-attacks. 5

Getty

7/22 Fabian Delph, Manchester City

Made scarcely any more impact than Toure in the City midfield, and came off at the same time. 5

Getty

8/22 David Silva, Manchester City

Was at the centre of City's brightest moments in the first half, but faded after the break and was substitued late. 6

Getty

9/22 Yaya Toure, Manchester City

Was utterly anonymous in the first half, substituted early in the second. 4

Getty

10/22 Raheem Sterling, Manchester City

An early chance was denied well by Schmeichel and he had half-chances in the second half, but a frustrating afternoon. 5

Getty

11/22 Sergio Aguero, Manchester City

Struggled in the first half after an early knock, but came into the game, worked hard, and took his goal well. 7

Getty

12/22 Kasper Schmeichel, Leicester City

Was solid throughout, making one superb, crucial second-half save from Fernando. 7

Getty

13/22 Danny Simpson, Leicester City

Booked for a foul on Sterling, but kept the ex-Liverpool man quiet. Sloppy backpass almost gave City a second. 6

Getty

14/22 Wes Morgan, Leicester City

Was booked for a foul on Aguero, but formed a heroic partnership with Huth in central defence. 8

Getty

15/22 Robert Huth, Leicester City

Got the better of Demichelis twice to score two precious goals, and was a rock defensively. Will never have a better game. 10

Getty

16/22 Christian Fuchs, Leicester City

Had a heart in mouth moment after bundling down Zabaleta on the edge of the box, but delivered the corner for the third goal. 7

Getty

17/22 Riyad Mahrez, Leicester City

Brilliant - won and delivered the free-kick for the first goal, and scored the second with a moment of brilliance. A constant threat. 9

Getty

18/22 Danny Drinkwater, Leicester City

An effective shield in front of the defence, got forward well and set up Vardy for a late chance with a superb ball. 8

Getty

19/22 N'Golo Kante, Leicester City

A dominant performance from the midfielder in defence and attack, summed up by his storming run to set up the Mahrez goal. 9

Getty

20/22 Marc Albrighton, Leicester City

Set the tone for the game with a fine early cross, worked hard and caused problems with his consistent delivery. 7

Getty

21/22 Shinjo Okazaki, Leicester City

Worked tirelessly for the team, ran well off the ball and was only denied a goal by some last-ditch defending. 7

Getty

22/22 Jamie Vardy, Leicester City

Did everything but score, twice forcing fine saves from Hart and giving Otamendi and Demichelis a torrid time. The real deal. 8

Getty
What this means, for Sutton, is that Leicester should keep doing what they are doing. "If I had a worry for them, it is a bit similar to us," he says. "Maybe when they start to think about it, and the games go down to single figures, it will cause them a problem. The reality is that they are in the driving seat. They are in control. My worry is that there will be moments in games when things are not going to plan, and then how they react. Now we are near the finish line, it is psychologically totally different. They have to see it through to the end. That is when doubt can set in, when they are nearly there."
Jack Pitt-Brooke
Newcastle United
Blew it! 1995-96
Steve Howey witnessed first hand how the pressure got to manager Kevin Keegan as Newcastle let slip a 12-point lead to be pipped by Manchester United to the title in 1995-96, and his advice to Claudio Ranieri is to keep calm and carry on.
The centre-half knows a thing or two about narrowly missing out, having also been part of the Newcastle side that again finished second a year later and has two FA Cup runners-up medals, but it is that first tilt at the title that provides the most apt lessons for Howey to share with Leicester, whom he joined later in his career.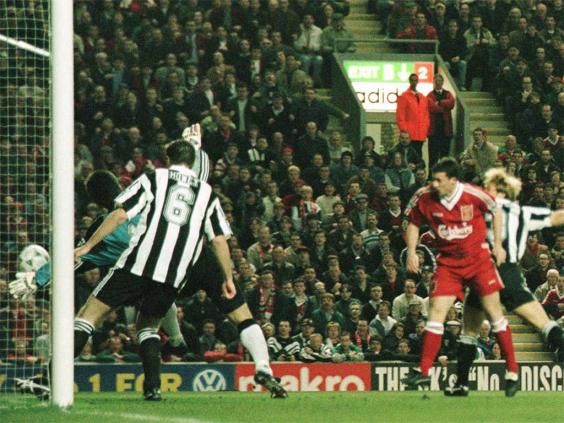 "What would my advice be to Leicester as someone who got so close? Just keep going. Go as best you can. Enjoy it as well. We thought the following season we would get it and we didn't," says Howey. "We had a game against Manchester United when we felt as though we couldn't do any more. We turned them over and they won 1-0.
"Lessons should have been learned, but we didn't, especially in the Liverpool game [which Newcastle memorably lost 4-3 in April 1996], where you would take 3-3 at Anfield. We didn't do that. We still pushed forward and got caught. We should have taken the point, got on the bus and gone home."
For Howey it was the pressure of leading the division – for 212 days, the longest in Premier League history for a side not crowned champions – coupled with United's relentless winning streak that took its toll on Newcastle and, most significantly, Keegan.
"It's really important Leicester keep calm and enjoy it," he adds. "They have stayed under the radar, unlike us, which has helped them a little bit. 
"The pressure was on us because everybody wanted us to win it. You can't take away the ending to the season of Manchester United. They went on a stupid run. I think they won 13 of their last 15 games. If Manchester City go on that kind of run I wouldn't think there is anything Leicester can do to win the title.
"You could tell with Kevin in the closing stages that it was getting to him a little bit. He knew how big it was and we knew how big it was. Ranieri knows how big it is, everybody does."
Martin Hardy
Nottingham Forest
Did it! 1977-78
It was the day the surprise league leaders from the East Midlands went to Manchester and delivered a stunning statement. It was not the Etihad last Saturday, though, but rather Old Trafford on 17 December 1977 when Brian Clough's Nottingham Forest side, with a crushing 4-0 victory, forced the rest of the country to view them in a whole new light. 
Tony Woodcock, who scored twice and forced an own goal out of Brian Greenhoff for that season's eventual champions, remembers it well. "It could have been eight and that is when people started looking at the way we could play the game and thought, 'Perhaps this bubble is not going to burst'," he tells The Independent.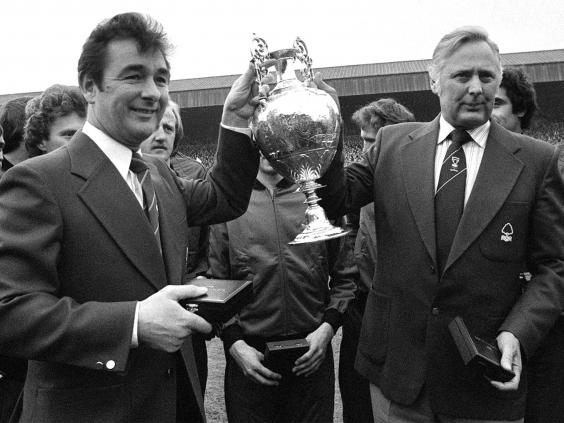 It is a moment worth recalling in the light of Leicester City's 3-1 success at Manchester City last weekend, and the reaction it drew, though Woodcock for one is surprised it has taken people so long to take the Foxes' title challenge seriously. "They seem to have a bit of a smile on their lips, reading how 'They should be getting ready for a Champions League position', or 'They might not make it to fourth' as they could go ahead and win it. They could be champions of England. If that is not going to spur you on or put some oil on the fire, then nothing will."
Clough once said – during Martin O'Neill's time leading Leicester to two League Cup triumphs – that: "Anybody who can do anything in Leicester but make a jumper has got to be a genius". Yet even he might have acknowledged the similarities between Forest then and Leicester now. Woodcock certainly does. 
"The parallels are pretty easy to see. It's an unfashionable team and no one expects them to be up there. In our day they were saying the bubble was going to burst and it didn't. You can see the comparisons there with Leicester as certain experts are still saying they are not going to do it – but I am not too sure. They have played against all the teams now and are not showing any fear and they are just going for it."
In 1977-78 Forest had never before won the league title and had just arrived back in the top division after a five-year absence. By 1980 they had two European Cups to their name. "At Forest there was never any pressure on us," Woodcock remembers and the same now goes for Leicester, who barely survived their first season back in the Premier League last year before this improbable push. "Sometimes things just click and come together," adds Woodcock. "At Forest, we were mid-table in the Second Division when things started to get put together. Leicester City have a bunch of players who have come together at the right time. It is really difficult to make comparisons but let's just say there is an unfashionable team there that the rest of them ought to watch out for."
Pivotal to everything, adds the former England forward, is Leicester's swift counter-attacking style. Footage of Forest's 1977 Old Trafford win shows Woodcock, with his pace, and John Robertson, with his trickery, destroying United on the break. Sound familiar? 
"I put it down to people just having a go, people wanting to go out and actually turn things around, and not thinking: 'This is a certain way we have to play, we have to hang on to the ball'," Woodcock notes of a Leicester side led by Jamie Vardy and Riyad Mahrez. "One thing about Forest is we tried to go forward and tried to put the ball in the net.
"It looks like Leicester are hungry for it and they are prepared to work for it, to go in and turn defenders. Defenders don't want to be running after people. There are a lot of defenders these days who have not faced many forwards who like to run past someone. Because of the tippy-tappy football these days one team has the ball for 10 minutes and the opposition are all in defence – but Leicester don't do that.
"I'm pleased because football was getting quite boring, with [teams] holding the ball and players throwing themselves on the floor and all that tippy-tappy stuff, and then comes someone to blow a breath of fresh air through it."
Simon Hart