Arsène Wenger's analysis was that Arsenal could still have won this match without extra, better strikers but not everyone thought that way after watching them labour their way through a tight draw with Leicester City.
The travelling Arsenal fans made their feelings very clear at the final whistle – they want to see real movement in the transfer market tomorrow – but only one man's judgement counts and he was sat in the dugout, not the away end, at the King Power Stadium in the late-summer sun today.
Arsenal might well be pleased enough with this point – taking them to five from their first three games of the Premier League season – but they did not deserve anything more, having done almost nothing to threaten Leicester. "Our game wasn't quick, sharp or simple enough," Wenger said afterwards, "We didn't look like we could finish the game off."
Their one goal, from Alexis Sanchez, was set up by a poor Yaya Sanogo shot and even worse defending from four Leicester players.
Beyond that, Arsenal offered very little, their midfield play always foundering on the lack of useful movement in front of them. It would be easy enough to blame Sanogo for this, after another performance in which he showed almost none of the qualities expected in an Arsenal centre-forward, but ultimately he did not pick this team nor build this squad.
Wenger did and while he while he certainly knows more about Arsenal than anyone, his analysis did not seem quite as accurate, or as punchy, as that of the 3,300 travelling fans, who spent the final minutes of the game imploring him, in blunt English, to "Please sign a striker". It will not have helped their mood that Loïc Rémy's move to Chelsea was confirmed during the first half.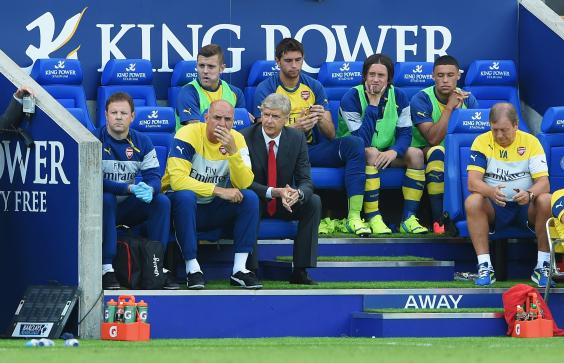 Speaking before the game at his pre-match press conference on Friday morning, Wenger insisted that signing a striker after Olivier Giroud's broken ankle would impede chances for Sanogo and Chuba Akpom, giving the example of Nicolas Anelka's success in 1997-98, filling in for the injured Ian Wright. Everyone connected with Arsenal wants to see Sanogo do well, but this afternoon did not make Wenger's hopes look any more realistic.
This was Sanogo's second competitive start of the season – he began the Community Shield, and lasted 45 minutes, then 62 minutes against Crystal Palace – and he looked as rusty and clumsy as might be expected. His first involvement set the tone, when a poor touch from a Santi Cazorla pass allowed Liam Moore to rob him. Then, he could not reach an Aaron Ramsey chip over the top. Fortunately for Arsenal, it was Sanogo's treatment of his next opportunity that put them into the lead.
Cazorla, Arsenal's best attacking player in a rather flat performance, took a pass from Ramsey, 20 yards from goal. Assessing the options in front of him, Cazorla flipped a pass over the defence to Sanogo, to the right of goal. The 21-year-old, still without a senior goal for Arsenal, tried a difficult right-footed volley but scuffed it and it hit Kasper Schmeichel. Leicester's defending was generally good but in this case it was not, and the ball rolled slowly through three blue shirts, to Sanchez who tapped it in.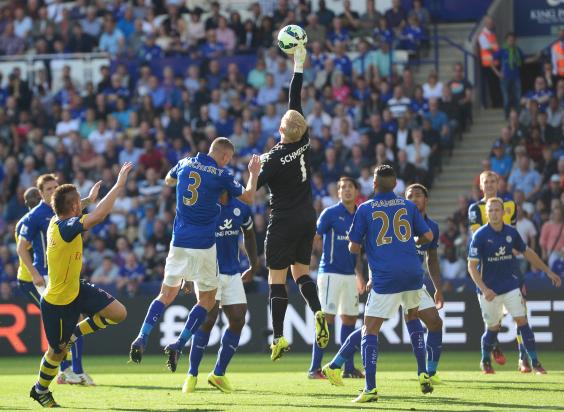 It was not a beautiful move but it was still Arsenal's most effective attack of the afternoon. While they were recorded as having had 24 shots, Nigel Pearson could honestly say afterwards that he "didn't feel particularly threatened". The best other opening came 10 minutes into the second half, when Cazorla chipped another pass through, to Ramsey, who weakly headed straight at Schmeichel when he might have nodded the ball across to Sanogo, unmarked in front of goal. With 12 minutes left Lukas Podolski came on for Sanogo but did not offer much improvement.
The best striker's performance of the match, in fact, came from Leonardo Ulloa, Leicester's record signing and the man who ensured they took their deserved point. Forming an unlikely partnership with David Nugent, Ulloa put himself about all afternoon, running the channels, chasing the ball and scoring a brilliant header, two minutes after Sanchez's strike.
Jeffrey Schlupp raced down the left wing, receiving a return pass and bursting away from Per Mertesacker. He floated a perfect cross towards goal where Ulloa peeled away from Laurent Koscielny and headed the ball emphatically past Wojciech Szczesny. Koscielny had just spent four minutes off the field with a head injury, sustained in a clash with Schlupp, and having continued to bleed he was replaced by Callum Chambers almost immediately after Ulloa's goal. Wenger said the goal would not have happened had Koscielny not been hurt and while he may be right, Ulloa and Leicester both deserved it.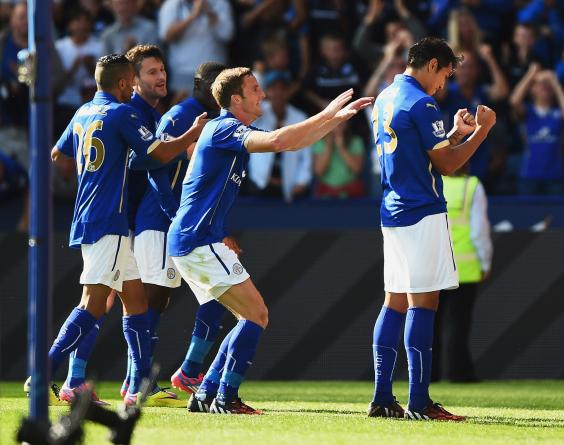 Riyad Mahrez nearly put Leicester ahead soon after, beating Chambers but shooting straight at Szczesny, but it was Ulloa who missed the best chance to win the match, eight minutes after the interval.
Ulloa exchanged passes with Mahrez and took the return ball when pulling away to the left of goal. He dragged it back inside, sending the inexperienced Chambers hurtling the other way, and decided to chip the ball with his instep into the near top corner. He did not quite get it right, though, and the ball hit the side netting.
While the intensity increased in the final stages, the quality did not and there were few usable chances for either side. The best came, with seven minutes left, when Jamie Vardy received a return pass from Nugent, skipped away from Mathieu Flamini but shot straight at Szczesny.
Leicester, ultimately, did not have enough striking quality to win the game either. Their fans, though, were delighted at the final whistle. They have not just lost last season's top scorer for the rest of the calendar year, nor are they hoping for a title challenge this season. Expectations are different at Arsenal and, unless something unlikely happens, they could well be disappointed again.
Reuse content