Leicester City manager Nigel Pearson remains confident that his struggling side will rediscover the form which famously saw them humble Manchester United 5-3 in September.
The Foxes have tumbled down to 17th in the Premier League table after losing four of the five matches since.
Now including this weekend's disappointing 1-0 defeat to West Bromwich Albion, the woeful run has continued into November.
Esteban Cambiasso's own goal handed Alan Irvine's side victory at the King Power Stadium as the hosts slumped to their third successive loss.
The former Inter Milan man was rendered helpless as Wes Morgan's clumsy diving-header clattered into his thigh and into Kasper Schmeichel's net.
While undoubtedly unlucky, the calamitous passage of play summed up Leicester's fortunes of late.   
"The work ethic was there and I thought we were pretty comfortable in the game," Pearson said.
"It doesn't really help, in the sense that we've got no points out of the game, but if you looking for a baseline performance, I wouldn't be too displeased with how the players have gone about trying to get the right result.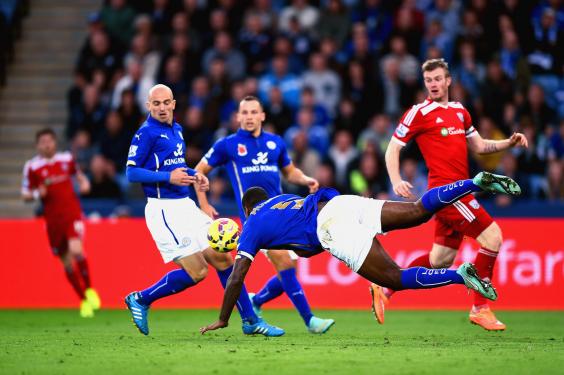 "Ultimately, it's going to be about quality. At times we have not really shown when we have gone into the final third, whether it be the final ball or the finish.
"In a game with very few chances, we probably still had the better openings and we have not been able to take them."
Pearson watched on from his usual position in the stands as Andy King missed City's best chance of the match with a tame header from five-yards in the second-half.
Instances like that, the former Southampton manager believes, prove that his side are on the right track.
Picking up points against Everton, Arsenal, Stoke, United, and Burnley so far, they've proven they are a match for anyone.
"You could argue that we were slightly unlucky today," he continued.
"That's sometimes how it is. It was always going to be a relatively tight game. On the back of some of the results we have had, we needed a more solid performance. I thought we had that.
"We didn't quite create enough clear-cut opportunities but we were playing against a side who do defend deep and are very disciplined in defence."
Reuse content