If you want to compile a checklist of whether a manager is about to be sacked, Martin Jol ticks the boxes. Did he finish last season badly (check)? Did he bring in a lot of players over the summer (check)? Is the club run by a man who did not appoint him (check)? Is there an international break coming up (check)? Are they playing dreadfully (check and check again)?
It would be cruel to judge a Fulham manager on results at Anfield. Only one man has ever overseen a victory at Liverpool and he is the one whose big bull neck is now on the block. Logically, his fate should be decided over Fulham's next four games, all of which are in London, but logic often has very little to do with football.
Fulham's 1-0 win at Anfield in May last year was one of those that persuaded the Liverpool owner, John W Henry, that despite the two Wembley finals he had led them to, the romantic experiment of bringing back Kenny Dalglish had to end.
Jol argued, fairly convincingly, that the fixtures he should be judged by were the ones against Crystal Palace and Stoke – what he called "the ordinary teams" – rather than the recent crushing defeats by Manchester United and Liverpool. "We have to suffer during these games," he said. "But we will be fine." When he rose to leave the press conference, the sponsors' background he had been speaking behind came crashing down.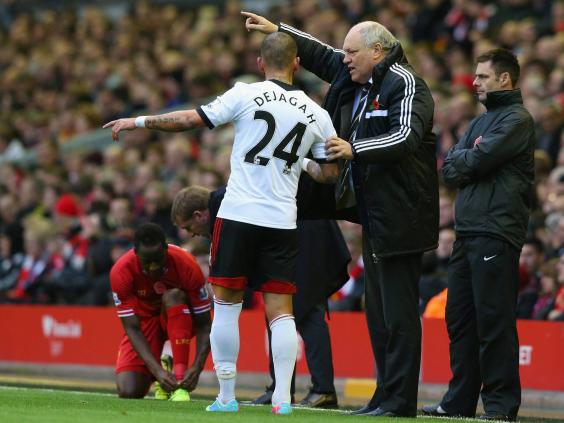 Shahid Khan, who bought Fulham and promptly removed the statue of Michael Jackson outside Craven Cottage, will have to back Jol's belief that this was not the afternoon to decide his future.
Had Jol selected the statue for this game it would have moved only marginally less than Dimitar Berbatov. The Bulgarian, who operated as a very lone striker, was brought off to jeers and laughter, although he was among the least culpable. Liverpool's defeat at Arsenal was an injection of reality for those who imagine they are the real deal but against anything less than top-quality opposition Brendan Rodgers is in charge of a murderously good side.
But for some brilliant goalkeeping from Maarten Stekelenburg, the result might have matched the 7-0 humbling Norwich suffered at Manchester City that pushed Chris Hughton to the brink. There was one instinctive push over the bar from Philippe Coutinho in the first half and two more in the space of seconds to deny Luis Suarez and Daniel Sturridge.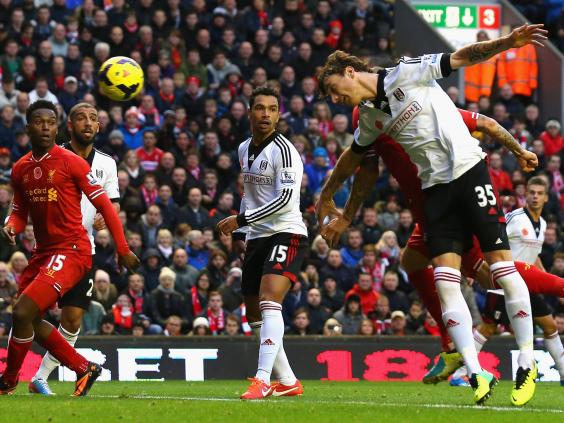 But for Steven Gerrard, the Dutchman might have had the very thin consolation of being man of this particular match. This, however, was an afternoon that showed the Liverpool captain as he has become in the autumn of his career, no longer a box-to-box midfielder but a great, creative user of a football. He had a hand in all four goals.
"I felt his delivery was as good as it gets," Rodgers said. "Nobody delivers a ball like Steven Gerrard. I told the players that they are not utilising the quality he delivers every week. When I first came here there was a nervousness, a vulnerability about the group when it came to these type of games but we are becoming relentless."
You could gauge Fulham's attitude from the kick-off, from which they played the ball back to their goalkeeper. Stekelenburg punted it up-field, Fulham promptly lost possession and, before 45 seconds were up, they had conceded a corner from which Daniel Agger almost scored.
Jol loathed the way Fulham conceded the opening two goals. The first was a Gerrard free-kick that Suarez and Fernando Amorebieta both went to meet. Suarez had a better leap, the Venezuelan had the advantage of height and turned it past his own goalkeeper. Three minutes later, Amorebieta sprinted to meet Gerrard's corner but was beaten by Martin Skrtel's shaven head.
Jol had made Berbatov captain, although Sir Alex Ferguson described the Bulgarian as a man unusually lacking in self-confidence for a centre forward when he played for Manchester United.
There was nothing remotely inspirational about his leadership and when Gerrard took the ball past him with a fabulous flick, a cheer rolled around Anfield. Jordan Henderson received a lovely crossfield ball from his captain and moved it through to Suarez. Jol, who had managed the Uruguayan at Ajax, described him as "the best penalty-area player in the world". Now he proved it and when Gerrard won the ball from Kieran Richardson after the interval, he did so in front of the Kop.
Mike Myers, the man who gave the world Austin Powers, and who paraded around the directors' box before kick-off, would have loved it. His parents' home in Toronto was "a shrine to Liverpool" and he was "jazzed to be here". Fulham were rather less so.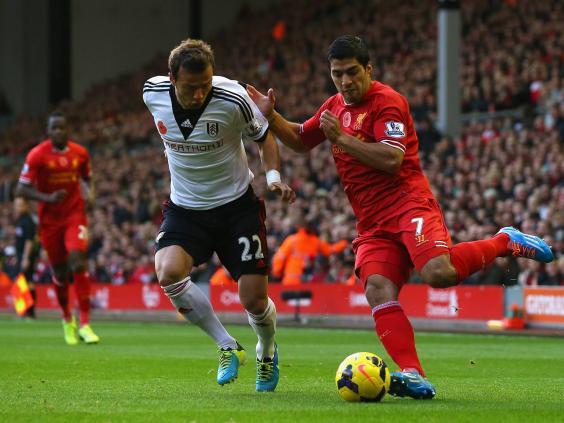 Liverpool (4-4-2): Mignolet; Johnson, Agger, Skrtel, Cissokho (Luis Enrique, 61); Henderson, Lucas Leiva, Gerrard (Allen, 66), Coutinho; Suarez, Sturridge (Moses, 76).
Fulham (4-4-1-1): Stekelenburg; Zverotic (Hughes, 61), Senderos, Amorebieta, Richardson;  Dejagah, Sidwell, Parker; Sidwell, Kacaniklic (Ruiz, h-t), Kasami; Berbatov (Karagounis, 83).
Referee: Mike Jones
Man of the match: Steven Gerrard (Liverpool)
Match rating: 6/10
Reuse content