Just before Brian London, a proud fighter from Blackpool, faced Muhammad Ali, his wife remarked: "I don't mind if he beats my husband, I just hope he leaves me a little bit."
Sitting in the directors' box at Anfield, Delia Smith would have known what Veronica London meant. Luis Suarez left her and Norwich City nothing. As the Norwich owner and their supporters travelled up from East Anglia, they would have known what to expect. Suarez's last three games against them had produced seven goals and two hat-tricks. This time there were four, including a hat-trick before half-time.
When he came off a minute from the end, Alan Hansen, who had played alongside Liverpool's greatest No 7, stood and applauded. This was a night worthy of Kenny Dalglish in his pomp. It says something for Suarez that having missed the opening five games of the season through suspension, he is now the Premier League's leading scorer.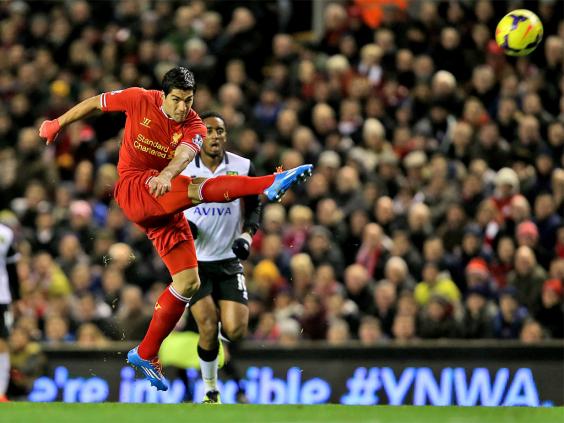 There was even, a minute from the end of a ruthlessly one-sided contest, an assist when his cross was met viciously by Raheem Sterling. The Liverpool captain, Steven Gerrard, would have raised a smile.
Moments before, with his back to goal, he had side-flicked the ball against the post. This night and those sort of goals belonged to another.In one sequence of that fight, Ali hit London 11 times inside three seconds.
Suarez's hat-trick took a little longer – 20 minutes – and the quality of the strikes ranged from the brilliant to the outrageous.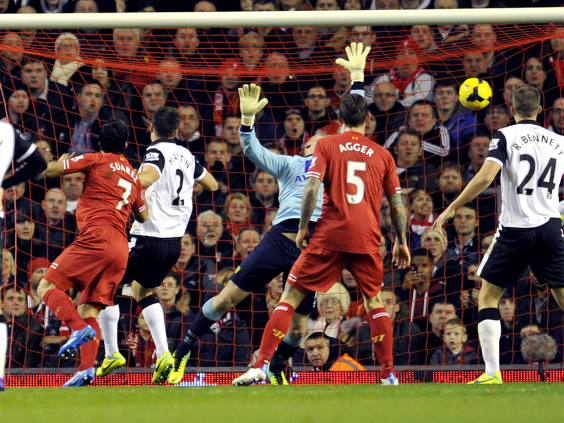 The first came from Norwich's own goal-kick, which John Ruddy found came back towards him at a terrifying velocity. Gerrard won the header and Leroy Fer swung his boot to meet it and missed completely. Suarez turned, allowed the ball bounce once, and did the same to rather greater effect.
The odds were entirely against him. He was 35 yards out, he was to the left of the goal and Ruddy was not even very far off his line. The stadium gasped with the audacity of it all and then when it brushed the crossbar beneath the Kop and struck the net there came a disbelieving roar.
The second arrived via a corner that was won and taken by Philippe Coutinho. It was not even taken particularly well; a Brazilian can indeed scuff a football. Gerrard stooped to head it on and failed to connect. Given his record against Norwich, it might be imagined that Suarez might have been tightly marked. He was not and, although Russell Martin attempted to grab a handful of his shirt, the Uruguayan had not the slightest difficulty in hooking it home.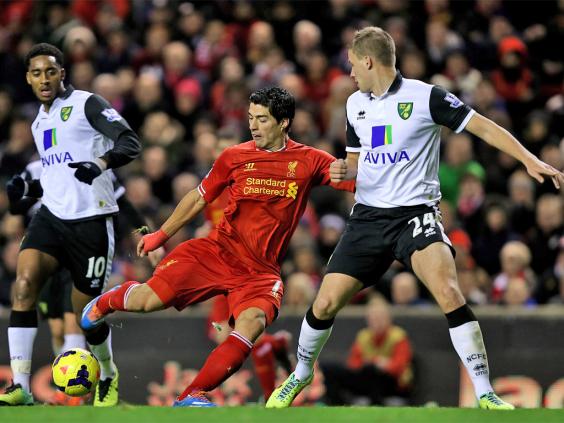 The third was the best of the lot. He began running at a retreating defence, flicked the ball over Fer, who will be haunted by this night, and shot. A couple of seasons ago, Ruddy had performed spectacularly to hold Liverpool to a 1-1 draw here. Now, he could have been Gordon Banks, he could have been Lev Yashin, he could have been Iron Man One, Two and Three. He would still have got nowhere near it.
You could say much the same for the fourth. It seems somewhat unfair to call it a trademark free-kick since Suarez's trade is laced with almost unrepeatable skill. However, Anfield knew what was coming. Ruddy flung himself high to his right and grasped only air.
For those who question his suitability as England's reserve keeper, Ruddy had proved his quality just after the interval, tipping a dipping drive from Jordan Henderson over the bar and then saving at full stretch from Suarez, proving somewhat belatedly that the little man could be stopped.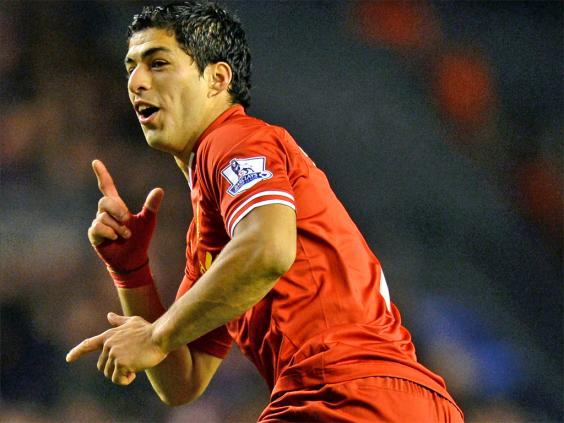 Seven minutes from the end, Bradley Johnson headed in Nathan Redmond's cross, a goal that caused no reaction from manager Chris Hughton other than some fiercer gum chewing.
For those who travelled from Norfolk to the North-west, a journey that had already seen them lose 4-0 and 7-0 to the two Manchester clubs, the road home would have seemed long and very, very winding.
When Hughton made a couple of deckchair-on-Titanic style substitutions, a few supporters shouted that their manager did not know what he was doing. But against Suarez in this form nobody would.
Man of the match Suarez.
Match rating 8/10.
Referee A Taylor (G Manchester).
Attendance 44,541.
Reuse content