Liverpool manager Jürgen Klopp has revealed he wanted to "punch himself" after he missed out on signing Sadio Mane earlier in his career and vowed never to let the opportunity slip through his fingers again.
Klopp was in charge of Borussia Dortmund in the Bundesliga while Senegal forward Mane was at that time playing for Austrian side Red Bull Salzburg.
The pair met in person to discuss a potential move but Klopp ultimately decided not to pursue a deal and Mane subsequently joined Southampton in 2014.​
Mane returns to St Mary's on Saturday to face his former club for the first time since he made a £34m switch to Liverpool in the summer.
Eyebrows were initially raised by Liverpool supporters at both the fee for Mane and that Klopp elected to sign him ahead of Germany international Mario Götze.
However, such has been the 24-year-old's devastating impact that even at that price he now looks to be one of the bargains of the season.
Mane has been a revelation in an attacking triumvirate with Brazilians Philippe Coutinho and Roberto Firmino which has helped propel Liverpool to the top of the Premier League.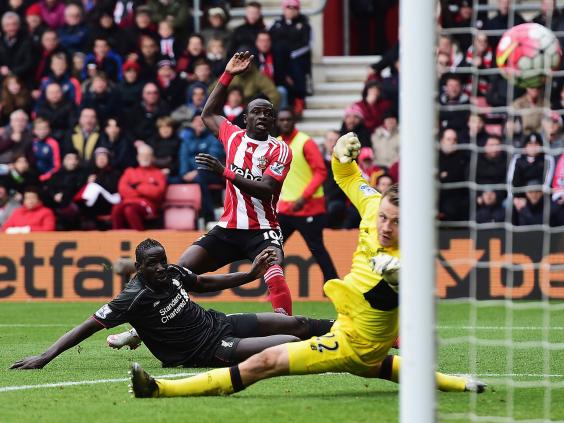 "With Sadio it was pretty simple because I made the mistake at Dortmund where I didn't take him," Klopp said.
"Around about three months later I would have punched myself, so I knew already the next chance I have I would take it. So it was not difficult to take this decision, it was very easy.
"When the club came and when Michael Edwards said we have an opportunity. No talks were necessary any more it was a case of 'let's do it' immediately."
As if to rub salt in the wound for Klopp, Mane scored twice for Southampton in their 3-2 win over Liverpool at St Mary's when the sides met in March.
Klopp spoke to the player as he left the pitch although the German claims it was not to sow the seed of his move to Anfield but because of their prior encounter he was "nice enough to say hello again".
So why did Klopp have doubts about Mane the first time round?
"We talked. I think everyone knows we met each other and by the end we didn't feel…" Klopp said, before clapping his hands.
"It's more a feeling of we spoke and I like the player, but at Dortmund this position I was happy and we could only get one not two or three, so it needed to be the right exact fit in this moment.
"I said a lot of times, I'm not a genius so I couldn't exactly imagine Austrian League where he was, what does it mean? What does it mean for the football?
"I have made more mistakes in my life like this actually. I think he would have been more expensive if we had taken him to Dortmund and them he had been sold to Liverpool, so all good for Liverpool! My first Liverpool decision, the more I think about it, nice!"
Mane, of course, became the fifth player from Southampton to move to Anfield in recent seasons following Adam Lallana, Dejan Lovren, Nathanial Clyne and Rickie Lambert.
It has earned the Saints over £100m in transfer fees from Liverpool and Klopp admits he has been impressed with the manner in which the club have still managed to replace their star players – akin to the challenge he faced at Dortmund.
"Southampton have made very creative and good decisions," Klopp added.
Liverpool January transfer targets
Liverpool January transfer targets
1/7 Christian Pulisic (Borussia Dortmund)

The Merseyside club failed with an £11m bid for the 18-year-old striker in the summer, but may try their hand at signing him again this January. Pulisic is one of Europe's most highly-rated teenagers, having already made his international debut for the United States.

Getty

2/7 Virgil van Dijk (Southampton)

It would not be a transfer window without Liverpool being linked with somebody from Southampton. This time it's Van Dijk, who has emerged as one of the Premier League's best centre-halves since arriving on the south coast from Celtic.

Getty

3/7 Jonathan Tah (Bayer Leverkusen)

Jurgen Klopp is reportedly keen to strengthen his defence and the Bayer Leverkusen centre-back would be a good addition for the Reds. The German Tah is only 20 years of age but has impressed for both club and country this season.

Getty

4/7 Paul-Georges Ntep (Rennes)

The left-midfielder's deal at Rennes expires at the end of the season and so he will be free to sign a pre-contract in January. A strong dribbler of the ball, Ntep has been made two appearances for France.

Getty

5/7 Alexandre Lacazette (Lyon)

Seeing as Roberto Firmino is not a natural no. 9 and Daniel Sturridge has fallen out of favour, Liverpool have been linked with several strikers including French forward Alexandre Lacazette. The Lyon striker is quick, explosive and has already reached double figures this season.

Getty

6/7 Inaki Williams (Athletic Bilbao)

The Athletic Bilbao youngster signed a new contract in January with a release clause of €50m, but the rumours linking him with Anfield have not died down. The 22-year-old would certainly fit in with Jurgen Klopp's style of play.

Getty

7/7 Mahmoud Dahoud (Borussia Monchengladbach)

Jurgen Klopp has long admired the Germany under-21 midfielder, who plies his trade with Borussia Monchengladbach in Germany. Klopp will have to do battle with former club Dortmund to sign the German, while Italian giants Juventus are also interested.

Getty
"Tell me two other Premier League clubs, or Bundesliga clubs, who will lose this quality and next year you will think again 'oh yes, they have good again'.
"It's like take Mane. Negotiations go 'no not for this price, not for this price' and they have Nathan Redmond in their pocket.
"It's good and what you have to do, and what we did at Borussia Dortmund. Other clubs always took players and we had to replace.
"Everyone always thinks there is not another player like this around the world, but there are a lot of good players.
"You only need to know about them in the right moment, and the right situation, because they cannot pay the same price that maybe we can pay or they can use the whole money you can give them.
"My respect for things like this is really big. It's one of these pieces of football you think 'good job'."
Reuse content