Brendan Rodgers has revealed the reasons why he decided to start Kolo Toure instead of £20m summer signing Dejan Lovren for Saturday's humbling 4-1 defeat to Arsenal.
Toure endured a torrid return to his former club as he was horribly exposed alongside Mamadou Sakho, who himself put in a very questionable performance. Croatia international Lovren had been ruled out of the recent international break having suffered an abdominal injury, but he was passed fit for the trip to the Emirates only to be left out of the starting XI.
With Martin Skrtel beginning his three-match ban for his stamp on Manchester United goalkeeper David De Gea, Rodgers had to decide who to hand a rare start to between Toure and Lovren, with the Ivorian getting the nod.
Arsenal 4 Liverpool 1 player ratings
Arsenal 4 Liverpool 1 player ratings
1/23 David Ospina - 6/10

He didn't have a save to make until the 56th minute. A very comfortable game for a goalkeeper who has took permanent charge in the Arsenal goal in recent months.

Getty Images

2/23 Hector Bellerin - 8

Made an excellent incisive run before curling a left-footed effort beyond Mignolet. Defensively he was strong and Moreno didn't enjoy the Spain right-back's dangerous runs down the right.

Getty Images

3/23 Per Mertesacker - 7

Enjoyed his time against Sterling in the first half, especially when Liverpool went direct with the long ball. Positionally, he looked comfortable.

Getty Images

4/23 Laurent Koscielny - 6

Replaced by Gabriel Paulista in the second half after suffering a knock. He was overstretching in the first half but was rarely under pressure.

Getty Images

5/23 Nacho Monreal - 6

He found himself under threat by Coutinho who never stopped trying to unlock the Arsenal defence. He did handle the danger of Sturridge well in the second half, though.

Getty Images

6/23 Francis Coquelin - 7

A very assured performance by the young defensive midfielder. He proved very effective in tidying up just in front of the Arsenal defence. Allen found things touch against him.

Getty Images

7/23 Aaron Ramsey - 7

Replaced by Flamini. Assisted Bellerin and Sanchez for their goals. Replicated the excellent form that he showed on international duty for Wales.

Getty Images

8/23 Alexis Sanchez - 8

As dangerous as ever. Scored his 20th Arsenal goal of the season with a superb effort from outside the Liverpool area.

Getty Images

9/23 Mesut Ozil - 7

Showed skill throughout the match. Scored with a sumptuous free-kick. He was replaced by Welbeck in the second half.

Getty Images

10/23 Santi Cazorla - 7

Tricky and effective. So dangerous going forward but did find himself running into trouble a little too often.

Getty Images

11/23 Olivier Giroud - 7

Held the ball up well, provided a calmness to Arsenal's attack, and scored his side's fourth goal.

Getty Images

12/23 Simon Mignolet - 4

Should have done better for Arsenal's first two goals. Too easily beaten down to his right.

Getty Images

13/23 Emre Can - 4

Picked up a needless booking early in the second half and was sent off with minutes remaining for a second bookable offence when he took down Welbeck.

Getty Images

14/23 Kolo Toure - 5

Looked unfit when faced with the speed of Sanchez.

Getty Images

15/23 Mamadou Sakho - 5

Clumsy to bring down Ozil before the German stepped up to score Arsenal's second. Failed to keep the shape of the Liverpool back three.

Getty Images

16/23 Lazar Markovic - 5

Dangerous in the first half but was replaced by Sturridge at half-time as Liverpool went for a more attacking front line.

Getty Images

17/23 Lucas - 6

Didn't control the midfield very well but at least he tried to connect the midfield and attack.

Getty Images

18/23 Jordan Henderson - 6

Scored the penalty to give Liverpool a chance but he failed to dictate the game probably because he was played as a right wing back - a position that doesn't suit him.

Getty Images

19/23 Joe Allen - 6

A poor game for the Wales midfielder. He had improved recently but his performance here was not great.

Getty Images

20/23 Alberto Moreno - 6

His error led to Arsenal's first goal. Didn't get close enough to Bellerin.

Getty Images

21/23 Coutinho - 7

One of Liverpool's more influential players. Tricky and skillful - a lot of creativity but no one around him could take advantage.

Getty Images

22/23 Raheem Sterling - 6

Won the penalty after a clever run but his impact was little. Too often Mertesacker got above him. A frustrating day to end a rollercoaster week for the 20-year-old.

Getty Images

23/23 Daniel Sturridge - 6

Came on at half-time to provide a more clinical edge to Liverpool's attack. He played ahead of Sterling and Coutinho and was a threat. He still looks a little off the pace, though.

Getty Images
In his Monday press conference, Rodgers revealed why he elected to start with the experienced of Toure as opposed to Lovren, and appeared to suggest that it was the 34-year-old's commitment in training that put him ahead in the pecking order.
"The thing with Kolo is he gives me everything every single day so I know what I am going to get with him," Rodgers
"Dejan was obviously out over the international break but now he is fighting well and looking strong. He will be in contention for the Cup game for sure."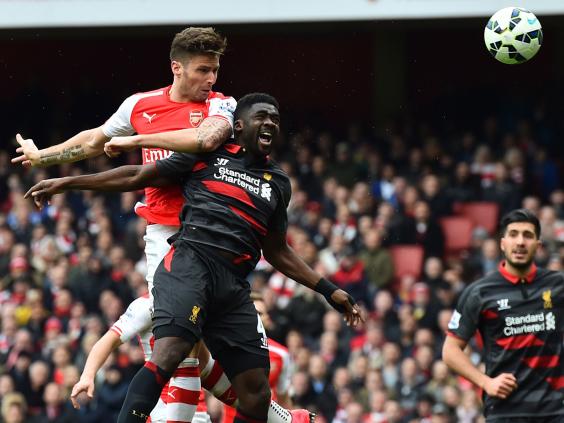 Rodgers went on to try and explain why Liverpool's summer signings have not worked out, claiming that the "adaptation" to playing for a club like Liverpool had clearly not gone to plan. The Northern Irishman also said how this process had been seen in the past, though that could also be read as failure in the transfer window over a number of seasons, rather than just isolating it to the current campaign.
"You can be a very good player and not hit it off for some reason or it just takes time, like Lucas Leiva. It didn't quite happen for him early on in his Liverpool career but he ended up doing well and the supporters appreciate the role he plays. It's just unfortunate because these players need time and you don't get that in modern football. We had a big influx of players coming in last summer so it was always going to be difficult for them all to hit it off straight away but I think you can see the progress that has been made. It just takes a bit of time."
The recent defeats have seen Rodgers' tactical decisions called into question with his preferred 3-4-2-1 formation coming under scrutiny amid suggestions that it has been "worked out". Arsenal appeared to take a wider approach to attacking Liverpool's back-three, something that Manchester United utilised as well when they beat the Reds before the international break.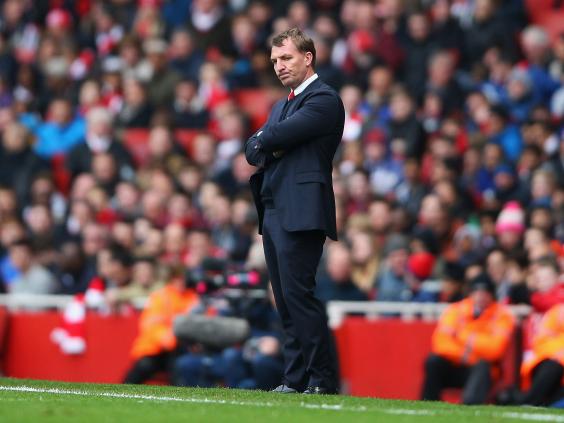 But Rodgers dismissed the claim, and put the blame on how his players are using the ball rather than what they're doing without it. He demanded more pace on the ball in order to turn their possession into attacking opportunities, something that featured during their run of eight victories in 10 Premier League games.
"Our possession just hasn't been good enough recently, that has been the key to it," Rodgers exaplained.
"We need to build the game quickly but it has been too slow and there is no excuse at The Emirates as the pitch is wonderful. It wasn't just against Arsenal and Manchester United, it was the same in the first half of the Swansea game. The speed of our game hasn't quite been there, the speed of our passing.
"Against Man United we gave the ball away too often and there was too much space. The Arsenal game we didn't start well, we got back into it but then defended poorly. I don't think it was anything to do with the system, we just didn't pass the ball quick enough. We also had a number of important players missing on Saturday, we have to remind ourselves of that."
Liverpool will need to put it right quickly, with the FA Cup sixth round replay against Blackburn coming tomorrow night with a Wembley semi-final against Aston Villa on offer to the winner. There's no guarantee that Lovren will return to the starting line-up though, as Glen Johnson could be considered given Emre Can's red card against Arsenal that will see him miss the game through suspension. With Skrtel and Gerrard already suspended, Rodgers is having to make do with what he's got available, though that doesn't quite seem to be the case when it comes to Lovren.
Reuse content