When Jürgen Klopp became Liverpool's manager he spent the morning of his first full day in charge at the club's youth academy in Kirkby watching an under-18s match from a balcony above the vast facility. Upon entering the lungs of the building behind him, shielding from the vile winds, he negotiated the instant coffee machine in the canteen by clicking on the button marked espresso.
Klopp could not hide his distaste, grimacing at the weakness of the drink sliding down his throat. "Well, this will have to change," he was overheard murmuring, before flicking the paper cup filled with liquid into the bin, perhaps ominously considering the site's history.
There are those with a deep understanding of Kirkby's operations who speak of the place as a battleground for first team managers and the middle managers hired to represent them away from Melwood eyes; a place where formerly, the quest for absolute control or the protection of fiefdoms has ultimately prevailed at the cost of productivity.
Under American ownership it has happened before: a new appointment – like Klopp's a year ago - or the renegotiation of a contract – like Klopp's last summer - into the most significant hierarchal position, followed by radical shift in thought at almost every decision making level.
Critics say the consequence over last decade has been an erosion of the Liverpool way; an unwritten set of humble values espoused first by Bill Shankly and carried through the generations by working connections. From Shankly, the baton was passed to Bob Paisley and from there, it was preserved until Steve Heighway's exit as academy director in 2007. Heighway's relationship with Rafael Benítez collapsed largely due to the amount of influence Benítez wanted to have, including a say on reserve team selection.
The situation forced Jamie Carragher to conclude that the ones who are hindered most when this happens are the individuals the system is meant to be set up for. "When personalities don't like each other, they hope the other person doesn't do well," said Carragher, whose talent as a teenager was helped by Heighway's guidance before his legendary status as a Liverpool defender was marked under Benítez's management. "Do I think Rafa wanted Liverpool to win the FA Youth Cup? Probably not. Did people at the academy really want Liverpool to be flying under Rafa? Probably not. When a relationship breaks down like that, the club suffers. At the end of the day, who's really missing out? The kids."
The movement of Carragher and other heroes of yesteryear in the hours before Manchester United's visit to Liverpool, indeed, acted as a reminder of where both clubs have been and, even, where they are going, if not missing.
While Carragher was apprehended by a bogus policeman in a publicity stunt for a new clothing range after supposedly moonlighting warm looking jumpers from a stall on Anfield Road, Ryan Giggs was chauffer driven towards for a night of work alongside him which would ultimately culminate in a television studio rather than a Walton Lane jail cell.
Liverpool vs Manchester United player ratings
Liverpool vs Manchester United player ratings
1/22 Loris Karius – 4 out of 10

Didn't have too much to do but looked nervous when the crosses did come in and his loose pass nearly gave United the lead.

2/22 Nathaniel Clyne – 5 out of 10

Couldn't attack anywhere near as much as he normally likes to and was restricted in what he could contribute.

3/22 Joel Matip – 7 out of 10

Had a good battle with Ibrahimovic throughout and probably got the better of the big Swede.

4/22 Dejan Lovren – 7 out of 10

Like Matip, did well to keep Ibrahimovic quiet and read the play well.

5/22 James Milner – 7 out of 10

Could have had a tough night against Rashford but continued his impressive run at left back.

6/22 Jordan Henderson – 5 out of 10

Struggled to get his foot on the ball as he lost the midfield battle to United's pairing.

7/22 Emre Can – 5 out of 10

Much of the play passed him by as it seems he is still lacking match fitness on his first Premier League start of the season.

8/22 Sadio Mane – 6 out of 10

Continued to drop deep in hope of making something happen and was probably the liveliest of Liverpool's attacking players.

9/22 Philippe Coutinho – 5 out of 10Philippe Coutinho – 5 out of 10

Looked out of sorts and made uncharacteristic errors with his forward passing and crossing.

10/22 Roberto Firmino – 5 out of 10

Similar to Coutinho, he also struggled to find any space between the lines to work in.

11/22 Daniel Sturridge – 4 out of 10

Anonymous in the first half and replaced before the hour mark by Lallana. He has now gone 615 minutes without a Premier League goal.

12/22 David De Gea – 8 out of 10

Didn't put a foot wrong and was needed to pull off two world-class saves from Can and Coutinho.

13/22 Antonio Valencia – 8 out of 10

Continued his fine start to the season and saved the game for United with a stunning last-ditch challenge.

14/22 Chris Smalling – 6 out of 10

Did well to keep Coutinho and co. out but United's captain for the night was overshadowed by his new centre-back partner.

15/22 Eric Bailly – 7 out of 10

A strong and commanding performance by Bailly as he kept Liverpool's attacking quartet quiet.

16/22 Daley Blind – 5 out of 10

Could have been found out with his lack of pace but held his own against the Reds' pacey attacks.

17/22 Marouane Fellaini – 7 out of 10

Helped control the game from midfield and broke up play well alongside Herrera.

18/22 Ander Herrera – 8 out of 10

Was the best outfield player of the game. He was dynamic and won possession well on multiple occasions.

19/22 Paul Pogba – 5 out of 10

Played in a more advanced role but other than a few neat passes he looked frustrated as he struggled to make anything happen.

20/22 Marcus Rashford – 5 out of 10

Didn't get past Milner as much as he'd have liked but the one time he did he fired in a dangerous cross that Liverpool struggled to deal with.

21/22 Ashley Young – 6 out of 10

Did exactly what he was put into the team for. Crossed well and worked back industriously to keep Clyne quiet.

22/22 Zlatan Ibrahimovic – 4 out of 10

Cut a frustrated figure up front as he struggled to link with his midfielders amid the pressure from Matip and Lovren.
Having retired in 2013, Carragher might be getting used to being on the outside now but for Giggs it was a new experience as an adult: for the first time in a quarter of a century he was not directly involved in the preparations nor the game itself when English football's greatest rivals meet.
Depending on whether you believe Paul Pogba to be an academy graduate, considering Sir Alex Ferguson parted seas to take him and his family from Le Havre, the presence of Marcus Rashford in the starting XI and Jesse Lingard on the substitutes' bench meant that José Mourinho is yet to become the first United manager since 1937 to believe the inclusion of a youth team product in his match day squad unnecessary. It would not be a surprise if that record was no longer in tact by the end of the season.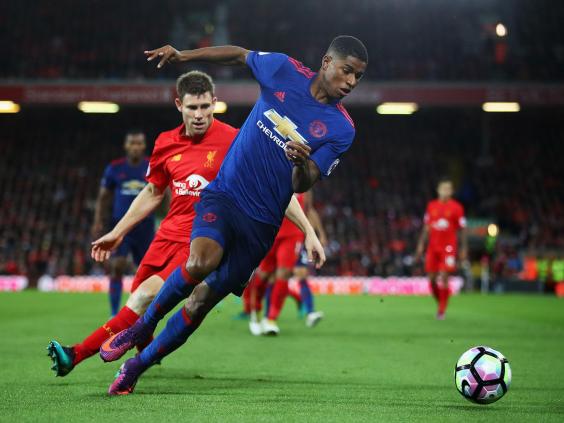 Had Nathaniel Clyne been deemed unfit to be selected as Liverpool's right back having sustained a knee injury against Swansea, meanwhile, James Milner would have played there instead of 18-year-old Trent Alexander-Arnold whose potential in the position has been noted by Klopp but not reflected by first team appearances. With Carragher and Steven Gerrard now long gone and Jon Flanagan on loan at Burnley and struggling for games, Liverpool's team has been without the Liverpool way for some time now, even though Heighway – along with the respected Dave Shannon - is back working in Kirkby, putting on training sessions with the under 15s, taking part in full demonstrations at the age of 68.
Do I think Rafa wanted Liverpool to win the FA Youth Cup? Probably not. Did people at the academy really want Liverpool to be flying under Rafa? Probably not.
Academy supervisors from elite European clubs have remarked privately how both Liverpool, United and other Premier League clubs like Arsenal will need to rediscover their respective ways from the bottom up in order to become competitive to a continental standard again in the long-term. "Academy players are less likely to leave unless they are told to because they have an emotional attachment to the club," one Spanish source says. "If this atmosphere is wedded to short term success, you find a long term solution like at Barcelona, Bayern Munich and maybe Atlético Madrid, who have reached two Champions League finals in recent years using academy players, let's not forget – as well as a smart transfer policy."
There is a view that the possibility of this happening in England is hindered by ownership groups who possess the money but not the wisdom, knowledge or patience to make it go that way. While insiders at Arsenal currently tell of bickering between long-serving backroom staff members and more recently hired coaches, the moods at Liverpool and United are more positive but not without problems.
Since Heighway, in Piet Hamberg, Pep Segura, Frank McParland and Alex Inglethorpe, Liverpool's academy has had four different heads of state during a period where there have been five different people in charge of the first team, including Benítez who remained in place until 2010. In that time only two genuine academy graduates have progressed to appear in more than 50 first team games, Flanagan being one of them and Jay Spearing the other.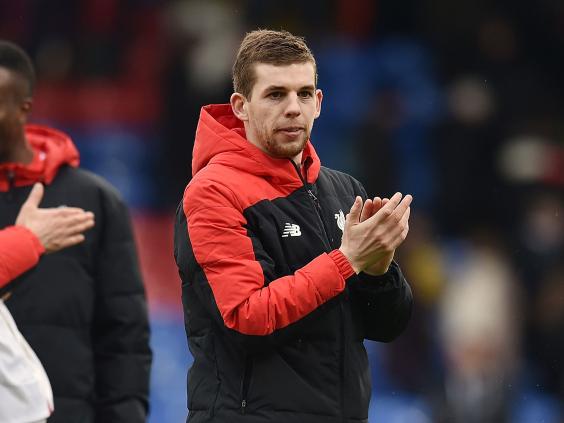 Last week it was revealed that Liverpool's pay structure would be incentivised rather than entitled in order to keep young players hungry but this announcement has been coming since before Klopp's arrival as first team manager.
Plans for the academy to trade with greater independence, with the ultimate idea of making it self-sufficient, began in 2014 when Andrew Powlesland was appointed as head of academy business, having previously worked with London's South Bank University. Powlesland's sporting background is with basketball, having been a player and a coach, and if the list of employees on Liverpool's website is to be judged by order of importance, Powlesland is now second in command behind Inglethorpe.
If the emergence of Manchester City's £30million a year academy has contributed towards Liverpool officials to think about taking a different path, Abu Dhabi investment has prompted a similar extreme reaction at Old Trafford, with Manchester United instead deciding that to offer considerable contracts to at least four UK-based City scouts. Two have opted to switch clubs. A further 50 scouts across the globe have been hired since January with the help of the Nolan Partners group. Nicky Butt, United's former midfielder, succeeded Brian McClair as the head of United's academy in February.
United and Liverpool have different ideas about the way forward but there remains much in common. Ultimately, the identities of each club will probably be defined by the managers that front them. On team selections from Monday night alone, Mourinho might lead Klopp 2-0, yet there are concerns at United that progressions made by young players under Louis van Gaal will be halted. The new manager values the level of tactical understanding that makes the type of defensive performance against Liverpool a possibility and tactical understanding usually only accompanies experience.
Last month, indeed, Butt admitted that United are some way from where they want to be. "Around the Aon Complex itself we are generating new pitches, better facilities," he said. "We are going in the right direction. But it takes time to do such a massive job." 
Reuse content