Jurgen Klopp has insisted Liverpool cannot use injuries as an excuse for not finishing in the top four this season and securing a Champions League place.
Liverpool were title contenders until Sadio Mane's absence during the Africa Cup of Nations triggered a downfall in form at the turn of the year, which saw the side win only one Premier League game in the first seven of 2017 – losing three in total.
They also crashed out of the FA Cup and the EFL Cup as Jordan Henderson, Dejan Lovren, Daniel Sturridge, Philippe Coutinho and Roberto Firmino all suffered injuries at varying times.
PFA Team of the Year
PFA Team of the Year
1/11 David De Gea (Manchester United)

Man Utd via Getty Images

2/11 Kyle Walker (Tottenham)

Tottenham Hotspur FC via Getty I

3/11 Gary Cahill (Chelsea)

4/11 David Luiz (Chelsea)

Getty Images

5/11 Danny Rose (Tottenham)

Getty Images

6/11 N'Golo Kante (Chelsea)

Getty Images

7/11 Dele Alli (Tottenham)

Getty

8/11 Eden Hazard (Chelsea)

AFP/Getty Images

9/11 Sadio Mane (Liverpool)

AFP/Getty Images

10/11 Romelu Lukaku (Everton)

Getty Images

11/11 Harry Kane (Tottenham)

Tottenham Hotspur FC via Getty I
But Klopp said he does not think about those players he is unable to use and is only focusing on those available to him in the next game, against Crystal Palace on Sunday.
"I don't think about it, actually," said the German. "That's how it is.
"I come in or sit at home and get an e-mail or whatever with all the information here, or face to face, whether a player's out or not. At this moment, I don't think about the player anymore because I cannot use him.
"It's not that I don't think about him, but not for the next game, or the next session, or whatever. My job is to use all the resources, all the players that we have. That's what I said from the first day. It makes it not easy in a lot of situations.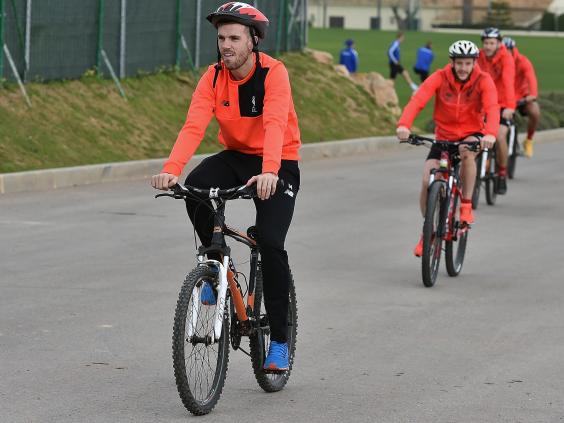 "I think we all agree that if we could have played our first 12 or 13 for the whole season, we are only six, seven, eight points away from the very interesting region of the table. It's not unlikely that it could have worked, but it's not important now because we don't know for sure. It's not allowed to look back. We have to find a line-up solution for the next game."
The Reds currently have nine players in the treatment room, with Mane out for the season and Joel Matip and Adam Lallana still not ready for first-team action. The medical staff haven't put a return date on captain Henderson's recurring foot injury.
At the start of the season, it was predicted that Liverpool would struggle with injuries due not only to the squad size, but also the intensity of Klopp's 'gegenpressing' style of football.
West Brom vs Liverpool player ratings
West Brom vs Liverpool player ratings
1/22 Ben Foster - 6 out of 10

Caught out of possession for the Liverpool goal. Largely reliable for the rest of the game. Showed his audacity in stoppage time by heading forward as West Brom chased an equaliser.

2/22 Craig Dawson - 6 out of 10

Solid all-rounded defensive display.

3/22 Gareth McAuley - 6

Held his shape well alongside Evans but struggled at times to keep Firmino under wraps.

4/22 Jonny Evans - 5

Guilty of a number of reckless fouls that heaped unnecessary pressure on his own side.

5/22 Chris Brunt - 6

His foul on Origi handed Liverpool the free-kick from which Firmino scored. A foolish and reckless decision which tainted an overwise solid performance.

6/22 Jake Livermore - 6

Another West Brom player who was a bit too liberal in his challenges.

7/22 Claudio Yacob - 5

Drifted in and out of the game. Resilient and stubborn though.

8/22 Darren Fletcher - 6

Never stopped running to his credit but was unable to properly influence the game.

9/22 Matt Phillips - 6

A nuisance early on but faded away.

10/22 Hal Robson-Kanu - 6

Did his best to keep the Liverpool defence on their toes with his running and movement. Missed a huge opportunity to equalise late on in the game though. Not clinal enough.

11/22 Nacer Chadli - 5

Started brightly with a number of testing deliveries into the box but drifted out of the game as it wore on. Missed an absolute sitter from three yards out in the first half.

12/22 Simon Mignolet - 7

A relatively quiet game for him. Asserted himself well under West Brom's set-piece balls. Called upon 10 minutes before the final whistle to deny West Brom an equaliser with fantastic one-on-one save.

13/22 Nathaniel Clyne - 6

Got well forward and proved to be a nuisance for the home side defence.

14/22 Dejan Lovren - 6

Not his most rounded of performances. A number of sloppy passes let him down throughout the game.

15/22 Joel Matip - 7

Had the chance to double Liverpool's lead with a close-range headed but fluffed his lines. Enjoyed his battles at the back with Hobson-kanu.

16/22 James Milner - 6

Deliveries were very hit and miss today. Grew into the game though.

17/22 Georginio Wijnaldum - 6

Stuck to the basics as he kept Liverpool's midfield ticking over.

18/22 Lucas - 6

Saw plenty of the ball and although a number of mistakes let him down on occasion, it was a solid afternoon of football for him.

19/22 Emre Can - 8

Industrious and aggressive all game long. Fought hard in his battles and played a crucial role in breaking up play.

20/22 Firmino - 7

Took his goal well, demonstrating his abiltiy to read the game. Kept the West Brom defence busy all game.

21/22 Divock Origi - 7

Threatened with his weaving runs and won his side a number of free-kicks in dangerous areas. Quiet first half but proved to be a valuable asset.

22/22 Philippe Coutinho - 8

The main thrust and drive of Liverpool's forward game. Created a number of chances for his team-mates and dazzled himself with his quick feet.
But Klopp insists that hasn't been the reason for the injuries, and pointed out they are more because of individual circumstances.
"We have had injuries because of different reasons," he added. "The problem I cannot say exactly.
"Look at the injuries we've had - not a lot of muscle injuries which is always a sign of intensity. It's not the moment in the season where we are having the hardest training or whatever, so it's all about individual situations.
"We have managed with Roberto Firmino the last few weeks, kept him out of a few sessions, so it's not that. If it happens in the game, it is different. Lucas got a knock, not serious, played until the end, a few problems, similar with Joel. Even he didn't say anything.
"That's the situation. Adam, Daniel and so on, lots of different things. A lot of problems, Ragnar contact in training, a little bit knee, not long, but out. Sadio long term injury, you saw what happened - it's not about day to day, it's just...the best word is unlucky."
Reuse content