Brendan Rodgers was, of course, sacked by Liverpool on Sunday evening.
Former Borussia Dortmund head coach Jurgen Klopp is the heavy favourite for the job at Anfield, with some bookies offering odds as short as 1/4. His only apparent rival for the job is former AC Milan, Chelsea and Real Madrid manager Carlo Ancelotti, although he is only available at around 3/1.
But how do the two managers compare? And who would be better suited to take charge of the Reds?
Scroll through the gallery to see some facts and figures about the two men
Carlo Ancelotti factfile
Carlo Ancelotti factfile
1/4 Tale of the Tape

Born: Reggiolo, Italy

Age: 56 (10 June 1959)

Height: 5ft 10in

2014 Getty Images

2/4 Playing career:

1976-79: Parma; 1979-87: Roma; 1987-92: AC Milan

Position: Midfieder Parma: 55 apps, 13 goals Roma: 227 (17) AC Milan: 160 (11) Total: 442 (41) Italy 1981-91: 26 (1) Honours: Serie A (83, 88, 92) Coppa Italia (80, 81, 84, 86) European Cup (89, 90)

2015 Getty Images

3/4 Managerial career - (part 1/2)

1995-96: Reggiana

Matches: 41 Wins: 17 Draws: 14 Losses: 10 Win %: 41.46 Honours: N/A 1996-98: Parma Matches: 87 Wins: 42 Draws: 27 Losses: 18 Win %: 48.28 Honours: N/A 1999-01: Juventus Matches: 114 Wins: 63 Draws: 33 Losses: 18 Win %: 55.26 Honours: N/A 2001-09: AC Milan Matches: 423 Wins: 238 Draws: 101 Losses: 84 Win %: 56.26 Honours: Serie A (04), Champions League (03, 07), Coppa Italia (03)

2003 Getty Images

4/4 Managerial career - (part 2/2)

2009-11: Chelsea

Matches: 109 Wins: 67 Draws: 20 Losses: 22 Win %: 61.47 Honours: Premier League (10), FA Cup (10) 2011-13: Paris Saint-Germain Matches: 77 Wins: 49 Draws: 19 Losses: 9 Win %: 63.64 Honours: Ligue 1 (13) 2013-15: Real Madrid Matches: 119 Wins: 89 Draws: 14 Losses: 16 Win %: 74.79 Honours: Champions League (14), Copa Del Rey (14)

GETTY IMAGES
PLAYING CAREER
Ancelotti was a much better player than Klopp, the German stayed with Mainz 05 his entire professional career in the 2. Bundesliga but club rarely challenged for titles or silverware. Klopp started his career as a striker before becoming a central defender when he hit his 30s.
Ancelotti enjoyed a stellar career as a midfielder with Roma and then the dominant Milan team of the late 1980s. He helped Roma win Serie A in 1983 and the club were a perenial title threat, finishing in the top three in three of his eight seasons at the club, while also winning the Coppa Italia four times. Moving to the brilliant AC Milan team of Arrigo Sacchi, Ancelotti won two league titles between 1987 and 1992 as well as successive European Cups in 1989 and 1990. 
Klopp was never capped by Germany, while Ancelotti won 26 caps for Italy and was in the squad for the 1990 World Cup, when the hosts came third.
MANAGERIAL CV
Upon retirement Klopp took over at Mainz and guided the club to one of their most successful spells, leading them to the Bundesliga for their first time in their history and solidifying their place in Germany's top flight, then leading the club to the 2005-06 Uefa Cup. He was then relegated with Mainz and after failing to bring them back up, resigned at the end of the 2008 season. Still, Borussia Dortmund came calling - they were not the club they are now after years of financial mismanagement.
In the season before Klopp's arrival they had finished 13th, but in his first year in charge he led the club to sixth and then fifth in his second season. It was then that Klopp's brand of attacking, pressing football really made it's mark, as well as his expert recruitment, with Dortmund winning successive Bundesliga titles to shock German giants and bitter rivals Bayern Munich. He was named German football manager of the year in both of those seasons. However he was unable to contiunue his dominance, with Bayern consistently outspending Dortmund and their best players - Shinji Kagawa, Mario Gotze and Robert Lewandowski among others - regularly leaving the club. Klopp also famously took the club to the Champions League final, where Bayern won to complete the treble. Klopp had two second place finishes in 2013 amd 2014, but Bayern ran away with the title in both seasons. Last year, Dortmund started terribly and were in the relegation zone at the start of the winter break. The club turned it around in the second half of the season, eventually finishing seventh, but Klopp resigned, believing he had taken the club as far as he could.
Ancelotti has been at a number of Europe's biggest clubs, taking in spells at Juventus, Milan, Chelsea, PSG and Real Madrid. He has won three league titles in three different countries and the Champions League three times with two different clubs, as well as three other major pieces of silverware. During his time at Milan his team, featuring Andriy Shevchenko, Andrea Pirlo, Clarence Seedorf, Kaka and Paolo Maldini was a perennial contender in Europe, although his reputation took a knock as he was only able to win one Serie A title during his time there. At Chelsea he won the club's first Double in a scintillating season at Stamford Bridge where the Blues scored 103 goals in 38 matches (a record in the Premier League era) to win the title at a canter. He struggled in his second season and was harshly sacked in the tunnel at Goodison Park. He took two seasons to win Ligue 1 with big-spending Paris Saint-Germain, before taking over from Jose Mourinho at Real Madrid, again impressing with an attacking style.
In his first season Ancelotti finaly won La Decima, Real Madrid's 10th European Cup, as well as the Copa Del Rey. Despite his impressive record at Real Madrid, where he won 75 per cent of his matches, Ancelotti lost out in La Liga to neighbours Atletico Madrid - who won their first title in 18 years - and then a back-to-form Barcelona last season. It may have been harsh but the writing was on the wall as soon as Real Madrid failed to reach the Champions League final or challenge for the league.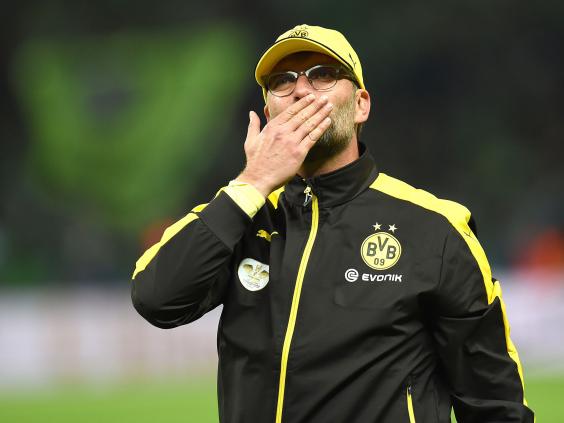 TACTICS
Both managers favour a fast-paced, attacking brand of football that fans of any club would love to see. Klopp was one of the forefathers of the 4-2-3-1/4-3-3 hybrid formation that many teams across Europe have mimicked, with quick, short passing and getting forward quickly a feature when in possession and a high-line with a pressing style used when out of possession. A feature of Ancelotti's Milan teams was the diamond of Pirlo, Gattuso, Seedorf and Kaka, but the Italian has used the same formation as Klopp in recent years, especially at Chelsea and Real Madrid. 
The pair have each received criticism for being too attacking and defensively open, but have stuck to their guns that their teams have to entertain as well as win.
RECRUITMENT
This is where the two managers begin to be separated, largely due to the budgets they have had at their clubs. Ancelotti has always been at clubs with ownership not afraid to spend big, whether it was Silvio Berlusconi at Milan, Roman Abramovich at Chelsea, Nasser Al-Khelaifi at PSG or Florentino Perez at Real Madrid, the Italian has been at clubs where the hierarchy expect instant results.
Ancelotti has overseen big money moves at all of his clubs, the likes of Shevchenko, Fernando Torres, Edinson Cavani and Gareth Bale arriving on his watch. Klopp, on the other hand barely had any money to spend at Dortmund, with the club often having to sell before they buy. In fact, prior to last summer (where Dortmund spend £45million) in the a doomed hope of catching Bayern, Klopp had spent less than £3m net in the previous six seasons.
The German often had to buy unestablished players from the far-flung corners of Europe (Robert Lewandowski was bought for £3.5m from Lech Poznan) or develop players in the Dortmund academy. Ancelotti was often in the running to buy some of the world's best players and was in charge of clubs who broke the British, French and world transfer records.
MAN-MANAGEMENT
Both managers have garened huge praise from their players for their skills at developing players and creating a postivie atmosphere in the dressing room. Klopp is known to work his players hard on the training ground but the players often buy in to his vision, with hard work the founding principle. Numerous players were unhappy when it was announced Ancelotti was to leave Real Madrid over the summer, with club president Florentino Perez even admitting he didn't know why he was sacking the Italian.
PERSONALITY
​Again, these two couldn't be more different, although they are both extremely likeable in their own ways. Klopp has almost become a must-see attraction with his wild gesticulations and celebrations, facial expressions and energy from the techincal area. Ancelotti, in comparison, is never ruffled, rarely celebrates even the most important goals and generally exudes a cool and calm demanour at all times.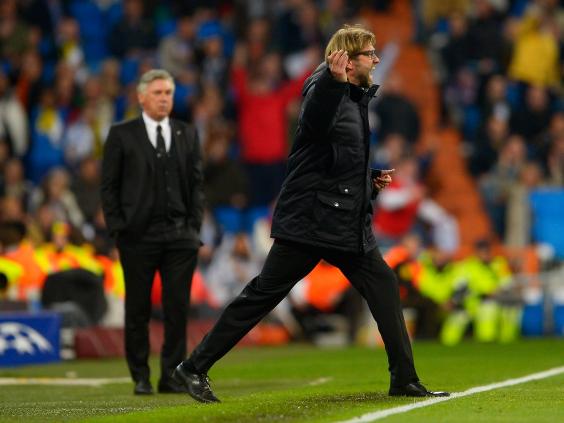 That extends to press conferences and interviews, where Klopp is a passionate, almost maniacal speaker full of humourous one-liners, angry rants and delirium - at times he often appears close to tears after defeats. Ancelotti's famous arched eyebrow has taken on a life of its own and while the Italian can sometimes appear pragmatic, he always acts with class and dignity after wins and losses.
VERDICT
Who should Liverpool pick? It's a difficult choice and one which is chalk and cheese. Both have impressive CVs and can count themselves as managers who operate at the elite tier of the game, it's pretty much a win-win if either man was to arrive at Anfield.
But Klopp is the one who would appear to fit in better with Liverpool's current plight and the way they want to get back to the top. He is more experienced at operating on a smaller budget, with an emphasis of buying players with potential and selling on for a profit, and with taking a fallen power back to the top of the game. 
Ancelotti hasn't stayed at a club for more than two seasons - through no fault of his own - since he left AC Milan in 2009 and it's not known if he has the appetite to take a team on the outside looking in back to contention.
Reuse content