With victory over Tottenham at the weekend, Liverpool moved to the top of the Premier League table.
With just six games remaining, their hopes of a first title since 1990 are not only in sight, but also in their own hands. Win the remaining six games and they win the Premier League.
But who do they face, where might they come unstuck and where could the title be won?
We take a look at Liverpool's remaining six fixtures to find out...
West Ham (A) - 6 April
On 34 points, West Ham look almost certain to survive the drop which is good news for Liverpool. Facing teams with little left to play for can only help. Despite winning their last game at Upton Park, the manner of the Hammers' win didn't go down well with their own fans who booed them off the pitch. It could be a difficult afternoon for the home side. Liverpool won the reverse fixture 4-1 with a Luis Suarez double. The Reds also won on their last visit to east London, coming from behind to win 3-2.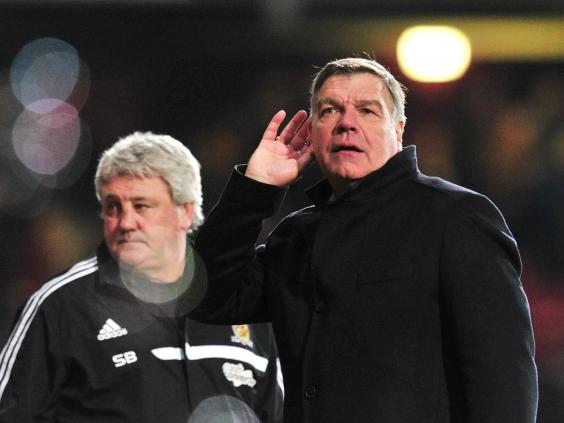 Manchester City (H) - 13 April
This is the big one. Manchester City also have their destiny in their own hands if they win this game. Along with Liverpool, Manuel Pellegrini's side look like the form team although they found themselves only managing a draw at Arsenal at the weekend. City came from behind to win 2-1 at the Etihad earlier this season while the three previous fixtures between themselves and Liverpool ended 2-2. If City win all their other games and get a draw at Anfield the title will be heading to Manchester. Three points is needed for Liverpool here.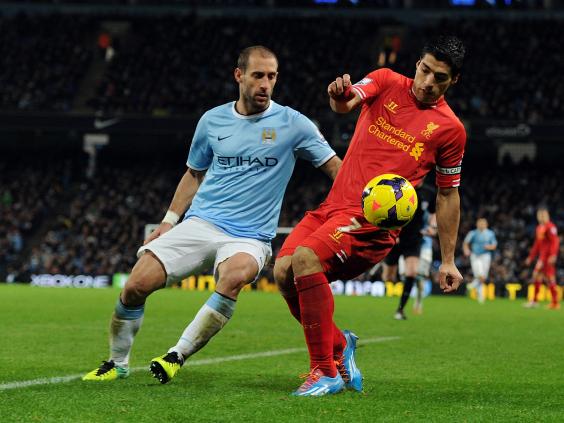 Norwich (A) - 20 April
A much lowlier opponent for Liverpool but one for whom relegation cannot be ruled out. That could make it tough at Carrow Road but Luis Suarez will be relishing the trip to Norfolk. The Uruguayan scored four against them in the 5-1 win for Liverpool earlier this season and he's scored hat-tricks on his last two visits to Carrow Road. The fact Suarez is playing better than at any other time in his career, Norwich have much to fear.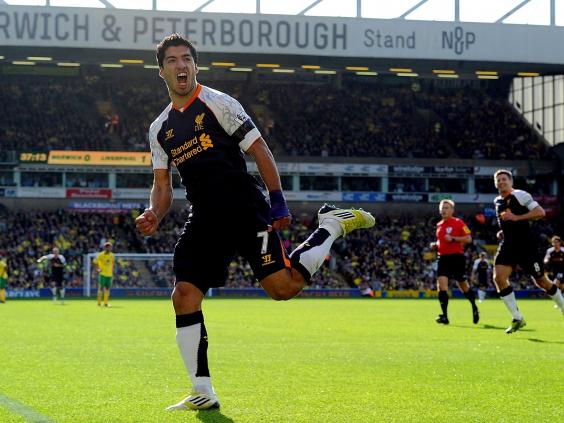 Chelsea (H) - 27 April
Along with the match against Manchester City, this is the other that looks likely to define the season. When they met earlier this season the Blues triumphed 2-1. Jose Mourinho has a knack of getting results in the biggest games and while his side have made some surprising slip ups this term, most recently against Crystal Palace, the Special One will be relishing a tactical battle with his former student Brendan Rodgers. Chelsea won both games against Manchester City and beat Arsenal 6-0 at home and drew away. So without a defeat against their fellow top four teams this season Liverpool have their work cut out to pick up the points here.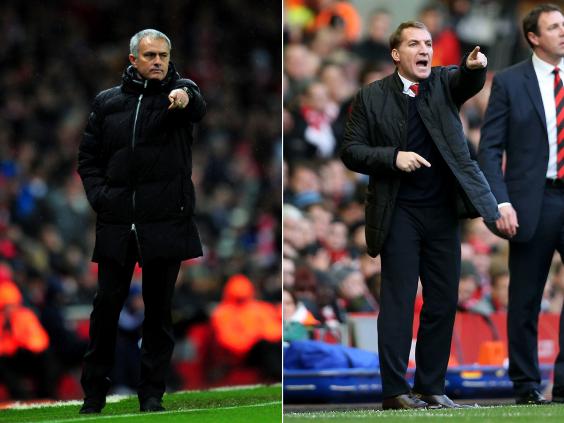 Crystal Palace (A) - 3 May
Tony Pulis's side are well and truly among the relegation contenders and will likely still be fighting for survival in their penultimate game of the season. It should be a win for Liverpool, but as the result against Chelsea proved, anything can happen at this stage of the season. Liverpool won 3-1 when they played earlier this season, taking a familiar early lead with all three goals for the home side going in inside 38 minutes.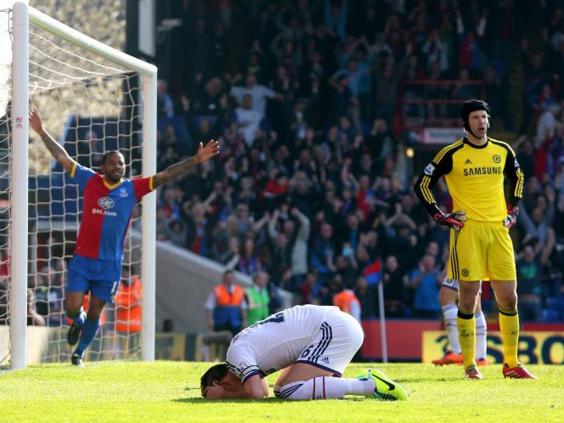 Newcastle (H) - 11 May
The final game of the season is against Newcastle, a fitting finale if the Reds remain in the mix at this stage. Over the years these two sides have played out some of the greatest games in Premier League history.
1990 v 2014: Player-for-player - which Liverpool team is better?
1990 v 2014: Player-for-player - which Liverpool team is better?
1/11 Bruce Grobbelaar vs Simon Mignolet

Mignolet joined Liverpool from Sunderland at the start of the 2013/14 season and has so far been a success, recording nine clean sheets in his 31 league games. Grobbelaar however is considered one of Liverpool's legendary goalkeepers, famed for both his ability, his unpredictability and his wobbly knees. He played for Liverpool between 1980 and 1994, making 628 league appearances for the club. Over 14 years, Grobbelaar won six League championships, three FA Cups, three League Cups and the 1983-84 European Cup.
Verdict: Grobbelaar

2/11 Steve Nicol vs Jon Flanagan

Aged only 21, Jon Flanagan represents one of Liverpool's rising talents. A member of the team's development squad frrm 2004-11, Flanagan has broken into the starting line-up this season and has performed well on most occasions. Steve Nicol was one of the team's unsung heroes, able to operate in both defence and midfield. He made 343 appearances for the club, scoring 37 goals before moving to the United States where he became one of the MLS's top managers, coaching the New England Revolution for nine years. After Liverpool's 3-0 victory over Manchester United this month, Brendan Rogers compared Flanagan to Nicol in the way they were both able to play on the left despite being right footed.  
Verdict: Nicol

3/11 Alan Hansen vs Glen Johnson

Glen Johnson has been with Liverpool since 2009 and won 50 caps with England. A regular starter, he remains one of Brendan Rogers' go-to players. Alan Hansen played for Liverpool across three decades, from 1978 to 1991. Hansen was famed as a centre-half who could actually pass the ball, no mean feat at the time. He is renowned as one of Liverpool's great captains, winning eight titles and three European Cups in a career which would have been even more illustrious had it not been for a series of injuries.
Verdict: Hansen

4/11 John Barnes vs Steven Gerrard

Both players are Anfield legends. In 16 years with the club, Steven Gerrard has made 660 appearances in all competitions, winning the European Cup, FA and League Cup. John Barnes was one of the most effective wingers of his time, scoring 84 league goals in more than 300 appearances for Liverpool. Although he never won the European Cup, Barnes lifted the League title twice with Liverpool and played for England 79 times. Gerrard has 109 caps for his country.  
Verdict: Gerrard

5/11 Glenn Hysen vs Martin Skrtel

Martin Skrtel has played as centre back for Liverpool 239 times and established himself as one of the club's most reliable players over the last four years. He won Liverpool player of the year in 2012, when they won the League Cup. Glenn Hysen was at Liverpool for a relatively short period of time, appearing for the club between 1989 and 1992. The partnership of both Hysen and Hansen proved formidable during their title-winning season.  
Verdict: Skrtel

6/11 Steve Staunton vs Daniel Agger

Daniel Agger has made over 170 league appearances for Liverpool since joining the club in 2006. Agger replaced Jamie Carragher this season as Liverpool's vice-captain and has reiterated his intention to stay at the club despite possible interest from Barcelona. Steve Staunton was bought by Liverpool for £20,000 back in 1986. A versatile player who could operate in defence or midfield, he went on to appear 109 times for the club in two spells, winning both the FA Cup and league title.  
Verdict: Agger

7/11 Ray Houghton vs Jordan Henderson 

Jordan Henderson has scored 12 times in 128 appearances for Liverpool. Since joining from Sunderland in 2011, he has found himself regularly in the starting line-up and has played a major part in the club's push for the title this season. A superb athlete, he is making a push for a place in England's squad for this year's World Cup. Ray Houghton played for eight teams during his career, including Liverpool between 1987 and 1992. His work rate was astonishing, often creating the space for more naturally gifted players like Ronnie Whelan to prosper. Houghton won two league titles and two FA cup medals.
Verdict: Houghton

8/11 Steve McMahon vs Raheem Sterling

Raheem Sterling is another one of Liverpool's rising young stars. At just 19, Sterling has already appeared over 50 times for the club and has become a regular starter. One of his best performances was against Arsenal in February when he scored twice in the five-goal demolition of the Gunners. He also committed his future to Liverpool, extending his current contract in late December 2012. He has a long way to go to match McMahon, who amassed nine trophies along with 29 goals in over 200 appearances. Liverpool fans voted McMahon, who also played for Everton, number 52 in the best 100 Liverpool players of all time.
Verdict: McMahon

9/11 Ronnie Whelan vs Joe Allen

When he joined Liverpool in 2012 the 22-year-old Allen had already made over 100 appearances for Swansea City. Allen has endured long spells out the team but has started every game this month. Whelan won an astonishing 19 trophies with the club in a 15-year career that spanned the glory years. He was pivotal in midfield with both Liverpool and the Republic of Ireland.
Verdict: Whelan

10/11 Peter Beardsley vs Daniel Sturridge

Daniel Sturridge is fast becoming one of Liverpool's great signings since leaving Chelsea last year. In his 43 games, Sturridge has scored 34 times. This season, in which he has won player of the month twice, has been the best of his professional career and his partnership with Luis Suarez has yielded an astonishing 48 goals. Beardsley was one of the most unselfish and intelligent players of his time,  also forming a lethal Liverpool strike force with John Aldridge. He scored 59 times in 175 appearances for Liverpool, one of the 13 clubs he played for over 20 years.
Verdict: Sturridge

11/11 Ian Rush vs Luis Suarez

Luis Suarez looks a shoo-in for player of the year this season, scoring an incredible 28 Premier League goals this term already. Although Rush's strike rate never matched that, he still managed 346 in 660 games during his two spells with the club. The Welshman, who made his Liverpool debut in 1980, is rightly remembered as Liverpool's greatest ever striker, famed for his electric pace and dead-eye finishing which helped the club scale incredible heights during his 16 years at Anfield. During that time, he won five league titles.  
Verdict: Rush
The 4-3 win for Liverpool in a midweek tie in 1996 was arguably the best top-flight game of all-time as defending took a back seat to doubles from Robbie Fowler and Stan Collymore and goals from Les Ferdinand, David Ginola and Faustino Asprilla. It was a match that hugely dented Newcastle's hopes of winning the league that year - but could they get their revenge in this match? It was a typically entertaining game earlier this season with the score ending 2-2.
Reuse content