Jurgen Klopp is ready to call on Daniel Sturridge to get Liverpool over the line in their push for the top four.
The Reds know two wins from their final two Premier League games would secure Champions League qualification for next season and Klopp is ready to turn Sturridge despite the England international has not played 90 minutes since the 1-1 draw with Chelsea over a year ago.
Sturridge has made two substitute appearances totalling 27 minutes since mid-April after a hip problem, but offered a glimpse of how to unlock stubborn defences when he came off the bench during last weekend's frustrating goalless draw at home to Southampton.
He could be the key to unlocking West Ham, who have kept four clean sheets in their last five matches, on Sunday. And with fellow forward Roberto Firmino a doubt with a muscle injury, his return to full fitness is timely.
Asked how ready the 27-year-old was to be picked from the start, Klopp said: "Ready. That is good. So far it's been difficult because you can't start a player then have to think after 40 minutes 'so we have to change?'
"I was happy to have the opportunity to bring him on the pitch. Top players so they have impact. Now the situation is different again. It's another week we've had him training and so far so good, so hopefully we have a few options."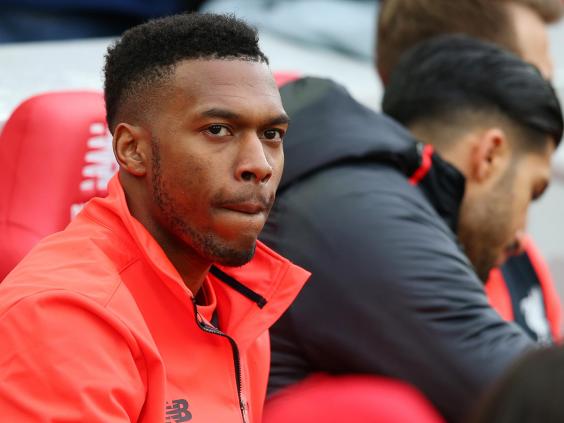 On his impact against Southampton, where he almost created a goal for himself out of nothing, Klopp added: "That is Daniel. If he had not been fit it would not have been possible. That is unfortunately how it is.
"Even Daniel Sturridge cannot perform (when he is) like this so he needs a physical situation. Daniel is a wonderful option to have but it is all about being fit or not. It is not the name we bring on the pitch, it is the player, the human being, in this specific shape.
"When he was fit he was always a real, real, real option for us. And it is again now like this. It is really good timing."
Firmino's training has been managed for several weeks now because of the Brazil international's heavy workload, but he and compatriot Lucas Leiva are doubtful for the weekend.
"We are struggling a little bit with Roberto again and Lucas Leiva this week," said Klopp. "After the (Southampton) game they felt something, we have to wait and see what they can do there.
"For a few weeks we have had to manage Roberto's intensity in training. He feels another muscle a little bit. Roberto is a real mentality player, he wants always to be involved and we need to make decisions for him.
Liverpool 0 Southampton 0 player ratings
Liverpool 0 Southampton 0 player ratings
1/22 Simon Mignolet – 5 out of 10

He was only forced to make a small number of saves, so it was an easy afternoon for the keeper.

2/22 Nathaniel Clyne – 6 out of 10

He was charging up and down the channels, but at times he was leaving Liverpool vulnerable the back when he was struggling to track back.

3/22 Dejan Lovren – 5 out of 10

Was clumsy in his challenges which gave away a cluster of unnecessary fouls. However, he held the line well at the back and used possession well.

4/22 Joel Matip – 6 out of 10

It was a relatively straight forward afternoon for the defender due to a lack of attacks from the Saints, but he did his job when he was called upon.

5/22 James Milner – 4 out of 10

He missed from the penalty spot, which denied Liverpool the chance to take the lead. Despite an impressive record from the spot, Forster came out on top this time.

6/22 Emre Can – 5 out of 10

Appeared to run out of ideas in possession – when he was on the edge of the box he was just giving the ball away.

7/22 Lucas – 6 out of 10

He was pumping balls up to the strikers, but his efforts went unrewarded. He looked energetic, but he came out second best in a number of 50/50 challenges.

8/22 Georgino Wijnaldum – 6 out of 10

A textbook display from Wijnaldum in the middle, but sometimes he needs to use the simple option as opposed to always going for the long ball.

9/22 Roberto Firmino – 7 out of 10

Was Liverpool's best player in the first half – he appeared to have no end of energy and his movement off the ball was creating chances.

10/22 Philippe Coutinho – 4 out of 10

His movement was good, but when he was on the ball he failed to take any of his chances. He looked as though he needed an injection of confidence.

11/22 Divock Origi – 6 out of 10

He looked menacing when he was charging at the Southampton defence, but he was just lacking the final product.

12/22 Fraser Forster – 9 out of 10

His exquisite penalty save kept the scores level and he made a collection of crucial stops throughout.

13/22 Cedric Soares – 7 out of 10

His repeated interceptions and clearances stopped a handful of Liverpool moves. He also used possession well from the back.

14/22 Jack Stephens – 5 out of 10

His moment of inanity for the handball was rescued by Forsters excellent save. Aside from that he defended well today.

15/22 Maya Yoshida – 5 out of 10

He was playing very deep, which was allowing the Liverpool to have a lot of space going forward.

16/22 Ryan Bertrand – 6 out of 10

He was crashing into challenges, holding his position well and looked more than capable of maintaining the Liverpool forwards.

17/22 Dusan Tadic – 6 out of 10

He was finding himself in all of the right places, but just lacked service throughout.

18/22 Steven Davis – 6 out of 10

Was highly influential in the Southampton side today and he started a handful of promising moves for the visitors.

19/22 Oriol Romeu – 7 out of 10

His bruising challenge on Origi marked his authority in the early stages of the game. He battled hard and tackled well.

20/22 James Ward-Prowse – 6 out of 10

His deliveries into the area were menacing, but the Saints lacked an aerial threat so his crosses were never converted.

21/22 Sofiane Boufal – 4 out of 10

Aside from the occasional pass, Boufal had no input to the game today. He was constantly marked and did not seem to want the ball.

22/22 Manolo Gabbiadini – 4 out of 10

The striker went missing at times today and he failed to make any real impact when in possession.
"We left him out of training and have to wait and give him as much time as possible. Both him and Lucas played 90 minutes. We asked a few times 'Are you okay?' and they said 'Yes', then after the game they felt it.
"Lucas felt two different muscles after the game. He could be back in training today and Roberto tomorrow if possible."
PA
Reuse content