For Arsenal, the hard, revealing work starts now. Proud as they should be of their first 36 games of the season – and they are still hunting three trophies – Arsène Wenger knows that all they have done so far is stay in contention. Non-credible candidates are stripped out in February and March, and their next four games, Liverpool, Manchester United, Liverpool and Bayern Munich, will decide whether Arsenal can keep competing.
Spells like this have sunk them before, in 2008 and 2011, but this time Wenger is confident. He has said this is a different team, because of their "defensive stability", the second-best in the league, which can keep them afloat through some difficult waters.
Wenger knows that everyone doubts his team will do it, thinking they will eventually be overwhelmed by the onslaught of quality. But he believes that this time his team will prove itself. Winning at Anfield will not be enough. "It would be a strong message," he said at his pre-match press conference, "but we will have now to give a strong message out in every single game. That's what it is all about because as soon as you don't win a big game, people say 'Oh, can they do it?'"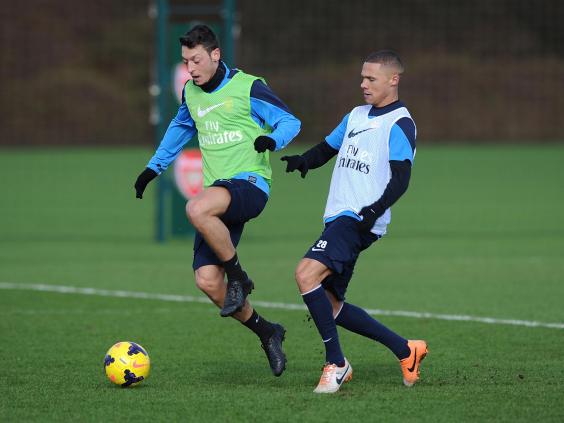 As Arsenal have not won a trophy for nine years, doubts are quite natural and Wenger is used to it. "I must say that some people are very patient with us because they expect us to fall apart since August," he said. "We have a confidence that we can deal with it but, of course, we have to convince some sceptical people and it's a good moment to do it."
It certainly is an important point. If Arsenal win they will, however briefly, move five points clear of Manchester City and Chelsea, putting slightly more pressure on their games, which start at 3pm. It would provide momentum for their hosting of Manchester United on Wednesday, and an edge  for the FA Cup fifth-round game with Liverpool a week tomorrow before, of course, they welcome the European champions.
All three opponents have goals within them but Arsenal have almost the best defence in the country, and that is what gives Wenger hope. "We have more defensive stability, that is for sure," he said, noting the contrast with recent years. "I think that is the main difference there is. We could always score goals, we could always master the domination of the game. If you look purely at the numbers, our defensive record is much more stable."
Arsenal have conceded 21 goals in 24 league games, one goal worse than Chelsea's 20. But their average of goals conceded per game, 0.88, is their best for six years. With 11 clean sheets so far this season – the joint most in the league – they are proving far harder to break down.
Wenger knows that their old fragility cost them, but they are finally strong and settled again at the back. Wojciech Szczesny, Bacary Sagna, Per Mertesacker, Laurent Koscielny and either Nacho Monreal or Kieran Gibbs have formed a formidable back five, probably their best in a decade. The decision, nearly one year ago, to pick Koscielny over Thomas Vermaelen as Mertesacker's partner has proved to be one of Wenger's best in recent years. The record since speaks for itself. "It is certainly vitally important," Wenger admitted, "especially going into the big games."
Just once this season has a Liverpool team containing Luis Suarez and Daniel Sturridge failed to score, but that was in the 2-0 defeat at the Emirates in November. That was one of Arsenal's best wins of the season – Wenger described it as a "big game for us at the time" – but he said that what his team did with the ball was just as important as what they did without it.
"What happened on the day is that we dominated the game offensively," Wenger explained. "They had not many balls in the second half, we were two up, we defended well, they had some good spells, but overall we had a good defensive performance." Do not expect any "19th-century football" from Arsenal this afternoon. "We have to not forget to attack and to play. Our game is about that."
Arsenal are certainly better at the back than Liverpool, who would have a far firmer grip on fourth place if only they could keep more clean sheets. They have seven this season, fewer than West Ham United or Norwich City, and have suffered two recent frustrating score draws, with Aston Villa and then West Bromwich Albion.
Kolo Touré, a member of Arsenal's last great defence, with "The Invincibles" 10 years ago, has had a difficult season, not least with his careless pass to Victor Anichebe, which cost Liverpool two points at The Hawthorns. Wenger was sympathetic, saying that Touré was "old enough to deal with" the criticism.
The only problem for Wenger, and the long-term future of his defensive unit, concerns Sagna. The 30-year old right-back, in his seventh season at Arsenal, is out of contract this summer and is stalling on a new deal. He would like three years, as well as a pay rise, and Paris Saint-Germain are far more likely to give that to him than Arsenal are. So far Arsenal, who prefer to offer over-thirties one-year extensions, have not met his demands, but Wenger admitted the club could extend the length of the contract offer in order to keep him.
"I hope that in the end I am right," he said, "we are not close at the moment."
"He wants to keep his options open, because he is at the end of a contract," conceded Wenger. "It is an important contract for him. He is 31 soon. I can understand. I am not all right with it, because I would like him to sign just now, but I have to accept it. It is his freedom, the decision belongs to him."
Sagna has been excellent in this campaign, far better than he was last season, and Arsenal might compromise in search of a deal. "Because he is a defender we are ready to give him more than one year," Wenger revealed.
"He is fantastic, not only a great player but a fantastic attitude. You know when you start the game that Bacary Sagna will give you 100 per cent commitment and no matter where you play, against whom you play, he will just commit 100 per cent. That is a fantastic guarantee. I believe that his future is here and any other decision would be wrong." Whatever happens next, Sagna has a crucial role to continue, not least on Saturday.