Arsenal may have had an offer of £40m plus £1 rejected for Liverpool striker Luis Suarez over the summer, but Arsenal manager Arsene Wenger today claimed that it was never his intention to replace his French striker Olivier Giroud with Suarez, and that he will not try and sign the Uruguayan again in the summer.
Giroud has been the focus of the Gunners' attack this season, scoring 10 goals and creating six in the Premier League.
"[The Suarez bid] was not to replace Olivier Giroud," Wenger claimed. "We never wanted to replace Giroud, we always had complete confidence in him. I'm not surprised he is doing well this season."
"[Suarez] was never our player. It is just a situation that did not come off and that is it."
Asked if he would be likely to look again at a deal for Suarez this summer, Wenger said: "At the moment, no."
The Gunners' £40m plus £1 bid was made last July in the false hope that it had triggered a release clause in the 27-year-old's contract, it didn't, and was laughed off by Reds' owner John W Henry - who memorably responded to the offer by tweeting: "What do you think they're smoking over there at Emirates?"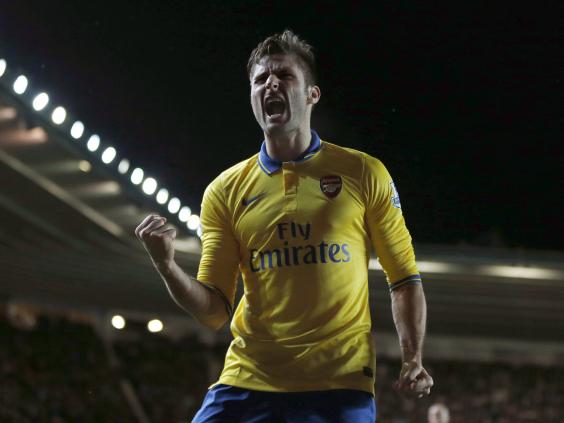 Despite Arsenal chief executive Ivan Gazidis stressing the board were confident an announcement on Wenger's new contract would soon be forthcoming, the French coach maintains there is as yet no movement on tieing up the formalities.
Defenders Per Mertesacker and Bacary Sagna are also in talks over new deals, as is midfielder Tomas Rosicky.
Wenger said: "The main news is Bacary Sagna, that we expect (to sign) and a few other players, but there is no (fresh) news there."
Arsenal: The latest match pictures
Arsenal: The latest match pictures
1/64 FA Cup final - Arsenal 3 Hull 2

Aaron Ramesy celebrates after scoring the winning goal

GETTY IMAGES

2/64 FA Cup final - Arsenal 3 Hull 2

Laurent Koscielny prods the ball in for the equaliser and is injured by Allan McGregor in doing so

GETTY IMAGES

3/64 FA Cup final - Arsenal 3 Hull 2

Bacary Sagna wins the header that would lead to Laurent Koscielny's equalising goal

GETTY IMAGES

4/64 FA Cup final - Arsenal 3 Hull 2

Santi Cazorla jumps into the air in celebration after pulling a goal back for the Gunners

GETTY IMAGES

5/64 FA Cup final - Arsenal 3 Hull 2

Santi Cazorla curls in a superb free-kick to get Arsenal back into the game

GETTY IMAGES

6/64 FA Cup final - Arsenal 3 Hull 2

Curtis Davies and his Hull teammates celebrate after Hull go 2-0 up

GETTY IMAGES

7/64 FA Cup final - Arsenal 3 Hull 2

Curtis Davies slams in Hull's second on the rebound after Lukasz Fabianski pushes Alex Bruce's header onto the post

GETTY IMAGES

8/64 FA Cup final - Arsenal 3 Hull 2

James Chester celebrates with his Hull teammates after scoring the opening goal after just four minutes

GETTY IMAGES

9/64 FA Cup final - Arsenal 3 Hull 2

James Chester and Alex Bruce celebrate going in front with Arsenal players looking on

GETTY IMAGES

10/64 Norwich 0 Arsenal 2

A young Norwich fan holds up a sign

GETTY IMAGES

11/64 Norwich 0 Arsenal 2

Fit again Jack WIlshere competes with Bradley Johnson

GETTY IMAGES

12/64 Norwich 0 Arsenal 2

Carl Jenkinson celebrates scoring the away side's second, his first goal for the club

GETTY IMAGES

13/64 Norwich 0 Arsenal 2

Aaron Ramsey celebrates scoring for Arsenal against Norwich

Getty Images

14/64 Norwich 0 Arsenal 2

Aaron Ramsey scores a superb volley to put the Gunners ahead

GETTY IMAGES

15/64 Arsenal 1 West Brom 0

The Arsenal players line-up before the match

GETTY IMAGES

16/64 Arsenal 1 West Brom 0

West Brom manager Pepe Mel looks on from the sidelines

GETTY IMAGES

17/64 Arsenal 1 West Brom 0

Mesut Ozil escapes the attention of James Morrison

18/64 Arsenal 1 West Brom 0

Olivier Giroud heads Arsenal into a 14th minute lead

19/64 Arsenal 1 West Brom 0

Mikel Arteta turns away from Diego Lugano

20/64 Arsenal 1 West Brom 0

Mathieu Flamini unleashes a shot on goal

21/64 Arsenal 1 West Brom 0

Santi Cazorla brings the ball under control

22/64 Arsenal 1 West Brom 0

Arsene Wenger waves to the Arsenal crowd after the final whistle

23/64 Arsenal 3 Newcastle 0

German midfielder Mesut Ozil, right, celebrates with Frenchman Olivier Giroud after scoring the second goal of the night

Getty

24/64 Arsenal 3 Newcastle 0

French defender Laurent Koscielny celebrates after opening the scoring

Getty

25/64 Hull 0 Arsenal 3

Lukas Podolski celebrates his second goal in Arsenal's win over Hull

GETTY IMAGES

26/64 Arsenal 3 West Ham 1

Kim Kallstrom leaps for the ball last night, when he made an encouraging start for Arsenal after a long injury lay-off

AP

27/64 Arsenal 3 West Ham 1

Lukas Podolski hammers in Arsenal's third

Getty Images

28/64 Arsenal 3 West Ham 1

Oliver Giroud puts Arsenal ahead with his weaker right foot after showing sublime touch to get the ball under control

Getty Images

29/64 Arsenal 3 West Ham 1

Oliver Giroud kisses the Arsenal badge after giving the Gunners the lead

Getty Images

30/64 Arsenal 3 West Ham 1

Lukas Podolski equalises with a precise, powerful finish

Getty Images

31/64 Arsenal 3 West Ham 1

Players, fans and officials observe a minute's silence to mark the 25th anniversary of the Hillsborough disaster prior to kick-off

Getty Images

32/64 Wigan 1 Arsenal 1 (Arsenal win 4-2 on pens)

Thomas Vermaelen (third from right) celebrates with penalty-saving goalkeeper Lukasz Fabianski after his crucial final save

GETTY IMAGES

33/64 Wigan 1 Arsenal 1 (Arsenal win 4-2 on pens)

Arsenal's Per Mertesacker celebrates his late equaliser at Wembley in this FA Cup semi-final

Getty Images

34/64 Everton 3 Arsenal 0

Kevin Mirallas celebrates Everton's third

GETTY IMAGES

35/64 Everton 3 Arsenal 0

Kevin Mirallas has an effort on goal but the ball comes off Mikel Arteta for an own goal

GETTY IMAGES

36/64 Everton 3 Arsenal 0

Ross Barkley has an effort on goal

GETTY IMAGES

37/64 Everton 3 Arsenal 0

Romelu Lukaku celebrates his goal with manager Roberto Martinez

GETTY IMAGES

38/64 Everton 3 Arsenal 0

Romelu Lukaku goes on a driving run and cuts inside to smash home Everton's second

GETTY IMAGES

39/64 Everton 3 Arsenal 0

Steven Naismith celebrates his goal

GETTY IMAGES

40/64 Everton 3 Arsenal 0

Steven Naismith slots home Everton's opening goal with a cool finish

GETTY IMAGES

41/64 Everton 3 Arsenal 0

Bacary Sagna goes in for a tackle on Leighton Baines

GETTY IMAGES

42/64 Everton 3 Arsenal 0

Leon Osman receives treatment and has to go off after a clash with Bacary Sagna

GETTY IMAGES

43/64 Arsenal 1 Manchester City 1

Edin Dzeko can't believe that his deflected effort goes wide

GETTY IMAGES

44/64 Arsenal 1 Manchester City 1

Mathieu Flamini celebrates his equaliser for the Gunners

GETTY IMAGES

45/64 Arsenal 1 Manchester City 1

Mathieu Flamini celebrates after putting Arsenal level

GETTY IMAGES

46/64 Arsenal 1 Manchester City 1

Olivier Giroud remonstrates with referee Mike Dean

GETTY IMAGES

47/64 Arsenal 1 Manchester City 1

Mikel Arteta plays the ball past Jesus Navas

GETTY IMAGES

48/64 Arsenal 1 Manchester City 1

Tomas Rosicky battles for the ball with Yaya Toure

GETTY IMAGES

49/64 Arsenal 1 Manchester City 1

Martin Demichelis confronts Tomas Rosicky after the Arsenal player's tackle leaves Gael Clichy injured

GETTY IMAGES

50/64 Arsenal 1 Manchester City 1

The Arsenal players walk back to half way line looking dejected after conceding the opening goal

GETTY IMAGES

51/64 Arsenal 1 Manchester City 1

David Silva and Edin Dzeko celebrate after the Spaniard's opening goal

GETTY IMAGES

52/64 Arsenal 1 Manchester City 1

Yaya Toure holds off Santi Cazorla

GETTY IMAGES

53/64 Arsenal 1 Manchester City 1

Fernandinho holds off the challenge of Mathieu Flamini

GETTY IMAGES

54/64 Arsenal 2 Swansea 2

Mathieu Flamini scores a late own goal

AP

55/64 Arsenal 2 Swansea 2

Oliver Giroud finishes a fine move to put the Gunners 2-1 up

AP

56/64 Arsenal 2 Swansea 2

Lukas Podolski levelled the score with a volley

Getty Images

57/64 Arsenal 2 Swansea 2

Wilfried Bony uses his head to give Swansea the lead

EPA

58/64 Chelsea 6 Arsenal 0

Arsene Wenger complains to the referee during an awful day on his 1000th game in charge of Arsenal

GETTY IMAGES

59/64 Chelsea 6 Arsenal 0

Mohamed Salah celebrates after scoring his first goal for Chelsea and his side's sixth on the day

GETTY IMAGES

60/64 Chelsea 6 Arsenal 0

Chelsea players celebrate as Tomas Rosicky looks away

GETTY IMAGES

61/64 Chelsea 6 Arsenal 0

Oscar helps himself to his second of the afternoon

GETTY IMAGES

62/64 Chelsea 6 Arsenal 0

Wojciech Szczesny can't quite believe whats happening

GETTY IMAGES

63/64 Chelsea 6 Arsenal 0

Oscar taps in for Chelsea's fourth

GETTY IMAGES

64/64 Chelsea 6 Arsenal 0

Eden Hazard scores from the penalty spot to put Chelsea three up

GETTY IMAGES
Reuse content