Manager Brendan Rodgers insists the spirit in the Liverpool camp has been "excellent" ahead of Sunday's clash with Newcastle, despite the hammer blow of the draw at Crystal Palace.
Monday's contest at Selhurst Park, in which the Merseysiders were held 3-3 after leading 3-0 with a little more than 10 minutes to go, appeared the final nail in the coffin for their Barclays Premier League title challenge.
If they are to emerge from Sunday's top-flight finale as champions, they will need to beat Newcastle at home and hope West Ham win at leaders Manchester City, who are two points clear of the second-placed Reds with a vastly superior goal difference.
Rodgers' men had looked destined to claim a first league title for the club in 24 years not long ago and their devastation was clear after the final whistle on Monday.
But while he is keen for there to be lessons taken from such painful experiences, the Northern Irishman has also emphasised the importance of not dwelling on what might have been and continuing to look forward.
Alternative Premier League Team of the Season 2013/14
Alternative Premier League Team of the Season 2013/14
1/10 David Marshall (Cardiff)

An honourable place goes to the goalkeeper, who has made nearly 150 saves in the league this season for beleaguered Cardiff. He has also conceded 71, mind…

Getty Images

2/10 Morgan Amalfitano (WBA)

As the old saying goes, the West Brom player is not a "great goal scorer, but a scorer of great goals". Manchester United and Cardiff will certainly attest.

3/10 Kolo Toure (Liverpool)

As the old saying goes (II), the Liverpool defender is not a "great own-goal scorer, but a scorer of great own goals". Fulham will certainly attest.

Getty Images

4/10 Dan Burn (Fulham)

The towering Fulham defender makes the team for easily dealing with a total of 81 crosses from Manchester United in the 2-2 draw at Old Trafford, and then compared the champions to a lowly team from the Conference. He later said that this was not meant as an insult, but to most watching the game it looked like he was giving an accurate description.

GETTY IMAGES

5/10 Wilfried Zaha (Manchester United)

The curious case of Wilfried Zaha. Signed as the "Next Big Thing" by Sir Alex Ferguson for £10m in January 2013 after winning two England caps with Crystal Palace in the Championship. After joining up at Old Trafford from last season's loan spell at Palace, he made only two appearances under David Moyes before being shipped to Cardiff on loan. He had plenty of time on his hands, then, to fiercely deny an alleged relationship with Moyes' daughter, saying that they had "never even met".

GETTY IMAGES

6/10 Kevin Nolan (West Ham)

Every team needs a bit of fire in the middle…although Nolan took this to another level between 7 December and 1 January, when he was handed two reds cards in the space of four matches. The festive season does do strange things to people.

GETTY IMAGES

7/10 Kim Kallstrom (Arsenal)

He could have been a great loan signing to deputise in the absence of Aaron Ramsey. Then came the shock of the beach ball incident, fingers were waved and three months later he finally made an appearance for the club, 12 days before Ramsey returned, rendering the whole deal pretty much pointless, unless he scores the winner in the FA Cup final...

GETTY IMAGES

8/10 Stephen Ireland (Stoke City)

Now his 'dead' grandmother is back on the scene and allegedly talking to his national team assistant coach Roy Keane, Ireland could be back playing for Ireland soon. An integral part of Mark Hughes' new ball-playing Stoke juggernaut.

GETTY IMAGES

9/10 Shane Long (WBA/ Hull City)

The striker has scored under double figures in all competitions, but he can rest assured that for 10 glorious minutes at The Hawthorns he was nothing short of world class, scoring two magnificent goals in West Brom's 2-2 draw with local rivals Aston Villa. It all went downhill for the next 80 minutes however.

Getty Images

10/10 Samuel Eto'o (Chelsea)

33 or 35, veteran Samuel Eto'o continues to bang them in whatever division he is in. And who didn't love that 'old man' celebration in response to manager Jose Mourinho questioning his real age.

AP
Asked at his pre-Newcastle press conference how the spirit had been since the Palace match, Rodgers - who is adamant he has not yet given up on the title - said: "It has been excellent.
"You could see the emotion after the game and that was pretty much the same in the dressing room afterwards.
"But we know the areas we need to improve.
"We won't dwell on it. You can't think about what might or could have happened, you can only really focus on what has happened and look forward to getting better and improving."
As far as Rodgers is concerned, it is quite clear exactly how Liverpool need to get better.
Overall he feels his players should be congratulated for their efforts in a "remarkable" campaign - regardless of where they finish on Sunday - which has seen them improve significantly on their seventh-place final position from his first season in charge in 2012/13.
With a guaranteed top-three spot this time they have secured automatic entry to next term's Champions League group stages and they scored 99 goals in the process.
Rodgers is in no doubt that his defence is an area of concern, though, particularly in away matches, with the team conceding 32 times on their travels in the league.
He has stressed his confidence Liverpool will be stronger next season, despite the additional commitment of the European games, and the indications are that there could be new defenders recruited over the summer.
Rodgers, whose side have not played in Europe this term, said: "I've watched it (the Palace match) three times since and I'm still in shock when I see us end up drawing the game 3-3.
"To have that much control and good concentration and organisation in the game, for it to slip with 12 minutes to go shouldn't happen.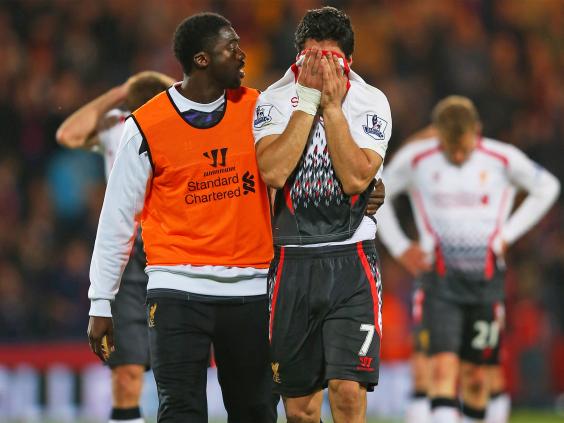 "If you can't keep your concentration long enough, you'll lose your place. It's as simple as that - you'll lose your place in the squad.
"We've played in big games this season and showed real solidity defensively - but we went away to Cardiff and yes, we scored six goals, but we conceded three; went away to Stoke, scored five and conceded three; Palace three; Hull three.
"Yes, there's an element of quality from the opponent, but I look at and analyse the games intensely and a big part of it is concentration - organisation, concentrating on your job.
"But our work is continual. We will really focus on that part of our game over the course of pre-season.
"Like I said when I came in, we had to improve our goals tally, so we went from 47 scored in a season (2011/12) to now 99 and whatever it finishes at this weekend - and we'll do the same with the defence."
Liverpool have midfielder Jordan Henderson available again for Sunday's match.
Henderson has missed the last three games due to suspension after being sent off in the 3-2 win over Manchester City.
The conclusion of the ban means that, other than long-term knee injury victim Jose Enrique, Rodgers has a full squad to choose from.
PA
Reuse content