The observation felt like a David Brentism at the time, confirming some of the early doubts that the immensely cynical world of elite football, always looking out for bullshit, had for a rising star who had maybe swallowed one management manual too many.
"It's not just about training players, it's about educating players. You train dogs," Brendan Rodgers said in the 2012 Being:Liverpool documentary, which was one of the club's less bright ideas. "Player plus environment equals behaviour," he added, in another of the more excruciating soundbites from the series.
Those observations have a rather different ring about them now. As we reach the denouement of a Premier League season dominated by David Moyes' plaintive declarations that his inheritance is not all it was cracked up to be, it did not entirely escape attention that the Liverpool starting XI which pummelled Manchester United at Old Trafford 13 days ago included eight players Rodgers had taken on from his predecessor, Kenny Dalglish.
Rodgers said on day one – in his quintessential way – exactly what Moyes has been insisting about the United squad he adopted. "I need to align the playing group with the supporters. There is an imbalance at the minute," were his words when he was presented to the world as Liverpool manager 21 months ago, adroitly grafting on to his assessment of his players a compliment to the fans which revealed an immediate intuition as to what makes them tick.
By a combination of tactical prowess and motivational power, Rodgers has equipped Liverpool with the best collective mentality in the Premier League this season and made good on what he inherited. His success – and Liverpool's position a point off the Premier League summit – damns Moyes' struggles all the more.
There are question marks about Rodgers' transfer market activity. Iago Aspas, Aly Cissokho, Luis Alberto and Mamadou Sakho cost more than £37m between them and have yet to make much impact. But Steven Gerrard's observations about Rodgers' modus operandi were far more significant than the customary post-match propaganda, when he spoke after the game at Old Trafford.
"He manages every single player," Gerrard said. "He knows we have different characters in the dressing room. His one-to-one management is the best I have known. He makes you go out on to the pitch feeling a million dollars, full of confidence and belief."
This is precisely the Brendan Rodgers who his former charges will talk about to anyone who cares to listen. A half-hour in Garry Monk's company a year or so ago was intended to be a discussion of Michael Laudrup's Swansea but Monk wanted to linger on the memory of Rodgers instead. "We loved him to death," Monk told me, describing how the Northern Irishman would make it his business to know what every player was into, outside of football – "whether it's golf, movies, cars or something like that, he will tap into that. Not in a devious way. When you've got that sort of understanding with someone, you want to do your best."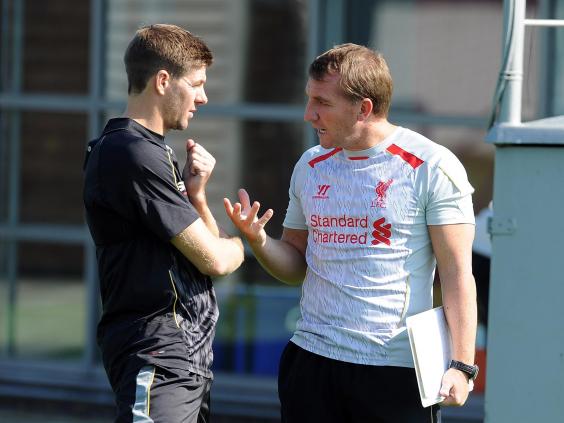 But this level of accommodation with the players comes – as the Liverpool squad will now admit – with an honesty bordering on ruthlessness when needs be. "In the canteen, they would all go up to him, smiling and laughing," says another witness to Rodgers' years at Swansea. "But he expected them to be able to take it when he told them they were not good enough. He would not pull punches." It is this blunt honesty that Monk, since succeeding Laudrup at Swansea, has declared to be the most important management lesson he has taken from Rodgers.
The Liverpool manager confirms this today, in his discussion below of how his dismissal at Reading in 2009 changed his mindset. He returned to the game from that – which coincided with the sudden death from a heart attack of his 53-year-old mother Christina, with whom he spoke every day – intent that players might get a second chance, but not a fourth or fifth. Chris Wathan, the south Wales-based Western Mail journalist who knows him as well as any, will never forget the intensity with which Rodgers always spoke of this time – "one of the most learned periods in my life".
Like so many of the managers who have not made the grade as a player, Rodgers is absorbed with detail in a way which suggests that he knows he must make up with intelligence what he lacks in experience. He was talented enough as a young player in Ballymena, Co Antrim, to be spotted, early in the Alex Ferguson era, by Manchester United scout Eddie Coulter, who more recently discovered Jonny Evans. Rodgers' appearances at schoolboy level for United – alongside a far superior compatriot and friend Adrian Doherty, whose premature death at 26 is one of football's many stories of tragically unfulfilled promise – are relatively unknown. A congenital knee weakness meant he knew he would be no more than a journeyman, so Rodgers set a course through youth management at Reading before Jose Mourinho hired him at Chelsea.
Some say the years in junior football honed his emotional intelligence, as he inveigled his way into the affections of families whose sons he wanted to sign. It was also a period which developed his interest in improving and rehabilitating players, which has been fundamental to the last two years at Liverpool. The Manchester United boardroom is acutely aware – and impressed – with Rodgers' recasting of Gerrard as a regista (deep-lying playmaker) this season and, though Mark Gower of Charlton Athletic is not exactly in the Gerrard mould, he, too, attests to Rodgers' capacity to recast a player.
Gower was a failing Swansea winger – on a road to nowhere, years after Tottenham had let him go – when Rodgers' arrival at the Liberty Stadium repositioned him at the base of the side's midfield. Gower was shocked to hear Rodgers  referring to Claude Makélélé's equivalent switch from the wing, as a 26-year-old, in a press conference discussion of his own positional change. Gower, just like Gerrard, felt "a million dollars". He never looked back.
Rodgers rescued others at Swansea, where they liked to say he would take on "birds with broken wings". Few thought Wayne Routledge, another Tottenham reject, had much of a prayer. Rodgers restored him.
"He's like a teacher," said Liverpool's Jon Flanagan. "You listen. If you take his advice on board and give everything, the opportunity will come. But every day, it has to be 100 per cent. You have to take it seriously."
There has been serendipity about Flanagan's emergence at Anfield this season because Rodgers would have loaned the defender out if he could only have found him a club. But the 21-year-old is testament to Rodgers' disinclination to close his mind to a player. Jordan Henderson, whose degree of improvement has also surprised some of Roy Hodgson's England scouting team, is another who Rodgers was willing to wait to be proved wrong about. Joe Allen, in whom he invested £15m, is also displaying signs of Liverpool class at last.
Waiting and hoping are not easy at Liverpool, a club of very great expectations, which has made Rodgers' assiduous work on his relationship with supporters another sophisticated triumph. His casual reference at his first press conference to becoming the club's second Northern Irish manager – as if the name of John McKenna, Liverpool's first, should be assumed knowledge – was deft. His exhortation to the fans to lift their support levels for Wednesday's match against Sunderland, which created scenes reminiscent of the 1980s glory nights, had echoes of his call to supporters to go dressed as Elvis to Swansea's last game of their first Premier League campaign. He had stored away the fact that one commentator had suggested that "The King" was more likely to be seen on the Mumbles than Swansea survive that season. They duly broke the record for the highest number of Elvis impersonators standing in one place.
"We were brought up not with the silver spoon, but with the silver shovel," Rodgers told that documentary of his upbringing as the eldest of five brothers in working-class Carnlough, and everyone laughed at the sound bite. But he has dug Liverpool into the position they occupy this weekend. Few titles would be more attributable to one man than this one, if Liverpool can hold out and take it.
Reuse content