Liverpool manager Brendan Rodgers believes his side are starting to show signs of the team they once were last season and is confident that will become the norm in the second half of the campaign.
A third decent performance in a week saw Martin Skrtel salvage a point with a header in the seventh minute of added time as they drew 2-2 with Arsenal.
While the lack of a cutting edge was still evident the pace, pressing and passing which was associated with their run to second place last season is returning.
And that gives Rodgers hope 2015 will see greater improvements and a run towards the top four.
Liverpool vs Arsenal Player Ratings
Liverpool vs Arsenal Player Ratings
1/22 Brad Jones

Let Giroud's shot through his legs too easily and perhaps could have done better with Debuchy's opener, too. 3

GETTY IMAGES

2/22 Kolo Toure

Too easily beaten for Giroud's goal, he looked slow and cumbersome throughout but nevertheless found time for some of his typical buccaneering runs forward. 4

GETTY IMAGES

3/22 Martin Skrtel

At fault for Arsenal's equaliser when he allowed Debuchy to steal in at the back post but made up for that error with the equaliser, a howitzer off an injured forehead. 6

GETTY IMAGES

4/22 Mamadou Sakho

There is a good player waiting to break out – but Sakho still looks shaky when pressurised by fast attackers. 6

GETTY IMAGES

5/22 Jordan Henderson

Neat and tidy at points, but in this remodelled, strikerless Liverpool system he appears less able to cut defences open with passes and driving runs. 6

GETTY IMAGES

6/22 Lucas Leiva

How Coutinho benefits from having a player of his defensive responsibility mopping up behind him. Almost scored too, with a late run into the box. 8

GETTY IMAGES

7/22 Steven Gerrard

Willed his team on in the last ten minutes as is his wont. Less influential than before but still such a massive influence on this team. 6

GETTY IMAGES

8/22 Lazar Markovic

Far, far better than he has been so far in a left wing-back role. Missed two good opportunities to put Liverpool in front but Rodgers may yet have found a gem in the 20-year-old. 7

GETTY IMAGES

9/22 Philippe Coutinho

Livelier than he has been since last season, the Brazilian looks far more comfortable with Lucas behind him. Perfectly-placed shot found the corner to put his side ahead but guilty of missed opportunities thereafter. 8

GETTY IMAGES

10/22 Raheem Sterling

Left Debuchy for dead midway through the second half in a reminder of his luminous skill and, along with Coutinho, was Liverpool's biggest threat throughout. 7

GETTY IMAGES

11/22 Adam Lallana

Does not and indeed has never looked worth £25m. Flitted in and out of the game with sporadic touches of skill. 5

GETTY IMAGES

12/22 Wojciech Szczesny

Could do nothing about either Coutinho's well-placed shot or Skrtel's bullet header. 7

GETTY IMAGES

13/22 Calum Chambers

He will be a fine player, but he looked overawed by Coutinho and Lallana's movement. 6

GETTY IMAGES

14/22 Mathieu Debuchy

Struggled defensively but contributed meaningfully at the other end of the pitch, popping up with a crucial equaliser right on half time. 7

GETTY IMAGES

15/22 Per Mertesacker

A mistake waiting to happen. Looked rickety early on as Sterling and Coutinho drove at him and should have at least attempted to stop Skrtel powering past him for the equalising header. 4

GETTY IMAGES

16/22 Kieran Gibbs

Was fortunate that most of Liverpool's threat was confined to the left wing. Got forward well as is his custom. 6

GETTY IMAGES

17/22 Alex Oxlade-Chamberlain

Quieter than the bullocking figure of recent weeks, he struggled to impose himself on the game. 6

GETTY IMAGES

18/22 Mathieu Flamini

Struggled early to track Coutinho and received a yellow for hauling him down. Could have been sent off after clashing with Lallana. 5

GETTY IMAGES

19/22 Alexis Sanchez

A peripheral presence but won the free kick from Gerrard that led to Debuchy's goal. Oddly quiet thereafter and eventually departed the field. 5

GETTY IMAGES

20/22 Santi Cazorla

An effervescent display. Allowed further forward in the second half, he responded with a serving shot that travelled narrowly wide and the delicious cutback from which Giroud put Arsenal ahead. 8

GETTY IMAGES

21/22 Danny Welbeck

Quiet before he was hurt in a clash with Sakho midway through the second half, and limped on ineffectually thereafter. 7

GETTY IMAGES

22/22 Olivier Giroud

Hit a snapshot over on 62 minutes, and was often played wide in the first half. But he made the crucial intervention by slotting home Cazorla's cross. 7

GETTY IMAGES
"For me the key is we are moving in the right direction with one defeat in eight so if we continue with that work-rate and mentality we will turn the draws into victories," he said.
"When we play our game and get back to that level we are a difficult team to play against.
"Hopefully it will bring us in to what we have had in my time here, being stronger in the second half of the season."
Key to Liverpool's success will be the return to fitness of Daniel Sturridge, who has not played for the club since August 31 after sustaining a thigh injury on international duty.
In his absence others have had to weigh in with goals but they have not done nearly enough and Skrtel's late effort - following substitute Fabio Borini's dismissal for two yellow cards - after Philippe Coutinho's opener took their tally to just 21 in 17 matches.
They were nearly made to pay dearly after Mathieu Debuchy and Olivier Giroud turned things around either side of half-time and Sturridge's comeback cannot come soon enough.
"That will be just after the Christmas period," added Rodgers.
"The first stage of his rehab was in Los Angeles, he's gone to Boston and he will move on to a specialist facility there and hopefully in the early part of the new year he will be back.
"Some point in January we will get him back and that will be really exciting for this team."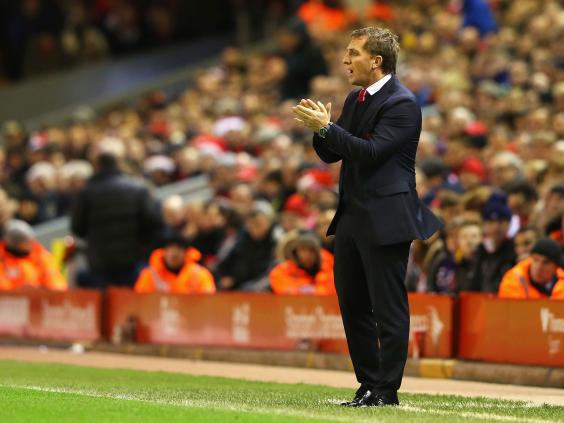 Arsenal boss Arsene Wenger felt some of his players suffered from the memories of last season's 5-1 hammering, in which they were 4-0 down after 20 minutes.
"We had problems to get our flow going," he said.
"We did not have enough possession in the game. In the first half it was down to tactical and some psychological reasons - maybe bad memories from last year. Some players were not at their best.
"Overall it is a fair result but a frustrating result for us because they came back when we had plenty of defenders on the pitch and could have defended the set-piece much better."
PA
Reuse content