Wenger has no excuses – he made a terrible call
The decision to drop Alexis Sanchez simply beggars belief. In what circumstances does it make sense to drop the player with the most goals and most assists this season, who is also your standout player by quite some way?
The decision proved a costly one as Liverpool came firing out of the blocks and took a 2-0 lead back into the dressing rooms at half time. Wenger reacted, and brought Sanchez on immediately in an admission that he got his team selection completely wrong.
His omission was all the more confusing given that Sanchez played little more than 14 minutes in Arsenal's last encounter, the 2-0 FA Cup victory over Sutton United 12 days ago, and has had plenty of rest. He isn't out of form, having scored three goals in his last two starts, so what came over Wenger? He claimed that Arsenal wanted a more direct approach with Olivier Giroud leading the attack, but when has that ever been Wenger's way? It's a decision that by all accounts is baffling.
Sanchez immediately gives Arsenal their bite back
The mere presence of Alexis Sanchez on the pitch visibly lifted the confidence of his teammates, and it wasn't long before they found a way back into the game, Sanchez releasing Danny Welbeck to gallop forward and dink the ball over the onrushing Simon Mignolet.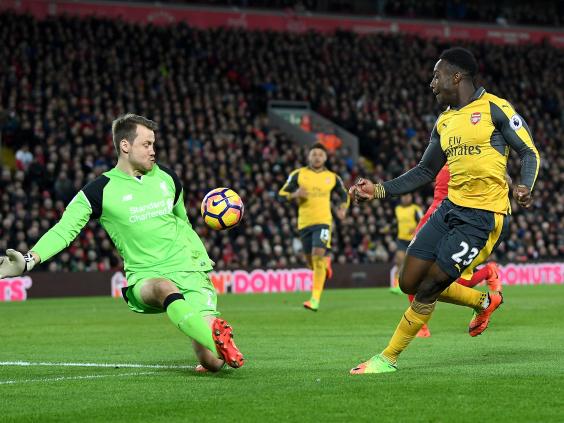 The move was a stark contrast to the Arsenal side that played out the first half as if the match was a dead rubber, but that is hardly surprising. What must have been their reaction when Wenger informed the team that their best player was starting the match on the substitutes' bench?
With each game, Sanchez is proving why he is indispensable for Arsenal, but unfortunately Arsenal are proving every week why he should really look elsewhere if he wants to win major trophies.
Mane, Coutinho and Firmino click once again
Liverpool's lead trio looked unstoppable earlier in the season, but an injury to Philippe Coutinho and the African Cup of Nations duty for Sadio Mane severely disrupted Jurgen Klopp's campaign. The three were not reunited until February, and it still took time for them to gel as they appeared to have lost the understanding that they built up over the first three months of the season.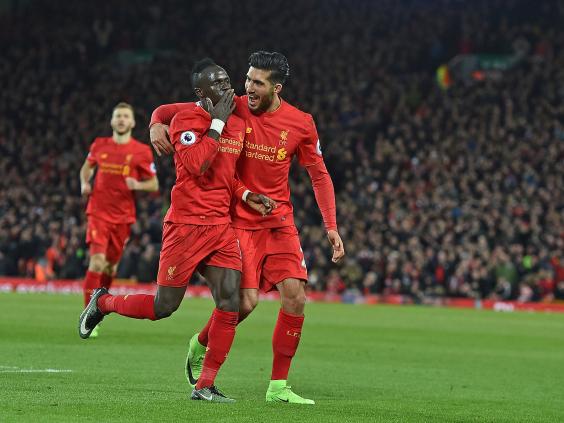 But that bond suddenly looks like it is back. They were brilliant against Tottenham and were even better in the first half against Arsenal as they tried to blow away the Gunners early on. Mane is the spark that drives them forward, and it's his ability to run with the ball at full speed that causes defenders to second guess where he is going and draws out the mistakes that he feeds off.
Liverpool vs Arsenal player ratings
Liverpool vs Arsenal player ratings
1/22 Simon Mignolet – 6 out of 10

It was a relatively quiet day at the office for the keeper, with Arsenal providing him very few tests throughout.

Getty Images

2/22 Nathaniel Clyne – 7 out of 10

Made a number of bursting runs forward and worked incredibly well with Mane down the right.

Getty Images

3/22 Joel Matip – 6 out of 10

He held his position well and played it safe at the back – which it exactly what was needed.

Getty Images

4/22 Ragnar Klavan – 6 out of 10

He proved a tough opponent for the Arsenal strikers, as he tackles hard and reads the game well.

Getty Images

5/22 James Milner – 5 out of 10

Played a huge role in Mane's goal, but aside from that he did not make the biggest impact.

Getty Images

6/22 Georginio Wijnaldum – 7 out of 10

His impressive display was completed with a last minute goal to seal the deal at Anfield.

Getty Images

7/22 Emre Can – 6 out of 10

Was a key outlet for Liverpool, but his tackling was clumsy and unnecessary at times.

Getty Images

8/22 Adam Lallana – 7 out of 10

His closing down of possession and movement on the field was phenomenal. Top display.

Getty

9/22 Philippe Coutinho – 7 out of 10

Continued to make chances throughout and was a key element to almost every Liverpool attack.

Liverpool FC via Getty Images

10/22 Sadio Mane – 8 out of 10

With an assist and a goal under his belt, the confidence of this talent was obvious throughout. Caused a nuisance of himself throughout.

AFP/Getty Images

11/22 Roberto Firmino – 7 out of 10

His goal opened the scoring for Klopp's men and he continued to test The Gunners defence throughout.

Liverpool FC via Getty Images

12/22 Petr Cech – 5 out of 10

Letting in three goals at Anfield is never going to reflect well, despite making a number of important saves.

Getty Images

13/22 Hector Bellerin – 6 out of 10

Going forward he was dangerous, but defensively he kept being dragged out of position.

Getty Images

14/22 Shkodran Mustafi – 6 out of 10

He made a handful of vital interceptions and tackles.

Arsenal FC via Getty Images

15/22 Laurent Koscielny - 6 out of 10

Struggled, as the rest of the side did, against Liverpool's attack but managed to keep some sort of shape to the central defence.

Getty Images

16/22 Nacho Monreal – 6 out of 10

Worked well going forward, but looked insufficient against the pace and power of Mane.

Arsenal FC via Getty Images

17/22 Francis Coquelin – 5 out of 10

Made a number of unnecessary and clumsy challenges. Subbed during the break for Sanchez.

AFP/Getty Images

18/22 Granit Xhaka – 5 out of 10

Needs to be winning more in the middle of the park, as this lost Arsenal the game at times.

AFP/Getty Images

19/22 Alex Oxlade-Chamberlain – 7 out of 10

Showed glimpses of excellence and his skills on possession were sublime.

AFP/Getty Images

20/22 Alex Iwobi – 6 out of 10

Performed going forward, but defensively he appeared unaware of his duties.

Getty Images

21/22 Danny Welbeck – 6 out of 10

Aside from scoring, he did very little today. He was being dragged inside and it was making the Arsenal attack very narrow.

Getty Images

22/22 Olivier Giroud – 5 out of 10

Aside from one headed effort, he barely touched the ball. Quiet would be an understatement.

Getty Images
Standard of refereeing proves video technology is now a must
Kevin Friend at Manchester United, Anthony Taylor at Swansea and Bobby Madley at Liverpool. All three  made extremely poor decisions during Saturday's Premier League action, and it is yet another example of why officials need help to get what are quite simple decisions right.
Madley had to show Emre Can a second yellow card when he upended Theo Walcott to halt a counter attack, minutes after doing the same against Sanchez. But after rolling on the floor for a over a minute claiming injury, Madley chose not to even warn the midfielder, instead booking Granit Xhaka for dissent - a correct call but not the decision that needed to be made.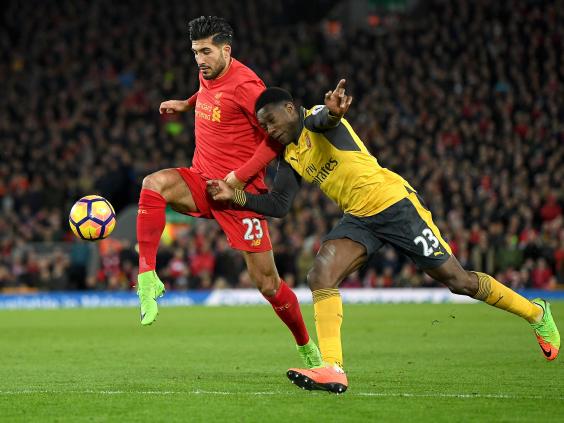 If there is an official with complete access to video replays at the click of a button, the man in the middle can quickly ask for guidance, receive it in under a minute and make the right call rather than one that leaves a sense of injustice out on the pitch. Video replays have proven successful across the board, with rugby, cricket and tennis all the better for the introduction of new technology.
Even football has benefitted with the addition of goalline technology now clearing up even the closest of debates, so why is football's authorities so scared of doing what just about everyone else can see needs to be done.
It's getting very hard for Wenger to argue his own case
Arsene Wenger says he will make up his own mind over whether he will be Arsenal manager next season, but it must be getting awfully hard for him to convince himself that he's still the right man for the job. Another Bayern Munich mauling in the Champions League, another Premier League collapse when they were expected to make the running for the title this season and now not even the top four is a guarantee.
It makes very grim reading for Wenger, who has seen something like this before in 2014 when his contract was last up for renewal. On that occasion, winning the FA Cup gave him enough belief that the side was moving in the right direction, and he agreed a new deal to remain with the club.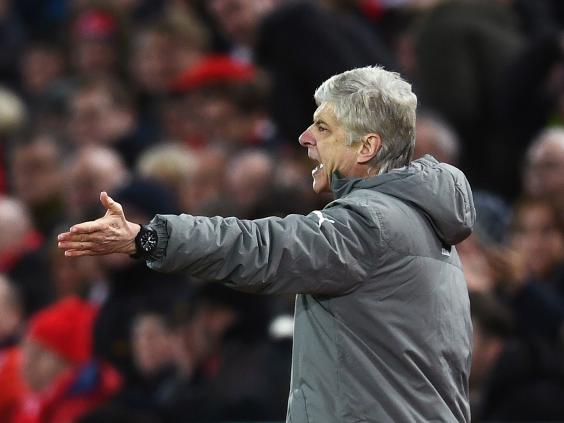 Three years down the line, has Wenger taken Arsenal forward? It's hard to answer yes to that question, and that should be setting off alarm bells inside his own head.
Reuse content