The Anfield Main Stand was a metaphor what we saw in the football team assembled to play beneath it. A work-in-progress, still a full season from completion, with some shiny new steel in position but jagged remnants of the old parts, too - yet to be dismembered.
The six points are the monumentally significant part for the home team of course, relieving pressure from the manager who joined battle for this campaign with most to prove after the unravelling of last Spring. And who has Arsenal up next. Brendan Rodgers can also reflect on early signs of a genuine attacking partnership, in Christian Benteke and Philippe Coutinho, which offers the threat and synchronicity which has absent since Luis Suarez left town. But a less than emphatic scoreline told the story. The game turned on two refereeing decisions which could have gone either way. Liverpool take maximum points forwards and Bournemouth are yet to register one. It would have been no injustice on the evidence of the past two weeks, if each had collected two from two.
Benteke was the one Rodgers was talking about last night. Hold-up play "outstanding," some "wonderful touch for a big guy", ability to control the game, he enthused. He wanted to talk about a moment the 24-year-old won a high ball in the box, allowing Coutinho to pick up the knock down – a line of conversation which made you appreciate how far from his first Anfield philosophy he has travelled. "Once the players get used to that and see it will give us more opportunities," he said.
Liverpool 1 Bournemouth 0 player ratings
Liverpool 1 Bournemouth 0 player ratings
1/24 LIVERPOOL: Simon Mignolet

The goalkeeper didn't have much to do in the first half, but did well when called into action later on. 6

2/24 Nathaniel Clyne

Defended well while being heavily involved in Liverpool's attack down the right flank and caused Gradel problems as the game went on. 7

Getty Images

3/24 Martin Skrtel

Was commanding in defence and also helped provide long-range crosses to help in attacks but could have given away a penalty in the second half. 6

PA

4/24 Dejan Lovren

Didn't show enough strength to stop Elphick from heading in the opener, but was saved when the goal was ruled out. But he defended well otherwise although he wasn't called into action much later. 6

EPA

5/24 Joe Gomez

Did well on his home debut and looked assured at left-back although he did get a yellow card. 7

Reuters

6/24 Jordan Henderson

Set up Benteke's goal with his deep cross, and also worked hard to clear danger in the midfield areas. 7

PA

7/24 James Milner

His Premier League experience showed as he remained calm while dealing with loose balls while linking up well with Coutinho and those around him. 6

PA

8/24 Jordon Ibe

Demonstrated good pace down the left flank and was a real threat for the home side when they went forwards. 6

PA

9/24 Philippe Coutinho

Was Liverpool's most creative force, finding small pockets of space and using it to make key passes – both long and short – to his team-mates. 7

AFP/Getty Images

10/24 Adam Lallana

Displayed a good work rate but couldn't impact the game and assert his dominance in midfield. 5

11/24 Christian Benteke

Scored his first goal for Liverpool and provided a strong presence up front, hitting the bar late on. 8

Getty Images

12/24 From the bench: Roberto Firmino

Showed off his pace and fancy footwork after coming on as a substitute but couldn't impact the game. 5

PA

13/24 BOURNEMOUTH: Artur Boruc

Could not keep Benteke's strike out, arguably because he was distracted by Coutinho, but wasn't tested too much apart from that one moment. 5

Reuters

14/24 Simon Francis

Made some good clearances and dealt with Liverpool's threat down the right flank well. 6

Getty Images

15/24 Tommy Elphick

Out-jumped Lovren to score what should have been the opener and linked up well with Cook. 6

EPA

16/24 Steve Cook

Wasn't tested as much and also proved dangerous in set pieces. 6

PA

17/24 Charlie Daniels

Dealt with balls down the left flank well but Clyne increasingly caused him problems as the game went on. However, he did well against Liverpool. 7

Getty Images

18/24 Andrew Surman

Made some key blocks in midfield but Coutinho's pace caused him issues at times. Helped go on the attack when Bournemouth ventured forwards. 6

Reuters

19/24 Eunan O'Kane

Was shown a yellow card for his foul on Coutinho as Brazilian started running the show from midfield but protected the defence well enough. 6

PA

20/24 Matt Ritchie

Took several shots at goal and could have restored parity. Grew into the game as the second half wore on. 6

Reuters

21/24 Max Gradel

Looked good early on but struggled with his defensive duties as Clyne caused him issues. 5

Reuters

22/24 Joshua King

Was lively early on and helped with his defensive duties too but was taken off as he failed to partner well with Wilson. 5

EPA

23/24 Callum Wilson

Initially caused the home side problems with his pace, but increasingly became ineffective as he dropped further back. 5

Reuters

24/24 From the bench: Lee Tomlin

Made his Premier League and Bournemouth debut and got involved in some late attacks by Bournemouth but couldn't be the difference and eventually got booked. 5

Getty Images
He is more of a pragmatist these days. He doesn't care how the goals come and the reason for enthusiasm is that strikers who find the net early at Liverpool - Fernando Torres, Luis Suarez and Daniel Sturridge have all been in that category in recent years – tend to flourish. It is those who labour for goals early – from Robbie Keane to Iago Aspas – who have historically tended to struggle.
The four new players, just like that stand and a new captain's programme notes, created a huge sense of anticipation. Even the principal owner had put in a new appearance. The early evening sunshine helped. But like so many new beginnings here in recent years it was an insubstantial pageant. The sense of anticipation was punctured in the five minutes it took to appreciate that new beginnings are not quite as easy as that, that Dejan Lovren does not become an accomplished defender because of a collective will, and that a team does not necessarily add up to the sum of the parts if it does not know to operate as a collective.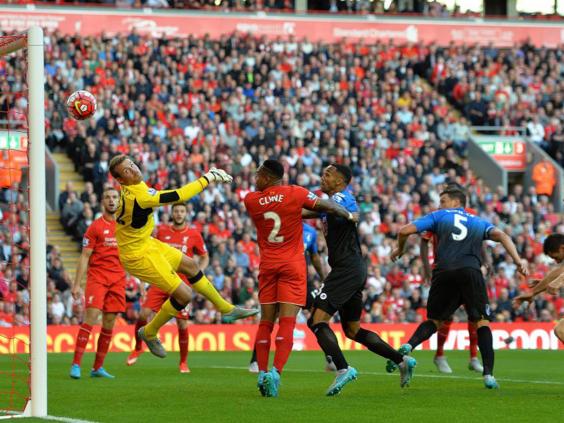 The need for a mutual understanding was something Liverpool lacked as much  Eddie Howe's side possessed when the sides went about their work. Clyne struggled, turned twice by Max Gradel, Lovren was stretched to what looked the limits of his ability and within the space of five minutes Bournemouth had the ball in the net, Tommy Elphick rising above Lovren to deposit a header that Simon Mignolet floundered around. You could have heard a pin drop in the moment before the reality dawned that Elphick had has right hand over the defender's shoulder and that it would be struck out.
The industrial note-taking of Brendan Rodgers' belied the elementary fault at the heart of their struggle to mount anything like as determined and effective as Eddie Howe's players. It was the failure to see the value that Benteke was adding by winning virtually every aerial ball and  to make runs on to those knock-downs. You fancied that it was in blind frustration that Benteke took matters into his own hands, half way through the first period, dropping deep to collect a loose ball 25 yards out, driving into open space and despatching it narrowly over Artur Boric's bar. James Milner was looking for him, yet struggling to distribute well, working sideways when some forward motion was required.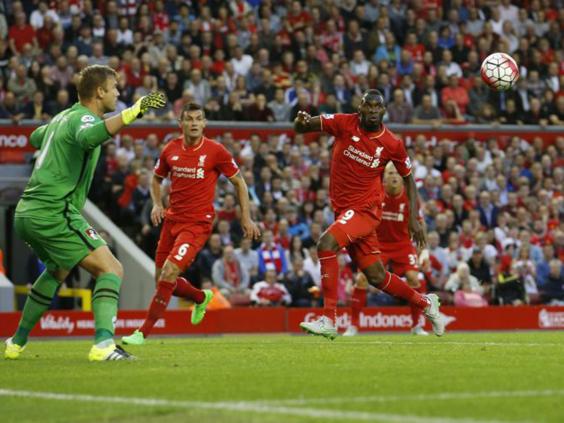 It is hard to overstate the importance to Rodgers of things beginning to click early. Liverpool's owners believe they have offered him much more certainty by spending at the top end of market valuations this summer, to Hoffenheim for Roberto Firmino, and then Aston Villa for Benteke, despite all the private protestations about his buy-out cause. That is why the signs that Philippe Coutinho may become an even more valuable player than the one Rodgers thought he was are so precious. It was the absence of a heartbeat which made you wonder how this Liverpool side would fare as the season began, though that is what the Brazilian is proving to be.
It was he who intuited the danger Benteke would bring and he who sought him out. It was he who did the hard yards, box to box and assumed the role of leader, subtly shifting the momentum in a way that bought Liverpool their goal, albeit more by good luck than judgement.
 Henderson exchanged a short corner pass and whipped in a low, sharp cross with pace which missed the Bournemouth defence, as well as Coutinho – who was in an offside position as he retreated – and reached Benteke who poked out a boot to send it in. A giant slice of luck.
There were other signs of recovery in those moments. Clyne's thumping challenge into Gradel, from which he emerged with the ball, seemed to quieten the Ivorian. Henderson took a speculative first time shot which landed in the roof of the net and Coutinho then ran close to scoring himself, collecting a rebound to ease into Bournemouth's area, from where he steered a low shot wide.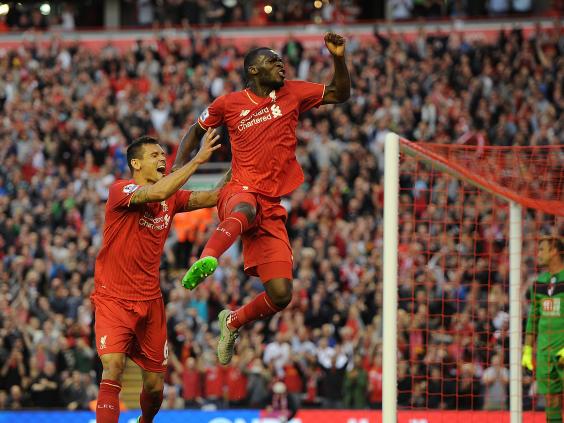 But with Eunan O'Kane, the one-time Everton academy trainee anchoring midfield and Callum Wilson, Bournemouth were in possession of enough to maintain a threat. Busy, ambitious Matt Ritchie, in perpetual search of a shot on goal, was another reason why Howe's side looked like they have little to fear. They looked less likely to convert all this to goals, yet they were worth of a point.
The game's closing stages brought more signs of the force Benteke may prove to be, as he clattered Clyne's low cross from the right against the bar. It also brought Alberto Moreno tearing imperiously 30 yards in on goal, earning the free kick so intricate which Milner – surprised to be find himself in possession - spooned 50 yards wide. Six points from six and much to do.
Liverpool: Mignolet, Clyne, Skrtel, Lovren, Gomez, Milner, Henderson (Can 52), Ibe (Firmino 70), Coutinho (Moreno 81), Lallana, Benteke.
Bournemouth: Boruc, Francis, Elphick, Cook, Daniels, Ritchie, O'Kane (Gosling 87), Surman, Gradel (Smith 81), Wilson, King (Tomlin 61).
Match rating 6/10.
Possession: Liverpool 55% B'mouth 45%.
Atts on target: Liverpool 2 B'mouth 2.
Referee C Pawson (Yorkshire)
Attendance 44,102.