Liverpool finished this match riding as high as the full moon over the Centenary Stand and, if they are to be denied a Champions League place, someone is going to have to accumulate a lot of points.
Of the five straight wins that have carried them to fifth place, this was perhaps the most comfortable and, but for some laughable late defending at St James' Park, it would have taken Liverpool level on points with Manchester United. The meeting between these sides on March 22 will be for very high stakes.
This game was rather easier to call. Burnley were what they have been all season, brave and game and willing. The storyline demanded that Danny Ings, who may be spending next season at Anfield, demonstrate something of his ability. He ended the match as something of a footnote.
Liverpool might have won by a rather greater margin than 2-0. Daniel Sturridge was presented with three startling opportunities and scored from the hardest. Jordan Henderson delivered a performance that carried some of the echoes of the man he will replace, Steven Gerrard. Philippe Coutinho almost scored the kind of goal that had carried them to victory against Manchester City.
This is a Liverpool side in the kind of rhythm a long-distance runner going through the pack, from athlete's shoulder to athlete's shoulder, would recognise. They have not lost a league match this year and, if as Arsène Wenger suggested, 72 points will be enough for a  Champions League place, it is a target five clubs are likely to reach.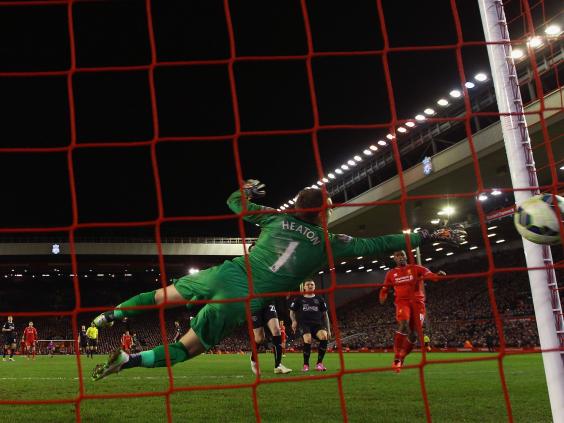 For Burnley this was the latest instalment of a fixture list that seemed to have been dreamed up by someone in Blackburn. February and March are usually the months when promoted teams begin to flounder, when the rest of the Premier League are used to their tactics, when injuries have exposed the thinness of their squad and a deep weariness creeps in.
Burnley had been given games against Manchester United, Chelsea, Swansea, Liverpool, Manchester City, Southampton, Tottenham and Arsenal.
As they have all season, they ploughed into the task with all the spirit at their disposal. In defeat, they had been the better side at Old Trafford and had drawn at Stamford Bridge. At Turf Moor, against Swansea, which seemed the easiest of their opponents, they had given one of their most insipid displays. This was better but nowhere near enough against Liverpool in their present ruthless mood.
They would get respect from the home side. Brendan Rodgers had known Sean Dyche since he was managing Watford's Under-18s while Rodgers was running Vicarage Road. Burnley tried to disrupt Liverpool's rhythm by defending the Kop in the first half and within 25 seconds they were defending it desperately as Sturridge turned deep in the area and saw Tom Heaton push his shot wide.
Just before the interval, a wonderful ball from Coutinho, who played as well as he had done at Southampton and against Manchester City on Sunday,  gave Sturridge another opportunity. This time Heaton saved with his legs.
Burnley were not to escape a third time. Liverpool were already one up, the second half was a  few minutes old and Sturridge stole away from three defenders to head home Henderson's cross at the far post. For the 17th time this season, Burnley had conceded a headed goal, more than any other team in the Premier League.
They had begun by passing the ball well and defended resolutely but it appeared only a matter of time before they cracked and it arrived in the 29th minute.
Since taking the captain's armband from Gerrard, Henderson has picked up some of the injured Gerrard's characteristics, not least the ability to score spectacularly. Sunday's goal against Manchester City had been good but this in its way was better.
Adam Lallana fed Coutinho, whose shot was blocked. The ball fell to Henderson who drove home a shot that was delivered low and hard. It travelled perhaps a foot off the ground and curled away from Heaton into the net beneath the Kop, who soon afterwards began singing to wish  Kenny Dalglish a happy 64th birthday.
Reuse content