The Chelsea fans' notorious chant about Steven Gerrard slipping in their team's climactic 2-0 win over Liverpool last April could be heard again on Saturday during the Blues' exceptional 5-0 victory at Swansea City. Jose Mourinho said afterwards he does not like the chant and that there is no need to sing it.
And asked his opinion of the Anfield legend ahead of Tuesday's Capital One Cup semi-final first leg at Liverpool, the Chelsea manager said Gerrard made "the right decision" in staying at Anfield rather than joining Chelsea  in 2005.
In what could be perceived as a jibe at Frank Lampard –  who scored for Manchester City against Chelsea in his first meeting with his former team – Mourinho declared his approval of the Liverpool captain's comment that he would never score against the club he has served so well.
"Historical player for Liverpool, historical player for the Premier League," Mourinho said of Gerrard. "An opponent that I always admired and respect, a song that my fans have that I don't like at all.
"A couple of times it's good fun [to sing] but to go and go and go, especially when a player like him deserves respect, I think we don't need that. We have so many other songs that we don't need that one, and I love these quotes when he was saying that in this life he would never score against Liverpool. I love these words. I understand why  he was almost, almost,  almost coming to Chelsea  and he didn't and I respect that a lot."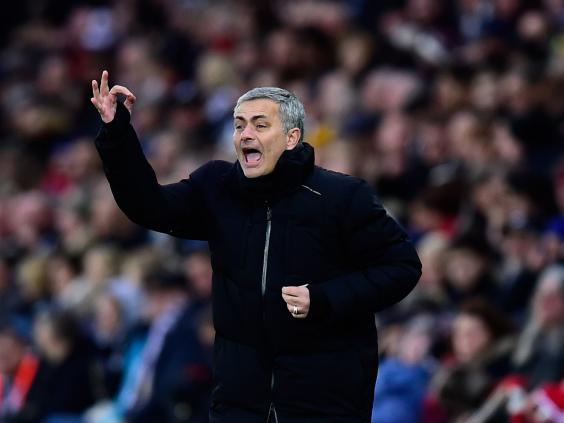 Nevertheless, Mourinho admitted that missing out on signing Gerrard was one of his greatest disappointments in the transfer market.
"I was dreaming of [playing Claude] Makélélé, Gerrard and Lampard. Me and Mr Abramovich, we were dreaming that. We did everything to try. It was almost there. The decision was I think for  me proven right because [Gerrard] will be always a  red forever.
"His people were open to it, and the feeling to join a top side like Chelsea at that time, but to me personally he never told 'I will go', never ever.
"I have another [disappointment], when I was trying [to get] Lampard to Inter, and I was almost, almost, almost but [that] didn't happen too. I had a couple of disappointments and that's normal in the football market."
Chelsea are still on track for an unprecedented quadruple of Premier League title, FA Cup, Capital One Cup and Champions League, but Mourinho claimed it is  "not possible".
Reuse content