There was a new kind of a haunting for Liverpool from Luis Suarez this week, as if the entire course of the last three months has not been a permanent reminder of all that was lost when he left.
In his Crossing the Line autobiography, Suarez took us back to those giddy days last April when the notion of Liverpool reclaiming the Premier League title after 24 years was a beautiful romance which seemed destined to happen. We learn about the routine of Suarez taking a speaker on to the team bus so that he, Iago Aspas, Philippe Coutinho, Lucas and Luis Alberto could listen to his Spanish and Uruguayan music. And the typically deft piece of psychology employed by Brendan Rodgers, who had contacted his players' mothers individually, asking them to write something about their son and reading what one of them had said, in front of the whole team, just before every game as that winning run drew on. "He never told us whose mum's message he was reading," Suarez relates. "He'd read it all and then go back to one phrase, picking out a line that he felt would really touch us. Sometimes it ended up like a quiz: whose mum is it this week?"
It was such an incredible time – the players photographing the massed Anfield crowds with their mobile phones, Suarez flinching at the riskiness of the "and now you are going to believe us" chants – that you realise exactly what damage Jose Mourinho inflicted on the Sunday afternoon, 195 days ago, when he broke the spell. Rodgers now rejects the idea that Chelsea's 2-0 win at Anfield, accompanied by that badge-thumping, body-warmer routine of Mourinho's, was the result which hurt him most as Liverpool's title challenge wilted. "For me it was Palace," he said of the 3-3 draw at Selhurst Park eight days later, in which Liverpool surrendered a 3-0 lead. But Mourinho – the man who takes his players back into L4 today – was the dream wrecker. Everything that unravelled in that two-week period last spring flowed from the afternoon he stopped Liverpool in their tracks.
It was Chelsea's victory that plunged Liverpool into the need to turn around Manchester City's nine-goal advantage in the space of six days and still win the title on goal difference. "If there is any team that can score goals and turn it around it will be us," Rodgers said in the Melwood press room before the Palace game and, though he talked with cold hindsight on Thursday afternoon of the "disappointment" at their lack of discipline, there was a different ethos at play back then. "Chasing down Manchester City's superior goal difference seemed possible," Suarez writes. "And that was the only thing in our head: goals, goals, goals. We could feel it. For a moment we could actually do it."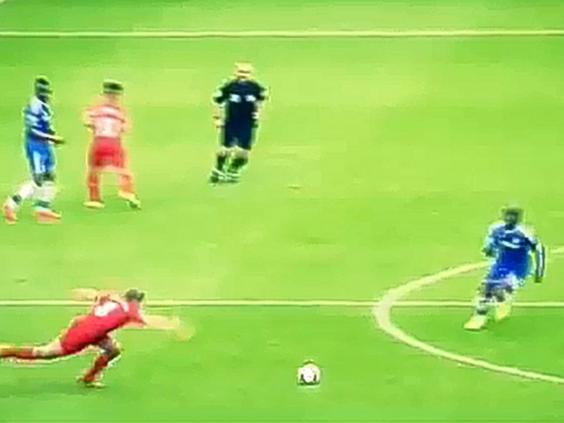 And because football can so often become a game of cause and effect, the whole edifice came tumbling down. It was Palace's Dwight Gayle who went berserk and Suarez who was led from the Selhurst Park pitch in tears "like a blind man". The infrastructure has kept on falling. Suarez's decision to take his leave is a substantial part of the reason why Liverpool are 12 points behind Chelsea now, though were five points ahead of Chelsea the last time they prepared to meet.
Would he have stayed if the club had been crowned Premier League champions? It is the $64,000 question and logic says probably not. Suarez characterises Liverpool as being open to the idea of Barcelona signing him, because they knew the Catalans were going to pay whatever it took to get him. There was arguably even more reason to leave Liverpool after making them champions of England than to have taken them to the brink and jumped ship.
And yet… Anyone who witnessed Liverpool's homecoming from Istanbul nine years ago will tell you how intoxicating and unbridled title celebrations would have been. It would have given any player – even Suarez – cause to think again.
The same might have been said of some of those players who didn't want to join Liverpool this summer. Though they bid £2m more for Alexis Sanchez than Arsenal, the player preferred the bright lights of London and not even the lustre of the No 7 shirt at Anfield could turn that one around. An Arsenal side with one trophy in nine years or the Premier League champions? Pause for thought?
Instead, Liverpool have gone shopping below the world-class tier for players they believe might develop. Ahead of this weekend, Rodgers returned to a familiar explanation for his team's struggles – the factor of "introducing players and losing players" – but there can be no disguising that their work in the transfer market has been more miss than hit. Lazar Markovic, who cost £20m, £4m more than Mario Balotelli, actually raises more questions than the Italian, at a price like that.
Balotelli's late arrival for the second half at Newcastle last weekend served to show how he is proving a failed gamble but it is the collateral damage he has done to Rickie Lambert which has compounded the problem. Lambert's treasured No 9 jersey meant nothing when Balotelli arrived. He has been reduced from a man exuding a sense of England international entitlement to a wreck and the Balotelli purchase goes some way to explaining why. It comes to something when a Liverpool player cannot even get a run-out in the Bernabeu. In central defence Dejan Lovren is improving but that unit still lacks a leader. Alberto Moreno and Javier Manquillo are yet to demonstrate the defensive resilience Rodgers needed to add over the summer.
Mourinho recently sought to add needle to the agony Liverpool suffered those seven months ago, suggesting that the club's refusal to move April's game forward to a Saturday, to help Chelsea's Champions League preparations, irked his club and was a source of motivation. "It was our decision. I don't think there are too many teams who would change a game of that magnitude," the Liverpool manager replies.
Rodgers also insists that there have been no lasting consequences of that afternoon when Chelsea "parked two buses" in a performance that was the "polar opposite" of his own attacking principles – his words at the time. "No, not at all. I've heard that – the hangover from last season – but there is nothing," he says. But Chelsea have moved on exponentially since then and Liverpool have headed the other way. Mourinho has made his mark on Liverpool history. This is one weekend when Rodgers' players should not need any of his powers of motivation.
Reuse content