A pass from Nicky Barmby, a flick from Francis Jeffers and Kevin Campbell was through on goal. It was a moment the blue half of Merseyside have not forgotten but those memories were last century – 27 September 1999 remains Everton's last victory at Anfield.
When Mike Riley blew the final whistle – having dismissed Jeffers, Steven Gerrard and Sander Westerveld – Martin Tyler, in the Sky commentary box, reminded his viewers that Liverpool are "still marooned in mid-table while Everton move to fifth. The blue half of Merseyside is in party mood."
By May 2000, Liverpool had finished fourth, while Walter Smith's Everton had slid to 13th. The party is long since over and there have been few signs of it starting up again.
There are some statistics that defy logic. There should be no obvious reason why Sunderland in 1936 were the last team wearing stripes to win the league. But Everton's record at Anfield is slightly easier to explain.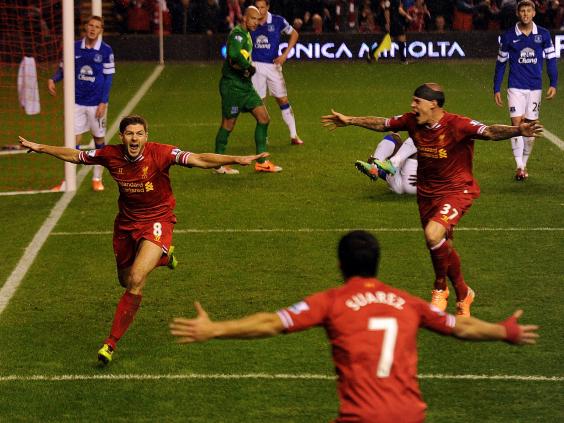 Perhaps the oldest and untruest cliché in football is that "the form book goes out of the window on derby day". On Merseyside, as in north London, the window has remained tightly shut.
Over the past 15 years, Liverpool have been the dominant force on Merseyside. In terms of turnover, they are two-and-a-half times the size of Everton. They pay double the wages. It should not be a surprise they win their home derbies – a point David Moyes was never slow to make.
It will not have helped Everton's record that the Anfield derby is usually played much later in the season than the one at Goodison when Everton, as the smaller club, would be feeling their resources stretched. It may help Roberto Martinez's cause as Everton manager that this time Anfield is first up.
His predecessor was passionate about beating Liverpool. When he won his first derby in December 2004, Moyes stood outside the press room high in Goodison Park's Main Stand and said: "Can you hear that?" The match was long since done but the singing and the chanting were still drifting deep into the night air in the narrow, terraced streets that hem in the old stadium.
There would be other victories at Goodison but none at all across Stanley Park. Just as Moyes never won at Old Trafford or Arsenal, his sides seemed to carry an inferiority complex to Anfield.
By no means were Everton humbled there. Of his 13 derbies behind the Shankly Gates, eight were drawn and only twice were they badly beaten. Both defeats summed things up. In March 2006, Gerrard was sent off in the 18th minute for flattening Kevin Kilbane, a decision greeted in the directors' box by a standing ovation from the Everton-supporting mayor of Liverpool.
The road to a long-craved victory may have been open but Everton spluttered to a halt. Phil Neville scored an own goal, Andy van der Meyde, perhaps the least distinguished player ever to pull on the club's royal blue shirt, made a typical contribution by getting himself sent off. Liverpool won 3-1.
In March 2012, Moyes fielded a weakened side to rest players for the FA Cup tie with Sunderland. Gerrard scored a hat-trick, then Everton reached the semi-finals of the Cup only to lose to Liverpool after taking the lead.
Martinez ended Everton's sense of inferiority in the big stadiums last season. They won at Old Trafford, drew at the Emirates and lost to a last-minute Frank Lampard goal at Stamford Bridge.
Only at Anfield did the story remain the same. In January they were four down after 50 minutes. "Antolin Alcaraz played 60 minutes with a hamstring strain and I had one," recalled the Everton captain, Phil Jagielka. "We were all over the shop. It was a horrific night.
"When you think about football, you tend to look back at the happy memories and, if there aren't any, then you don't bother, so I haven't been delving too deep into the derby archive." He is not the only one.
Reuse content