Questioning the appointment of Anthony Taylor to referee Liverpool's mammoth clash with rivals Manchester United is a "slight on his character", says former Premier League official Graham Poll.
Liverpool fans reacted poorly to the decision to allow Taylor to referee Monday's match at Anfield as he lives just six miles away from Old Trafford.
Despite Taylor supporting Altrincham FC, not the Red Devils, and having refereed both Manchester United and Liverpool games in the past, the appointment of him was criticised by former head of the Professional Game Match Officials Limited (PGMOL) Keith Hackett.
Hackett called the decision "grossly unfair" as it will put undue pressure on Taylor with every decision he makes being scrutinised.
However, Poll has refuted these claims and believes such an appointment should only be a cause for concern if the referee actually supports the team.
"His appointment to referee Monday evening's Premier League clash between Liverpool and Manchester United should certainly not raise any eyebrows despite him living and working in the Manchester area," Poll wrote in his Daily Mail column.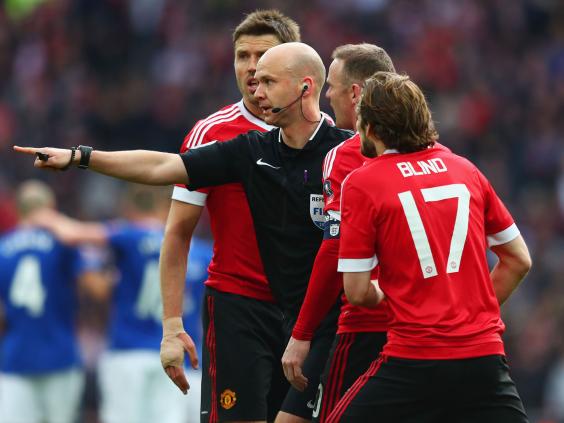 "Taylor has already taken charge of Manchester United's 2-0 win over Southampton in the Premier League this season and refereed them three times last season and Liverpool four times.
"The season before he did United three times and Liverpool on five occasions. Neither team have won or lost all of those games.
"Referees can rightly officiate any teams that they do not support and why not?"
Leicester fan Kevin Friend was removed from refereeing Tottenham's match with Stoke last season as Spurs and the Foxes went head-to-head for the Premier League title.
Liverpool open new Anfield Main Stand
And following the incident PGMOL clarified that in future, only the only games a referee would be excluded from officiating are ones in which the team they support are playing.
Taylor was chosen to officiate the FA Cup semi-final between Man United and Everton last season, with the Toffees reportedly having a similar gripe about his appointment.
Former Liverpool boss Brendan Rodgers also found himself in hot water with the FA who opted to fine him £8,000 in January 2014 after Greater Manchester resident Lee Mason refereed the Reds' 2-1 defeat to Man City.
Reuse content