Jose Mourinho was lost for words on Friday when he tried to say that he did not care if people found him less animated than Jurgen Klopp. "I'm not on the touchline to…" he said, waving his arms around as he left the room to indicate what he meant.
Klopp did, indeed, take the eye as the minutes ticked down on Monday night - staring at the opposition warm-up as he always does, lingering on the pitch long after Manchester United had left to hear their final instructions. Something new was building here by then; a suspense about how the new Anfield would feel under lights with 18,000 more packed in to the new top tier. They've been talking about that for a week or more around here. A black cat stalked the turf. A beautiful Harvest Moon dominated the sky.
What Mourinho had imbued his team with was considerably less poetic but very effective, though. He scowled, sniffed, stuffed hands in pockets and it was clear from the second minute that he had sent his team out to win this game physically. That was the moment that Marcus Rashford went through James Milner in what Steven Gerrard always used to call a 'Welcome to Anfield' moment. It was hard not to imagine that his manager's words had been ringing in his ears as he leapt in.
United were tougher, stronger, uglier. The presence of Marouane Fellaini in the deep midfield never fulfils that sense of what their supporters feel the spirit of Old Trafford should bring but few would not have taken the bubble of Liverpool speed and intensity being burst. It was a necessity. Mourinho was facing the side which had scored more goals than any in the Premier league (73) since Klopp's tenure began a year ago. He also began the night with three points fewer than Louis van Gaal had managed at the same point last season.
The pressers became the oppressed and individuals at the heart of Liverpool were bullied out of possession. Emre Can, Philippe Coutinho and Roberto Firmino struggled to retain the ball. A re-organisation Mourinho had effected pushed Paul Pogba up behind Zlatan Ibrahimovich (that's 6ft 3in behind 6ft 5in) and Jordan Henderson felt it. The newfound quality in his possession was not always there.
Ibrahimovic was booked for taking out Sadio Mane and exuded that casual indifference he has. Ander Herrera rolled Coutinho. That was the sum total of the part he played, one badly miscued header beside. Ashley Young talked his way into a booking. His conversation with the referee ran the course of the first half. United were loud, out there.
Liverpool vs Manchester United player ratings
Liverpool vs Manchester United player ratings
1/22 Loris Karius – 4 out of 10

Didn't have too much to do but looked nervous when the crosses did come in and his loose pass nearly gave United the lead.

2/22 Nathaniel Clyne – 5 out of 10

Couldn't attack anywhere near as much as he normally likes to and was restricted in what he could contribute.

3/22 Joel Matip – 7 out of 10

Had a good battle with Ibrahimovic throughout and probably got the better of the big Swede.

4/22 Dejan Lovren – 7 out of 10

Like Matip, did well to keep Ibrahimovic quiet and read the play well.

5/22 James Milner – 7 out of 10

Could have had a tough night against Rashford but continued his impressive run at left back.

6/22 Jordan Henderson – 5 out of 10

Struggled to get his foot on the ball as he lost the midfield battle to United's pairing.

7/22 Emre Can – 5 out of 10

Much of the play passed him by as it seems he is still lacking match fitness on his first Premier League start of the season.

8/22 Sadio Mane – 6 out of 10

Continued to drop deep in hope of making something happen and was probably the liveliest of Liverpool's attacking players.

9/22 Philippe Coutinho – 5 out of 10Philippe Coutinho – 5 out of 10

Looked out of sorts and made uncharacteristic errors with his forward passing and crossing.

10/22 Roberto Firmino – 5 out of 10

Similar to Coutinho, he also struggled to find any space between the lines to work in.

11/22 Daniel Sturridge – 4 out of 10

Anonymous in the first half and replaced before the hour mark by Lallana. He has now gone 615 minutes without a Premier League goal.

12/22 David De Gea – 8 out of 10

Didn't put a foot wrong and was needed to pull off two world-class saves from Can and Coutinho.

13/22 Antonio Valencia – 8 out of 10

Continued his fine start to the season and saved the game for United with a stunning last-ditch challenge.

14/22 Chris Smalling – 6 out of 10

Did well to keep Coutinho and co. out but United's captain for the night was overshadowed by his new centre-back partner.

15/22 Eric Bailly – 7 out of 10

A strong and commanding performance by Bailly as he kept Liverpool's attacking quartet quiet.

16/22 Daley Blind – 5 out of 10

Could have been found out with his lack of pace but held his own against the Reds' pacey attacks.

17/22 Marouane Fellaini – 7 out of 10

Helped control the game from midfield and broke up play well alongside Herrera.

18/22 Ander Herrera – 8 out of 10

Was the best outfield player of the game. He was dynamic and won possession well on multiple occasions.

19/22 Paul Pogba – 5 out of 10

Played in a more advanced role but other than a few neat passes he looked frustrated as he struggled to make anything happen.

20/22 Marcus Rashford – 5 out of 10

Didn't get past Milner as much as he'd have liked but the one time he did he fired in a dangerous cross that Liverpool struggled to deal with.

21/22 Ashley Young – 6 out of 10

Did exactly what he was put into the team for. Crossed well and worked back industriously to keep Clyne quiet.

22/22 Zlatan Ibrahimovic – 4 out of 10

Cut a frustrated figure up front as he struggled to link with his midfielders amid the pressure from Matip and Lovren.
It didn't help Liverpool that the Daniel Sturridge enigma was so far from being solved. As Jamie Carragher said last week, his goalscoring record – 55 goals before this, his 100th game – is commensurate with that of a Liverpool great. But a long ball Can put across for him dribbled off his foot and out of play. He didn't anticipate a ball James Milner put into his path. There was little more to say of the Englishman. His night was over before the hour.
Klopp's displeasure with all of this was explosive at times. To say that Can received both barrels would be an understatement. At one stage, both Klopp and his assistant Zeljko Buvac paced the technical area demanding better. The new expanded cauldron was supposed to have burnt United alive but from this seat beneath the new tier Anfield seemed to lack the tight, thumping intensity of the old place, where the walls would close in on opponents.
 Klopp arrived for the second half several minutes before his players. It seemed to be him saying: 'I've said my piece, now sort it out' and his players tried. David de Gea required a save of outstanding quality to palm away Can's shot in the box just before the hour. Even finer was his leap to make the right-handed fingertip touch which sent Coutinho's 30-yard shot clear of his left hand post. The quality of Antonio Valencia's tackle on Firmino seven minutes should not be forgotten. But the red tide was turned.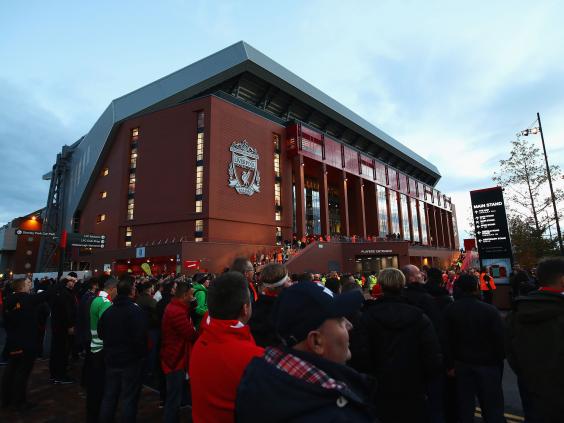 It was what Wayne Rooney can bring that United had missed when he arrived to take up Rashford's position on the right with 15 minutes to play. Mourinho's assistant Rui Faria spent a lot time talking him through some written instructions but the equation wasn't complicated. The missing factor was skill and touch, something only Herrera had brought to any degree.
Such sophistication didn't arrive. Rooney was scrambling around in the right back berth, trying to seize back possession, by the end. That was just before Young was pushed off the pitch by Can as he made his own substitution last a few more precious seconds. Not pretty and not memorable but necessary. There was no animation from Mourinho for Klopp; just a handshake before he marched away down the tunnel, obstacle cleared amid these difficult early months in the foothills of his biggest football mission yet.