The two faces of Raheem Sterling were on display at Anfield. The first was of the striker wheeling away, smiling in wild innocence at the loveliest of goals that showed the full extent of his talent.
The second was a rather guiltier grin posted on The Sun's website, embarrassingly close to the anniversary of the Hillsborough disaster. It was a video that purported to show the forward inhaling laughing gas, a legal but dangerous high. It came hard on the heels of him trying out a shisha pipe on a night out. Neither are recommended as ideal preparation for a Premier League footballer, especially one determined to prove he should be paid the annual salary of five nurses every week. The talent is obvious but sometimes the thinking is not.
Sterling, heckled during Liverpool's kit launch last Friday, must have wondered what kind of reception he would receive. Liverpool is a club that rarely turns on its own, at least while they are wearing a red shirt. Steve McManaman was jeered during his desultory final season on Merseyside when he was obviously saving himself for Real Madrid but the chants of "there's only one greedy bastard" came from the travelling fans.
Liverpool 2 Newcastle 0 player ratings
Liverpool 2 Newcastle 0 player ratings
1/24 LIVERPOOL: Simon Mignolet

Pulled off an outstanding save to deny Perez an equaliser for Newcastle in the first half. 7

GETTY IMAGES

2/24 Glen Johnson

Handled Cabella with very little effort. More importantly for his side, however, he linked up with Henderson particularly well while going forward to assist in midfield. 6

Getty Images

3/24 Emre Can

Partnered Lovren very well but there's still a feeling that he'd be better suited to a central midfield position. Either way, he held a strong line with the rest of his defence and rarely looked like being beaten on the counter. 6

Getty Images

4/24 Dejan Lovren

Very nearly gave away a penalty when it looked as though he had hacked down Perez as the striker ran into the Liverpool area. His performance did pick up in the second half especially when it came to defending set pieces. 6

GETTY IMAGES

5/24 Alberto Moreno

Positionally he was well disciplined. Used to pushing up when played as a wing back, he understood his job against Newcastle, which was to stay rooted as a conventional left-back. 7

Getty

6/24 Lucas Leiva

In the middle of Liverpool's midfield. Kept the ball close and orchestrated a number of attacks. Thankfully he wasn't hurt when Sissoko went in on him late in the last ten minutes. 8

Getty Images

7/24 Jordan Henderson

Assisted Sterling's opener for Liverpool and delivered dangerous set pieces that Newcastle found difficult to defend. Drove forward with ease but also defended effectively as well. 7

GETTY IMAGES

8/24 Joe Allen

Scored his first Premier League at Anfield when he took advantage of a loose ball in the Newcastle penalty area. On the left of the three-man central midfield it was his job to feed Sterling while preventing Obertan from cutting inside. He did both very well. 8

Getty Images

9/24 Jordon Ibe

Repaced by Borini with 30 minutes remaining. What an exciting player he looks. Very bright when driving forward. He uses his pace to great effect but doesn't forget about the craftsmanship a winger should have. 7

Getty Images

10/24 Philippe Coutinho

Nimble and creative yet again. Probably Liverpool's most consistent player this season. Always seeking to unlock defences. 8

Getty Images

11/24 Raheem Sterling

A bit of a mixture. Took his goal beautifully but squandered in many cases what was the easier chance. Caused Newcastle's defence problems with his close control and skill. 7

Getty Images

12/24 From the bench: Fabio Borini

Replaced Ibe but failed to do the same job as him. Went forward with intent but his final product was lacking the sufficient quality it needed to either trouble Krul or set up one of his teammates. 6

Getty Images

13/24 NEWCASTLE: Tim Krul

Made a crucial save to deny Lucas Leiva in the first half. Not much he could have done to stop Sterling's effort finding its way into the back of his net. Beaten well by Allen, too. 6

GETTY IMAGES

14/24 Ryan Taylor

Horrendous performance by the right-back. Beaten far too easily by Sterling before the forward took the lead for Liverpool. Completely missed Henderson's cross and thankfully for the defender Sterling couldn't finish for a second time. 4

Getty Images

15/24 Daryl Janmaat

Looked assured at centre back but found himself covering for Taylor too often as the right-back pushed forward. That left Janmaat exposed. 6

Getty Images

16/24 Mike Williamson

Occasionally rash. For example, he could have been a little calmer when Liverpool countered quickly rather than choosing to launch the ball away at any given opportunity. Could be argued that he should of got closer to Allen when the midfielder scored Liverpool's second goal. 5

Getty Images

17/24 Vernon Anita

Slotted in at left-back at endured a tough game as Ibe sought to demonstrate to everyone that his pace makes him a real threat. 6

Getty

18/24 Jack Colback

Alongside Abeid in the two holding midfield roles. His approach to dealing with Sterling was to get in quick and hard. It did work fairly well until Liverpool upped the tempo which drew fouls. 6

GETTY IMAGES

19/24 Mehdi Abeid

Pushed forward a little more in the second half as Newcastle started to chase the game with more urgency. He let himself down by standing off players such as Henderson too often rather than closing down and reducing the options. 6

Getty Images

20/24 Moussa Sissoko

Used his strength well in the battles with Lucas Leiva in particular. Didn't always dispatch the ball quick enough when going forward, though. That contributed to many of Newcastle's attacks breaking down. Sent off for a second bookable offence when he trod on Lucas Leiva's leg. 6

21/24 Gabriel Obertan

Should really be played up front with Perez but instead was played on the right as part of a three-man attacking midfield. He possesses pace but it's his height and strength that are key to his game. Out wide he struggled to demonstrate that. Replaced by Gutierrez. 6

Getty Images

22/24 Remy Cabella

Usually so nimble and creative, but out on the left his influence on the game was severely reduced. Too many overhit passes, too. 5

Getty Images

23/24 Ayoze Perez

A real nuisance but such an exciting player to watch. His header in the second half forced a fantastic save from Mignolet. Definitely someone Newcastle should build a team around in the summer. 7

Getty

24/24 From the bench: Jonas Gutierrez

Made his 200th appearance for Newcastle when he came on to replace Obertan. Made little impact on proceedings. 6

Getty Images
Those who came from Tyneside saw rather more resistance than they might have expected but were once more betrayed by the kind of shoddy defending that always seems to have accompanied them through the Premier League years. When Mike Williamson dozily delayed his clearance, Joe Allen had the presence of mind to shoot past Tim Krul.
Liverpool's second ensured their manager, Brendan Rodgers, would succeed in his aim of cutting Manchester City's lead in the fourth and final Champions League position to four points.
It was virtually guaranteed when the Newcastle captain, Moussa Sissoko, launched a wretched tackle on Lucas Leiva and turned without waiting for the second yellow card. The night for Newcastle was also done.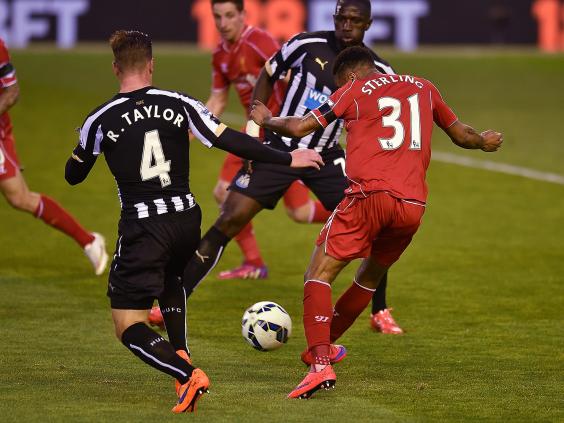 Just before kick-off, there was a moment of perfect stillness as Anfield remembered Hillsborough. On that day in April 1989, Newcastle were at Highbury, on their way to being relegated and losing 1-0, as teams so often did there.
It is depicted in the film Fever Pitch as a passing tragedy. "Even that game will be replayed," says the Nick Hornby character, played by Colin Firth standing on the North Bank, listening to reports filtering through on a transistor radio. It is a tribute to the people of Merseyside that the disaster has remained alive.
But for their run of five straight wins in the autumn that included a victory over Liverpool at St James' Park, Newcastle would now be stone cold certainties to repeat the feat.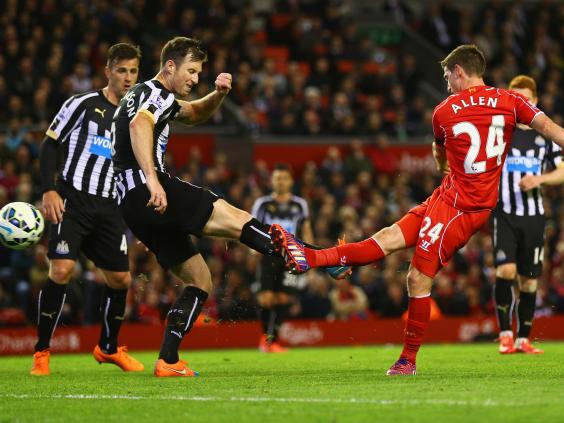 For John Carver, who despite his admirable passion for all things black and white looks like being a very interim manager, the wounds of the abject defeat in the Tyne-Wear derby were still visible: "It will define my spell in charge," he had said. "I will suffer for weeks, for months, maybe for years."
All Carver could hope for was a better display than the one they had delivered on Wearside. For that Newcastle would be required to aim two shots at goal. They managed two in the final minutes of the first half with Ayoze Perez forcing a full-length save from Simon Mignolet before Mehdi Abeid shot loosely into the crowd.
Shortly after the interval, Newcastle, who had not won at Anfield since Kevin Keegan's first spell in charge, looked the better side.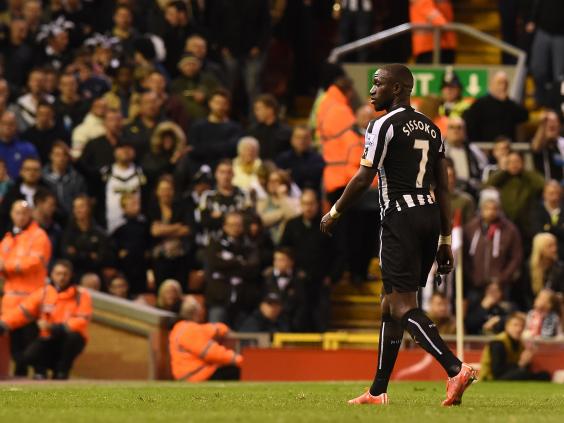 More significantly, Newcastle should have had a penalty when Dejan Lovren, still horribly out of form, appeared to bring Perez down. At half time Carver went to confront the referee, Lee Mason, turned and bumped into a policeman.
 Jordan Henderson had once been part of a Sunderland side that had been thrashed 5-1 by Newcastle and, as a Wearsider who had travelled to Wembley to support them in last year's League Cup final, overcoming the enemy would have meant a lot.
It was his fabulous crossfield pass that opened up Newcastle's paper-thin defence for Sterling to break through. There was still plenty for the forward to do as he took the ball first past Ryan Taylor and then Gabriel Obertan before curling it deliciously past Tim Krul. There were four black-and-white shirts around him when he took the shot on goal.
Henderson is a vastly better footballer than the one who arrived on Merseyside struggling to answer questions as to how Kenny Dalglish thought him worth £20m.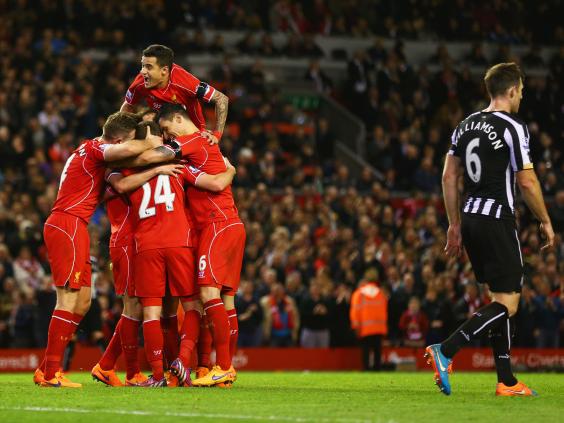 Now there was a cleverly-taken short free-kick when Newcastle's defence was expecting something altogether more spectacular that almost sent Philippe Coutinho through. Another, headed on by Lucas Leiva, was fabulously parried by Krul. It was judged offside, though the keeper would have no inkling of the flag when he made the save.
Henderson ought to have produced a second for Sterling with a low cross in front of the Kop that Ryan Taylor missed completely. It fell to the forward six yards out with Krul committed and he somehow managed to screw the shot wide.
Rodgers had already turned to celebrate with one arm raised and turned again to find the score was still 1-0. It was not the only thing about Sterling the Liverpool manager would have difficulty believing.
Reuse content