A man dressed in a grim reaper outfit stood before the Kop. While his cane predicted a doom-laden future, the old wooden rattle brandished in the other hand reminded that beneath the costume was a supporter.
The plastic seats behind began to clatter and those leaving early shuffled towards the exit gangways. The message was as clear as it could be, seemingly rising from the guts of Anfield. "You greedy bastards, enough is enough," they bellowed.
Many departed, though the majority remained. Jamie Carragher was photographed and presented on Twitter as one of the protestors. Liverpool were 2-0 up when the walkout over ticket prices started in the 77th minute and by full-time, Sunderland had improbably snatched a draw.
The capitulation acted as a reminder that Liverpool could do with a leader like Carragher out on the pitch, where nobody presently is capable of harnessing the level of defiance being displayed on the terraces.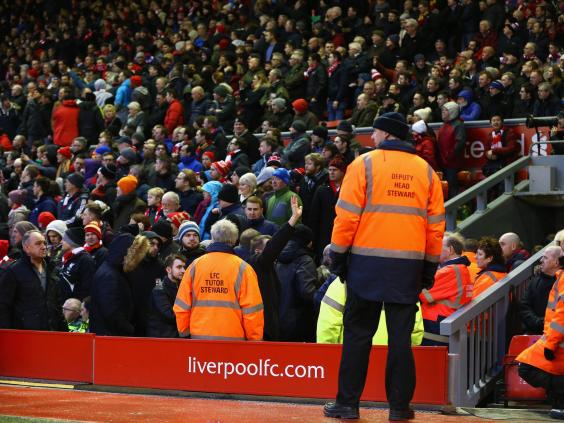 Mamadou Sakho was signed as Carragher's long-term replacement and he must surely be viewed by Premier League strikers as a gift that keeps on giving. The Frenchman was largely responsible for Jermain Defoe's equaliser, affording him with required space inside the box to execute a laser-guided finish.
Sakho, though, was not quite as responsible as Simon Mignolet for Sunderland's first goal - letting an Adam Johnson free-kick skid under him, a moment that offered belief from a hopeless place while simultaneously sending confidence spiraling amongst the home players.
Sam Allardyce, Sunderland's manager, was honest enough to admit that he did not envisage a recovery of any kind. Yet had Sunderland's best chances fallen to Defoe rather than Patrick Van Aanholt as they did before Liverpool apprehended control through goals from Roberto Firmino and Adam Lallana, then maybe the gloom would have been even deeper than it was inside Anfield. Allardyce believes Sunderland's survival from here will be dependent on how many opportunities they create for Defoe. "Jermain could be our saviour," he suggested.
Considering the mood at Liverpool undermines the one-club ethos he so desperately has been striving for, you are left to wonder what Jürgen Klopp would have made of everything. He was not allowed to answer questions on the ticketing issue on Friday and then the German was absent here, having been driven to Aintree Hospital by Liverpool's club doctors on Saturday morning. He later had a successful operation to remove his appendix and Pepijn Lijnders, the first team coach, spoke on his behalf.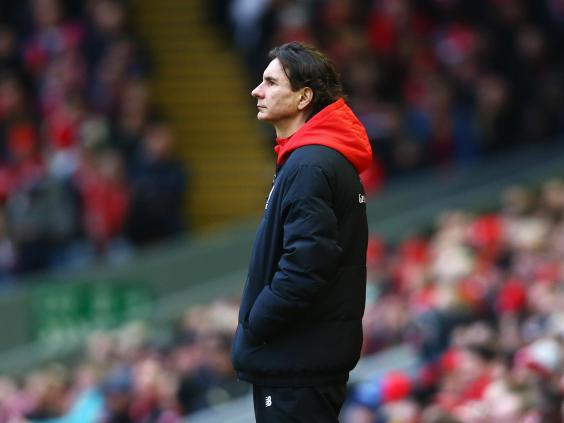 The Dutchman is the only person on Klopp's staff confident enough in English to negotiate a press conference. He, Željko Buvač and Peter Krawietz were in charge. Yet Lijnders does not possess the seniority to be negative. He was always going to lean on the positive, though his argument was unconvincing. "Normally the scoreboard doesn't lie, I think today it did," he claimed. 
The day had begun with Liverpool's scatter-gunning quotes from Ian Ayre, the chief executive, across official social media Internet platforms, seemingly a late attempt to reach out to those in two-minds about walking out.
On approach to Anfield, the streets were littered with leaflets, explaining why the action was necessary. Inside the ground, tall black flags flapped quietly, replacing the colourful ones that normally depict the stadium's history. 
What followed is relative to the narrative of the story. Two years ago this weekend, Liverpool destroyed Arsenal 5-1. There might be an issue with paying in advance of £55 to witness the brilliance of Luis Suarez tearing the opposition apart. Spending £77 to sit through the one-paced football being served up by the current bunch is another issue altogether.
Casual observers will hear about a scoreline of two-all and a Sunderland salvage operation, maybe believing this was an entertaining game. Where ineptitude is involved, context is needed. Liverpool are a mid-table team of mid-table players. Sunderland are a team in the relegation zone, one still getting to know each other following several signings in the transfer window.
At half-time Liverpool had 82-per-cent of the possession but for all their domination, it constituted only one shot on target. A lead was established and there were more openings, which may have settled the matter entirely.
Yet with mutiny in the air, Liverpool's players embarked on their own walkout. With that, a precious point for Sunderland became a possibility. And then, it became reality.
Reuse content