For Tottenham Hotspur, the achievements are starting to accumulate. This year, already, they have thumped the league leaders, reached a cup final, won a thrilling derby and climbed, however briefly, into the top four.
As they march into the serious half of the season, though, there is one thing that they are lacking: a famous away victory, a conquest of the home of one of their rivals. The best team they have won at was West Ham United, and that was on the season's opening day, almost six months ago.
Tonight, Mauricio Pochettino's team travel to Anfield, hoping to deliver just that. Of course, the Premier League table is important and a win tonight would, for 24 hours at least, send them into third place, seven points clear of Brendan Rodgers' improving side. While Manchester City seem to have ended the title race by themselves, the competition for the Champions League places is again looking like the most exciting of the season's final months.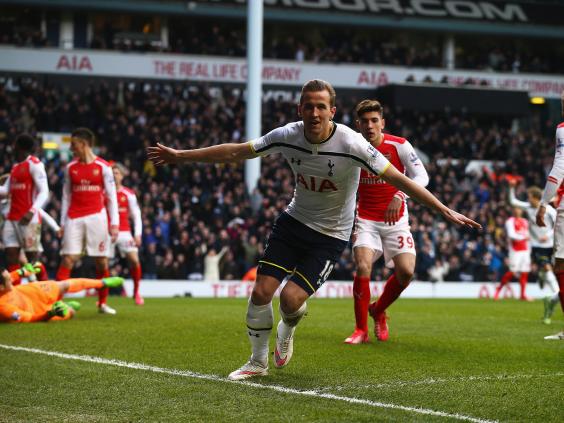 But victory for Spurs at Liverpool would also make clear just how far – physically and mentally – Pochettino has taken this team. Spurs' results at the big teams were poor last season, including a 4-0 defeat at Anfield in March which seemed to sum up their lack of character, discipline and focus.
Pochettino has restored all of those things and more. Hugo Lloris, as important as any other player to their excellent form, believes they can show that tonight. "I think we are improving and we are in a good dynamic," said the French goalkeeper, after Saturday's already-famous north London derby victory. "We need to keep the same mentality and instil the same discipline in this game [against Liverpool]. We also need to make a good recovery because the game will come quickly. But we will show the same desire and we have a good team spirit."
It has not been easy for Spurs to reach this level. It took a pre-season full of exhausting double sessions, some difficult personnel decisions, and the early teething problems led to four avoidable home league defeats. But Lloris said that all that work is now being rewarded on the pitch.
Tottenham 2 Arsenal 1 player ratings
Tottenham 2 Arsenal 1 player ratings
1/22 Hugo Lloris - 6

Could do nothing to stop Ozil's effort, but had little else to do as Arsenal faded during the game.

Getty Images

2/22 Kyle Walker - 6

Tried to get down the right flank when the opportunity presented itself but was targeted by Ozil, Cazorla and Welbeck as Spurs' weak link.

Getty Images

3/22 Eric Dier - 7

Stuck to Giroud like glue and did his best to negate any threat from the big French striker.

Getty Images

4/22 Jan Vertonghen - 6

Rarely found himself threatened by Arsenal's attack, although he could have helped Rose out when Wlebeck broke free for the goal.

Getty Images

5/22 Danny Rose - 5

Managed to get under Welbeck's skin but was surprisingly outpaced for the opening goal. Had a few long-range efforts at goal.

Getty Images

6/22 Nabil Bentaleb - 8

His return strengthened Spurs and gave them extra protection against Arsenal's attack. Controlled things from the base very well. Deep cross gave Kane the perfect platform to score the winner.

Getty Images

7/22 Ryan Mason - 8

Was the brightest spark in Spurs' midfield as he looked to work an opportunity for the trio in front of him. Very impressive performance.

Getty Images

8/22 Erik Lamela - 6

Showed a preference to cut in and try to work a chance on his left foot, but prevented Spurs having any threat down the right.

Getty Images

9/22 Moussa Dembele - 6

Probably the quietest of Spurs' attacking players but it was his header that was deflected into the path of Kane's for the opener.

Getty Images

10/22 Christian Eriksen - 7

Had a free-kick chance that given his recent form would usually have found the back of the net, but still threatened whenever he had the ball at his feet.

Getty Images

11/22 Harry Kane - 9

Kept up his impressive scoring rate with a match-winning brace for Spurs, and his second was a lovely header that any striker would've been delighted to see nestle in the back of the net.

Getty Images

12/22 David Ospina - 6

Pulled off some lovely diving saves in the first half, but began palming the ball into danger areas which led to Kane's first.

Getty Images

13/22 Hector Bellerin - 5

Came under pressure from Rose as the left-back looked to press forward wherever possible. Will learn from the game, but won't enjoy reflecting on the experience.

Getty Images

14/22 Per Mertesacker - 5

Let Kane drift away for the winning goal and again saw himself get beaten in the air, which just simply shouldn't happen.

Getty Images

15/22 Laurent Koscielny - 6

Had an effort saved by Lloris and didn't do a lot wrong.

Getty Images

16/22 Nacho Monreal - 6

Another who won't be happy with his day's work and had his hands full for the 90 minutes.

Getty Images

17/22 Francis Coquelin - 5

Came under the biggest pressure he's faced since coming back into the side. Enjoyed a good start but wilted as Spurs stepped up a gear.

Getty Images

18/22 Aaron Ramsey - 6

Not as prominent in games as he was last season, and his form is a worry for Arsenal. Booked at the end of the match for barging Bentaleb in frustration.

Getty Images

19/22 Danny Welbeck - 7

Allowed himself to be caught up in a war of words (and slightly more) with Rose, which distracted him from his game. Outpaced the left-back to set-up the goal though, and had a good effort saved by Lloris.

Getty Images

20/22 Santi Cazorla - 7

A rare below-par performance from Arsenal's in-form midfielder. Hauled off midway through the second half for Tomas Rosicky as Wenger seeked more solidity in defence.

Getty Images

21/22 Mesut Ozil - 7

Took his goal very well to keep up his strong from of late. Improved physicality is certainly helping his game.

Getty Images

22/22 Olivier Giroud - 5

One of his quietest performances since returning from injury and suspension but that is largely due to the Spurs defence sticking to him.

Getty Images
"The season is very long and, of course, there are some dips along the way," Lloris said. "But the key is to work hard every day. That has always been our mentality in the team. We always try to work hard and do what the manager expects. We try to do our best on the pitch. Some performances may not have been so good earlier in the season but in some ways they helped us to the improvements you see now."
It is very clear now which players buy into the Pochettino regime and which do not. Those players who played on Saturday, and who will play again tonight, are those who are willing and able to run as far as their Argentinian coach needs.
"We all believe in his philosophy and the way he wants us to play," Lloris said. "We take strength from him and the improvements we have shown. We take our confidence and ability to fight into every game."
Lloris, like any player, wants to play every game and that extends to the Capital One Cup final, against Chelsea at Wembley on 1 March. His understudy, Michel Vorm, has played every game in the competition but Pochettino has a decision to make, not least with the final coming three days after the Europa League last 32 second leg at Fiorentina. It might look strange if Spurs were to play a cup final and the best goalkeeper in the Premier League was sat on the bench.
When asked whether he would like to play at Wembley, Lloris replied, "That is a very easy question to answer", but he certainly remains focused on the Premier League and Europa League games before then.
"At the moment we are not thinking about it too much because we still have plenty of games to go before the final and we take things game by game," he said.
"I will respect the manager's decision and abide by that, like all the players here do. That is the mentality of this squad. If you play or you don't play, you are still involved in the squad."
--
Anfield Agony - Spurs' poor record at Liverpool
Tottenham head to Anfield tonight seeking to improve on a dreadful record, with just four league wins since 1912.
16 Mar 1985: Liv 0-1 Tott
Garth Crooks scored in front of the Kop for a first win at Anfield since the year the Titanic sank.
8 May 1993: Liv 6-2 Tott
Two goals apiece for Ian Rush and John Barnes as Spurs saw out the season with a whimper.
1 May 1999: Liv 3-2 Tott
Ledley King made his debut as the Worthington Cup winners led 2-0 at the interval before collapsing to defeat.
7 Oct 2007: Liv 2-2 Tott
Fernando Torres headed a late leveller to extend Martin Jol's poor start to the season.
15 May 2011: Liv 0-2 Tott
Rafael van der Vaart and Luka Modric helped Spurs close in on Europa League spot.
30 Mar 2014: Liv 4-0 Tott
Luis Suarez led Liverpool's title charge as away fans turned on Tim Sherwood.
Reuse content