Manchester United manager Louis van Gaal today admitted that Wayne Rooney and Michael Carrick have approached him to say that the Manchester United dressing room is "flat".
The Dutchman insisted that he has a "superb relationship" with his players and said that he has now made changes because of concerns expressed by his captain and vice-captain.
Van Gaal, who said that David de Gea's head was now "empty" and able to "focus" on football after not moving to Real Madrid and signing a new contract today, did not elaborate on the way he says he has altered the way he is approaching games.
Manchester United vs Liverpool combined XI
Manchester United vs Liverpool combined XI
1/10 GK: David De Gea

He hasn't even played this season, but De Gea goes straight into our side ahead of United team-mate Sergio Romero and Liverpool's Simon Mignolet. With the transfer window closed and his proposed move to Real Madrid over for now, Van Gaal is expected to bring the Spain international back into the fold and there's no question he's the best goalkeeper of the lot.

GETTY IMAGES

2/10 RB: Matteo Darmian

Arguably the toughest dilemma of the lot comes at right-back, with Darmian and Nathaniel Clyne both impressing so far this term. The nod goes to the United defender by a whisker based on how quickly the Italian has managed to resolve what has been a problem position for United for some time.

Getty

3/10 CB: Chris Smalling

For all the speculation over Manchester United signing a centre-back during the summer, Smalling has shown that the need for reinforcements isn't as great as some feared. The England international has been consistent and appears to be growing in confidence all the time. It means there's no place for Dejan Lovren, who in contrast appears to be regressing from the player Liverpool spent £20m to sign.

4/10 CB: Martin Skrtel

Thankfully for Liverpool, Skrtel has looked good this term, and beats Daley Blind to the other centre-back berth. United's Dutch midfielder/defender/full-back is still new to the central position.

GETTY IMAGES

5/10 LB: Luke Shaw

Joe Gomez has made an unexpectedly impressive start to his Anfield career, with the 18-year-old playing in every game since joining from Charlton. But Shaw has begun to show why Manchester United were willing to take such a huge gamble on a teenager, being solid defensively and a threat going forward.

GETTY IMAGES

6/10 M: Bastian Schweinsteiger

The World Cup winner is beginning to show why, despite concerns over his fitness, he's been among the best midfielders in Europe over recent years. With Michael Carrick injured, he'll be wanting to impress during a potential run in the starting line-up. He beats Adam Lallana to a place, with the Liverpool midfielder also only starting two games so far this term.

Getty

7/10 M: Morgan Schneiderlin

The former Southampton player has impressed in the centre of the park with his passing and ability to disrupt the opposition. James Milner, one of only two Liverpool midfielders to start every match this term is yet to set the world alight following his free transfer from Manchester City.

8/10 M: Memphis Depay

The young Netherlands international looks to be showing more ability and growing in confidence with each match and his recent European double offered a glimpse of the big future the summer signing could have at Old Trafford. It means there is no place for Roberto Firmino, one of Liverpool's big summer signings.

9/10 ST: Wayne Rooney

Rooney is still to score in four Premier League games, but his two-in-two for England and hat-trick in Europe indicates the striker is hitting form. However, he only makes it into the side because Coutinho, who has been Liverpool's best player so far this season, is suspended for Saturday's game.

Getty Images

10/10 ST: Christian Benteke

Joining Rooney in attack is Benteke. With just the one goal to his name the former Aston Villa player hasn't exactly been prolific, but he has been causing opposing defences a headache, particularly in the 0-0 draw with Arsenal. With Daniel Sturridge still out, Benteke will hope to begin writing himself into Anfield folklore with a goal at Old Trafford.

GETTY IMAGES
Van Gaal said that the very fact two players had approached him was a sign of what a good relationship he has with his squad. He said: "I think I have a superb relationship with my players. Maybe you have to consider how many players are coming to the manager to say something.
"In my career as a manager I did not have so many players who are coming to say something about the atmosphere in the dressing room - about the way we train or something like that. It is very positive that layers are coming to you."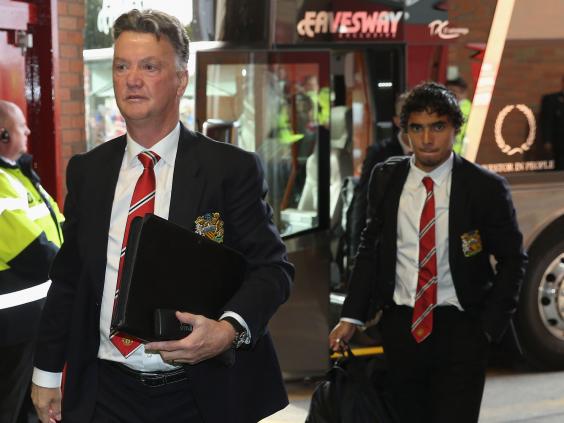 One of the prime causes for concern among players has been the treatment of Rafael da Silva this summer and Luke Shaw last season. Van Gaal said of that: "The whole dressing room has been changed. Can you imagine when your friend must leave and what are your feelings, then?
"So, Rooney and Carrick the captain came to me and said the dressing room is flat. We want to say that to you because we want to help you. I communicate not only with my captains. I talk to the dressing room and communicate with my players. We have discussed a lot of aspects. What [aspects we subsequently] I cannot tell here - but they are not the aspects that some have written."
 The manager claimed that fans shouting his name was proof that he is liked and respected. "The fans are shouting each week 'Louis van Gaal's army, 'Louis van Gaal's army,'"he said, raising his arms and his voice. "The fans, like my players, are satisfied with me."
"I can say only that I have a very good relationship with my players. It is also a little bit logical now because there are only nine players left from the group and the rest I have bought so they shall not say I am a lousy manager." Of De Gea's chances of facing Liverpool tomorrow, he said he would assess him in training.