Manchester United will have the easiest start to the 2014-15 Premier League season, based on last year's finishing positions.
New manager Louis van Gaal will face the three promoted clubs, Leiciester City, QPR and Burnley in his first five matches as well as Swansea on the opening day, they finished 12th, and Sunderland, who finished 14th.
The data, put together by MatchStory, shows United are the only team in the Premier League not to face a team who finished in the top half of the table in 2013-14.
The start of the season is in start contrast to what David Moyes was faced with when he arrived at Old Trafford a year ago.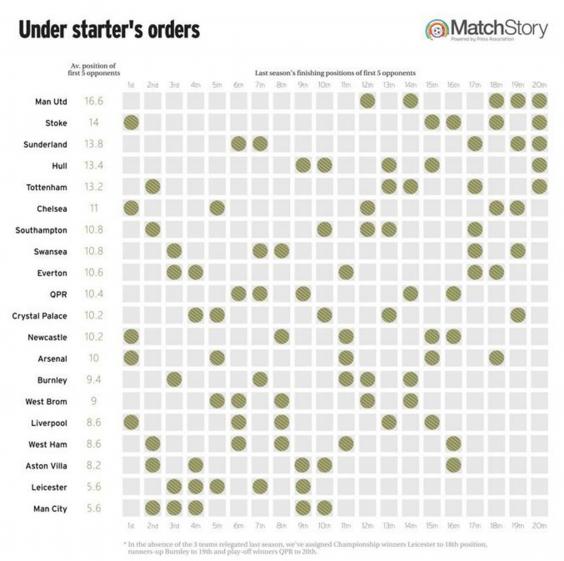 Moyes also faced Swansea City on his first Premier League match in charge, but had the daunting prospect of away matches at Liverpool and Manchester City and a game against Chelsea at Old Trafford, as well as one promoted club, Crystal Palace.
The former Everton boss picked up seven points from those five games, but suffered an embarrassing 4-1 loss at the Etihad. It set the tone for United's worst season since 1990, and of course Moyes was eventually sacked with the club out of Champions League contention.
With Robin van Persie and Michael Carrick injured, and long-serving defenders Rio Ferdinand, Nemanja Vidic and Patrice Evra no longer at the club, Van Gaal will be thankful for the easy start as he continues to try and find players to add to his squad.
The average finishing position of United's opponents is 16.6 - the three promoted clubs have been given 18th, 19th and 20th.
In contrast, near-neighbours and defending champions Manchester City will face the toughest start to the season; the average finishing position of their opponents is just 5.6.
Not only will they play all three of the other teams that finished in the top four last season - Chelsea, Arsenal and Liverpool - they also face Newcastle and Stoke, a pair of teams who finished in the top 10.
Jose Mourinho's side are the opening day experts. Every current Premier League team has lost at least one opening day game in the last six seasons, except the Blues, who are undefeated on the curtain raiser since 1998.
Darren Huckerby and Dion Dublin lifted Coventry City to a 2-1 win that day, but Chelsea will be confident of continuing their hot streak when they travel to newcomers Burnley on Monday night.
Reuse content